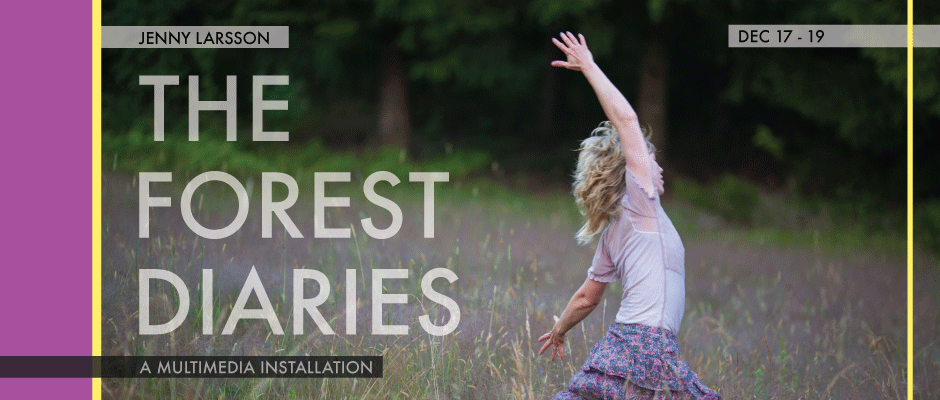 The Forest Diaries, by Jenny Larsson at Girls' Club Annex
Artist Talk/Performance: Thursday, December 18, 2014, 7-9pm

Broward-based artist and choreographer Jenny Larsson presents a multi-media installation The Forest Diaries at the Girls' Club Annex Space inside the Francie Bishop Good Studio from December 17-19, 2014. Exhibit is free and open to the public Wednesday - Friday, 1-5pm and other times by appointment.
The Forest Diaries takes Larsson's dance and choreography practice to new lengths as she develops a multimedia installation with video from recent dance performances in the forests of Sweden, her home country. The project is in collaboration with musical composer Dag Rosenqvist, writing original music for each site- specific dance piece; and Bjornhult Media.
"The aim behind the project is to investigate and explore my relationship with the deep forests of Sweden (the inner calm, the scenic and beautiful sites, but also the mystical and sometimes scary forests I'm afraid to enter). My intention is to channel all of these sensations through my dancing."

-Jenny Larsson
Join us for the event Thursday, December 18. Browse the exhibition The Forest Diaries, listen to live music performed by Swedish musicians Stefan Strom and Carina Henningsson, watch a live performance with dance and incorporated text, followed by a Q & A with guest artist Jenny Larsson.

---
About Jenny Larsson
Born in a small mountain village in northern Sweden, Jenny Larsson recently moved to South Florida in 2007. After graduating from the University of Dance and Circus in Stockholm, she moved to Gothenburg to join a flamenco company of friends where she taught dance classes and performed in shows. Jenny has taken flamenco classes in Madrid, Seville and Granada in Spain, studied Hatha Yoga in Thailand and taken contemporary classes at DNA in NYC. In 2012 she completed her Master's program in dance (MFA) at the University of Wisconsin-Milwaukee. She is currently on the faculty at the Performing and Visual Arts Department of Broward College.
As a choreographer she has choreographed and directed Together Apart, a performance/happening shown on the rooftop of the Fountainhead Studios in Miami. Her work Look at how you're looking at me when I'm telling you this, has been performed at Inkub8 in Miami and the Girls' Club in Fort Lauderdale, commissioned by the Broward County Cultural Foundation. At the moment she is working on a three-part project called The Forest Diaries, supported by Tigertail, the Broward County Cultural Foundation and SWEA South Florida.
The Forest Diaries at Girls' Club Annex
The Forest Diaries Performance
Photos by Voltagge/Eddy Peñafiel, courtesy Girls' Club, Fort Lauderdale.
Other Projects by Jenny Larsson at Girls' Club