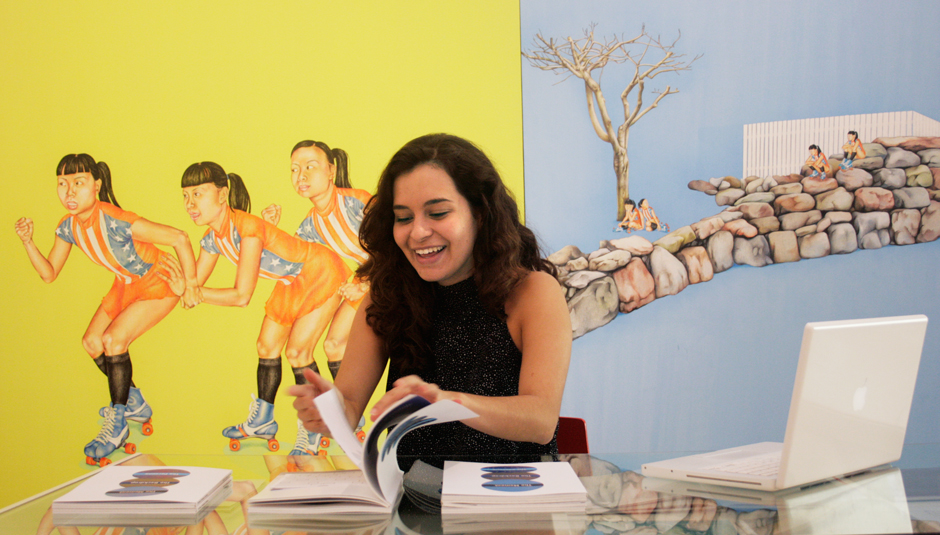 Hello Fellow: Girls' Club welcomes Mariela Acuna
Fall 2015 Fellowship
Girls' Club continues its fellowship program, welcoming recent Florida Atlantic University graduate Mariela Acuna to the Girls' Club team. Bridging the gap between art school and the professional workplace, the fellowship program works hands-on with young artists and professionals, combining education and practical experience to create a unique environment for professional growth.
The Fellowship Program at Girls' Club enables young arts professionals to gain substantive understanding of arts administration, programming and arts operations while contributing to Girls' Club exhibitions and public programs. Working closely with Girls' Club Gallery Director and Creative Director, fellows will be heavily involved in a variety of operations including curatorial, research, social media campaigns, building relationships with press, creating educational print and web content, developing curriculum, assisting in collection management and community involvement.
In addition to regular programming and operations, fellows are charged with the creation of an independent community-, education- or web-based project. They will have the opportunity to direct the project from inception, to completion - creating project goals and deliverables, researching and applying for project funding, vetting team of collaborators/contributors, writing press releases and contacting local press, devising cross-platform social media campaign, documenting the project and producing final reporting data for evaluation.
About Mariela Acuna
Mariela Acuna was born in San Jose, Costa Rica and relocated in South Florida in 2008. She earned a BA in Art History and a BFA in Sculpture from Florida Atlantic University. During her time at FAU, Mariela worked at the University Galleries where she quickly grew from intern, to student employee to guest curator. In the summer of 2014, she worked as an artist liaison intern at Lehmann Maupin, New York. Mariela curated New Art: South Florida, an exhibition that presents recent works by artists who were awarded the 2015 South Florida Cultural Consortium Visual and Media Artist Fellowship. She currently works at  Norton Museum of Art as the Family Programs Coordinator.
Fellowship Projects include
Information Proliferation
Information Proliferation is an independent, web-based project by Fall Fellow, Mariela Acuna. Acknowledging challenges in understanding contemporary art, Information Proliferation creates a context for selected works in Girls' Club's current exhibition, Self-Proliferation. The project provides information about the artists, their career and their specific body of work. By sharing her findings, Mariela hopes to enhance accessibility and appreciation for contemporary art by women.
www.girlsclubcollection.org/information-proliferation

Girls' Club's Alumnae Panel Discussion at FAU
Girls' Club alumnae Mariela Acuna, Jeanie Ambrosio and Brooke Frank spoke to an audience of undergraduate students at Florida Atlantic University, Wednesday, April 20th about issues and experiences faced by recent art graduates as they pursue careers in the art world. As recent FAU graduates pursuing various tracks with in the South Florida art landscape, the panel shared their unique experiences graduating, navigating the balance between work/life/artistic practice. The panel was open to FAU students, alumni and the general public and organized by Mariela, Girls' Club and faculty from the Department of Visual Arts and Art History at FAU.
For more information about the panel click here.
For information about opportunities for emerging artists and art professionals click here.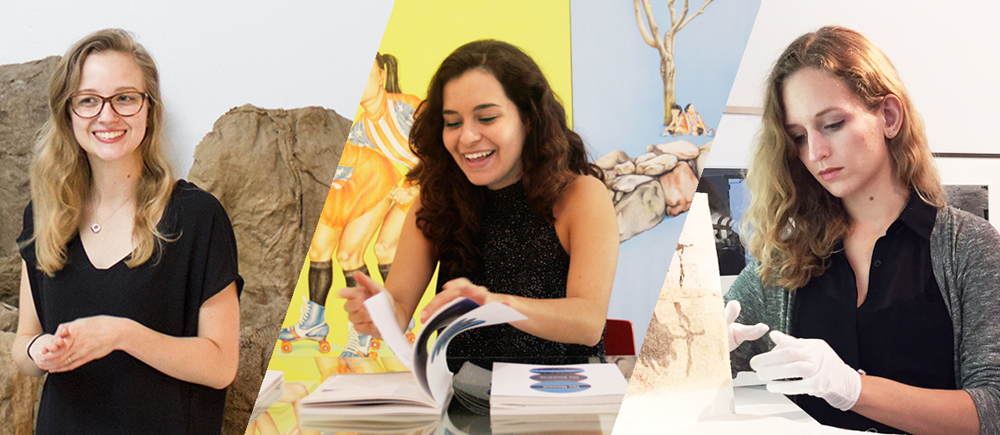 Gallery Notes Available en Español
According to the U.S. Census, Broward County has a population of 27.25% people of hispanic or latino origin. During the past year, 3% of Girls' Club's online audience were Spanish speakers. As Girls' Club works on reaching a broader audience, Mariela translated the Gallery Notes for this year's exhibition, Self-Proliferation to Spanish.
A Girls' Guide to ABMB
A Girls' Guide to ABMB is a resource produced by Girls' Club to bring attention to exhibitions, fairs, performances and programs featuring women artists, curators and art professionals during the 2015 ABMB festivities. Mariela contributed her research to the project and worked to present the the information effectively to our audience.
Click here to go to A Girls' Guide to ABMB

Art Fallout 2015, Venue Spotlights
Art Fallout a yearly community wide event that invites the community to engage and  interact with Contemporary art venues. Organized by Girls' Club, the event brings together 11 different venues in Downtown Ft. Lauderdale. During her fellowship, Mariela created several Spotlight On posts, encouraging the discover of local organizations, artist studios and alternative exhibition spaces.