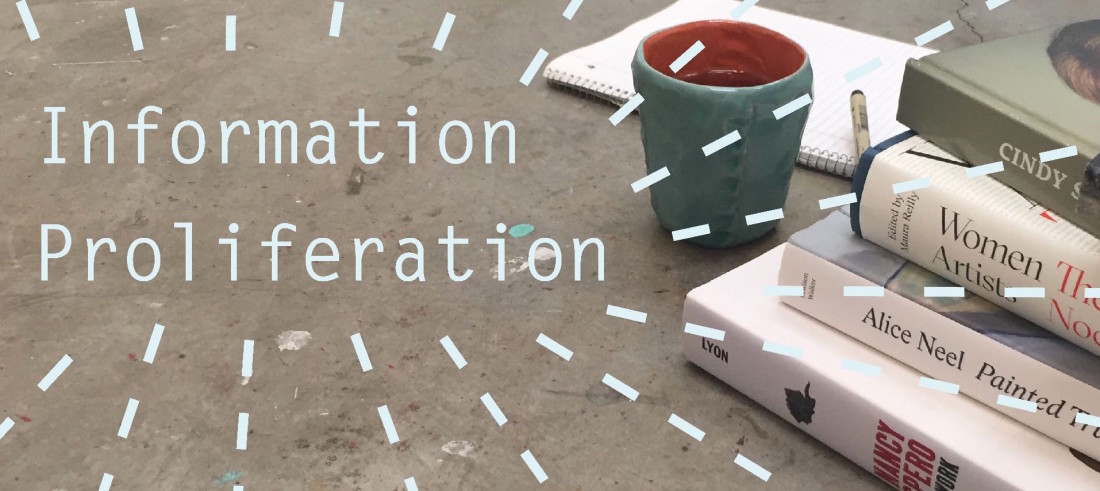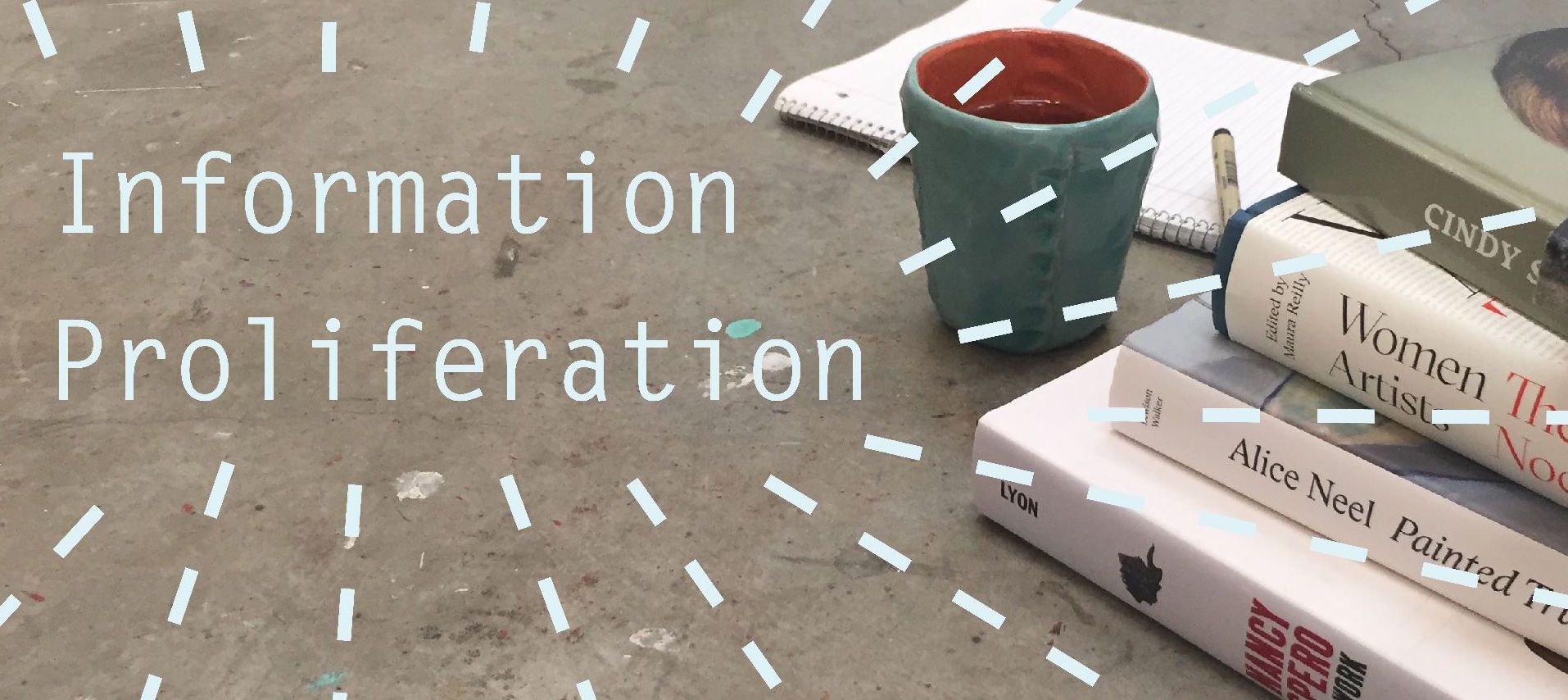 Information Proliferation: an independent project by fellow Mariela Acuna
Information Proliferation is an independent, web-based project by Fall 2015 Fellow, Mariela Acuna.
Acknowledging challenges in understanding contemporary art, Information Proliferation creates a context for selected works in Girls' Club's current exhibition, Self-Proliferation. The project provides information about the artists, their career and their specific body of work. By sharing her findings, Mariela hopes to enhance accessibility and appreciation for the works.
My research methods are very straight forward. I started by reading things that sparked my curiosity. Bibliographies in artists' websites are a great place to look for interesting articles by interesting writers. Looking thoughtfully art the art is important. We often don't give ourselves enough time to look at art objects, ask ourselves questions and give ourselves the authority to reach our own conclusions. So think about it, and share!

Do you find contemporary art can be confusing?
What resources do you wish galleries and museums would provide?
Do you find yourself spending more time with art that you understand vs. art that is confusing?
As a viewer, do you think its worth investigating art that you don't understand? How would you do that?

-Mariela Acuna
Join the Conversation
As part of Information Proliferation's goal to enhance understanding, and appreciation of artwork by contemporary women artists, Mariela is encouraging a conversation about the artwork shown below and she wants to hear from you!
Cindy Sherman: Untitled Film Still #19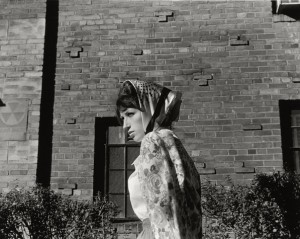 Cindy Sherman's Untitled Film Still #19, (1978) corresponds to a series of sixty-nine photographs produced between 1977 and 1980. During her Art 21 interview, when speaking of the Film Still series Sherman said,
"I didn't want to make what looked like art," and explains that "film has always kind of been more influential to me than the art world."1
She recalls spending several hours a day watching films in the basement of her family's home. The black and white photographs in this series are made to resemble European films from the 1950's and 1960's and their characters are imagined to mimic the raw, expressionless female characters portrayed in those films. 
When she began to work on this series, 23 year-old Sherman had recently moved to New York City after completing her education at SUNY Buffalo State. She was living in a small studio apartment on Fulton Street that she used as her studio. She was making art with limited space and resources and working alone, which she continues to do today. Working alone allows her to imagine and become her characters, design the space to photograph them and even imagine their personalities or what they were thinking at the time. 
Untitled Film Still #19 was shot outside, however, many of the photographs from the same series were taken in her studio apartment. The photos that were taken outside, such as the one in Self-Proliferation, required the assistance of a second person to help her take the photograph. She was often assisted by artist, Robert Longo, who was her boyfriend at the time, Charlie Sherman, her father, or others. In her essay included in her monograph by MoMA, The Complete Untitled Film Stills, Sherman recalls having great fun with her friends and family as she dressed and undressed in the middle of the road each time that she felt she found a great "spot" to photograph a character that she had in mind.
Untitled Film Still #19 shows Sherman, in costume, the figure in the center of the frame, looking as though she is going somewhere. Sherman describes the expression of the subject as
"the moment right before the emotion comes out."2
As she developed this body of work, Sherman was interested in implying a narrative through a still image. She had worked on video while she was at school in the 1970s. When the Untitled Film Stills series is presented together, as it was exhibited for the first time at the Hirshhorn Museum and Sculpture Garden in 1995, you may begin to notice narrative threads throughout the photos as the same character is found in multiple photos with similar yet different expressions. The character in Untitled Film Still #19, also appears in Untitled Film Still #17, #18, and #20. 
In 2012, the Museum of Modern Art in New York presented a survey exhibition of Sherman's career to date. Although the exhibition was not presented chronologically, it demonstrated that Untitled Film Stills was the last body of work that Sherman photographed outdoors. Since the 1980s, Sherman has been working in her studio and using color instead of black and white photographs. Also, Untitled Film Stills is the only series of works that Sherman titled, others have been given unofficial titles by curators or historians who have written about the work.
It is important to Sherman that the work is not described as a self-portrait. She wants her viewer to think of herself as somebody else when she is in costume. She said,
"I really don't think that they are about me. It's maybe about me maybe not wanting to be me and wanting to be all these other characters. Or at least try them on."3
---
Footnotes
Featured in Art in the Twenty-First Century, Season 5 (2009), Transformation
Cindy Sherman, interviewed by Mark Stevens, "How I Made It: Cindy Sherman on Her 'Untitled Film Stills'" New York Magazine, April 7, 2008, accessed February, 2016
---
Further Readings
Sherman, Cindy, The Complete Untitled Film Stills, Edited by David Frankel. New York, NY: Museum of Modern Art, New York, 2003
Cindy Sherman, interviewed by Mark Stevens, "How I Made It: Cindy Sherman on Her 'Untitled Film Stills'"

New York Magazine,

April 7, 2008, accessed June 2, 2012.

Calvin Tomkins, 'Her Secret Identities', The New Yorker, May 15, 2000, pp.74-83
Paul Taylor, 'Cindy Sherman' (interview), Flash Art, no.124, Oct. – Nov. 1985, pp.78-9
Schweitzer, Dahlia. "Out of Time: A Look Back at Cindy Sherman at MoMA," Hyperallergic (June, 2012), accessed February 15, 2016
Ida Applebroog: Fendi Progeny
Acknowledgments
Funding for this project was made possible in part by Funding Arts Broward, Broward County Board of County Commissioners as recommended by the Broward Cultural Council, the State of Florida, Department of State, Division of Cultural Affairs and the Florida Council on Arts and Culture and private donors.