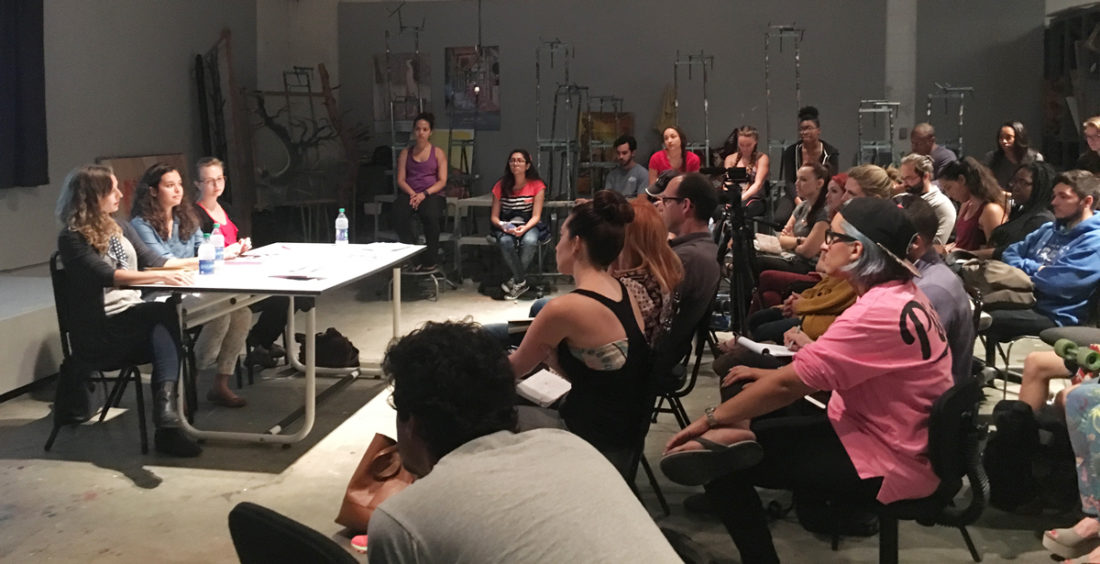 Now These: 2016 Opportunities for Emerging Artists and Arts Professionals
On April 20th, 2016, Florida Atlantic University's Painter's Forum and Girls' Club hosted a panel discussion, Now What?, inviting recent FAU and Girls' Club alumnae Mariela Acuna, Jeanie Ambrosio and Brooke Frank to share experiences, tips, and lessons learned upon graduating art school. The panel discussed various topics pertaining to the college and post-college experience and addressed a wide range of questions about what to expect after graduation.
So, 'Now What' for art students entering the job market in South Florida? The panelist have researched and reached out to their networks to compile this brief list of links for local opportunities for current students, recent graduates, and emerging artists/arts professionals.
For Curators/Organizers (Grants)

Knight Foundation: Grant
Projects benefiting or taking place in Miami. Four cities, one question: What's your best idea for the arts? Craft your submission in 150 words
Deadline: May 2, 2016
www.knightfoundation.org/knight-arts-challenge
FEAST Miami
Artists and small arts organizations are invited to present a simple proposal for an art project. The projects should be innovative, feasible, and impact the community in Miami-Dade and Broward County.
Deadline: May 5, 2016
www.feastmiami.org/#!artist-applications/cbg3
For Artists (Grants/Calls/Residencies)
South Florida Cultural Consortium: Grant
The South Florida Cultural Consortium Fellowship Program offers the largest regional, government-sponsored artists' grants in the United States, awarding $15,000 and $7,500 fellowships to resident visual and media artists. All emerging, mid-career and established South Florida professional artists (those residing in Broward, Martin, Miami-Dade, Monroe or Palm Beach Counties) are eligible to apply. You must have resided and worked in one of the participating five counties in the year prior to your application and must apply from the county of your residence. The Consortium defines a professional artist as a person who has created a recognized body of original works of art within an artistic discipline over a sustained period of time, and who is striving to achieve the highest level of professional recognition. Applicants must be over 18 years of age.
Application Fee: $0, Deadline: TBA, (last year: 10/30/2015)
www.miamidadepublicart.org/#fellowship
Art Center South Florida: Residency
For a period of six months up to two years, artists are granted partially-subsidized studios at ArtCenter's Miami Beach campus located in the heart of South Beach on Lincoln Road, a commercial pedestrian mall, offering a unique residency experience in an urban, yet tropical setting. In addition to studios, artists are offered extensive exhibition opportunities in South Florida as well as national and international venues; professional development opportunities including studio visits with noted South Florida-based, national and international curators; participation in Fieldwork sessions, a peer oriented critique session; and workshops such as proposal writing, writing an artist statement, budgeting, etc.
Application Fee: $0, Deadline: August 31, December 31 and April 30, Annually.
www.artcentersf.org/residency-programs/studio-residency/
Bakehouse Art Complex: Residency (Multiple Programs)
The Bakehouse Art Complex offers affordable studios in multiple disciplines, and opportunities for development and presentation of work to professional emerging and mid­?career artists. Primary criteria for selection for the residency program are conceptual innovation and technical proficiency.
Juried Studio Residency: Up to 8 years, with review process Application Fee: $51.50
Short Term Studio Residency: 3, 6, and 9 months, Application Fee: $26.75
Associate Artist Application Fee: Local artists only, Application Fee: $10.50
Deadlines: Rolling
www.bacfl.org/artist-opportunities
Bailey Contemporary Arts: Residency (One Subsidized Residency for an Emerging Pompano Artist)
The Artists in Residence program offers affordable private studios to local, national, and international artists for up to two years. Artists in Residence become part of a dynamic community of artists participating in BaCA programming, allowing for exchange and collaborative relationships to develop within the artist community. Space is awarded to applicants that best demonstrate their capabilities and intent to provide a social benefit through their art to Pompano Beach and beyond, and have a proven track record of community engagement. A.i.R leases include private studios as well as access to flexible shared working space. Artists selected for this program range from emerging to established, and work in all artistic disciplines and media; including drawing, painting, sculpture, photography, new media, installation, and interdisciplinary expression.
Application Fee: $35, Deadline: February
www.baileyarts.org/index.php/pages/become_air
Jaffe Center for Book Arts AIR: Residency
Two residencies will be awarded each academic year: one in the fall semester and one in the spring semester. The Artist in Residence (AIR) selected each semester will get his or her own office at JCBA and full use of the JCBA studios (papermaking, letterpress and book studios), plus a $5000 stipend per semester. The artist's residency will last for 12 weeks, though shorter or longer residencies may be accommodated as needed. In the application process, if an artist has a particularly ambitious creative project in mind, the artist may apply for a residency that would encompass two semesters. Should the two-semester residency be awarded in this case, the artist would be expected to teach one workshop in each semester. Artists working in the book arts (and other media, too, as long as the creative project can be thought of as book arts related) are encouraged to apply for this prestigious and competitive award.
Application Fee: $0, Deadline: May 10, 2016
www.library.fau.edu/depts/spc/JaffeCenter/AIR.php
Broward County Water and Wastewater: Call for Video Project Proposals
The Broward County Public Art & Design Program in conjunction with the Water and Wastewater Division is seeking to commission a qualified professional artist or team of artists to produce a unique informational video. The video shall creatively document the County's Water and Wastewater services, operations and the benefits provided to residents. The overall project budget is $15,000. The budget includes all artist's costs, including, but not limited to supplies, materials, insurance, proposals, travel and transportation, and sales tax. The project is open to all professional artists living and working in South Florida (Broward, Miami-Dade, Palm Beach, Monroe and St. Lucie counties) who can demonstrate experience in the making of creative documentary videos. The selected artist may be required to pass a background check and obtain security clearance for access to certain County facilities.
Application Fee: $0, Deadline: May 6, 2016
www.broward.org/Arts/PublicArt/Pages/Water-and-Wastewater-Call.aspx
Internships and Jobs
Art and Culture Center in Hollywood
Internships and Jobs
Jaffe Center for Book Arts (Contact John Cutrone to volunteer)
Norton Museum of Art College Committee (Contact Mariela Acuna to inquire at: [email protected])
Palm Beach County Art in Public Places
University Galleries, Florida Atlantic University
Professional Resources and Classes
Boca Raton Museum of Art Work/Study (Exchange work for classes)
Jaffe Center for Book Arts (Cindy Bartosek Scholarship/workshop scholarship)
Directions in the description of the workshop when available.
Listings of Artist Opportunities:
Alliance of Artist Communities
Cultural Council of Palm Beach County
New York Foundation for the Arts