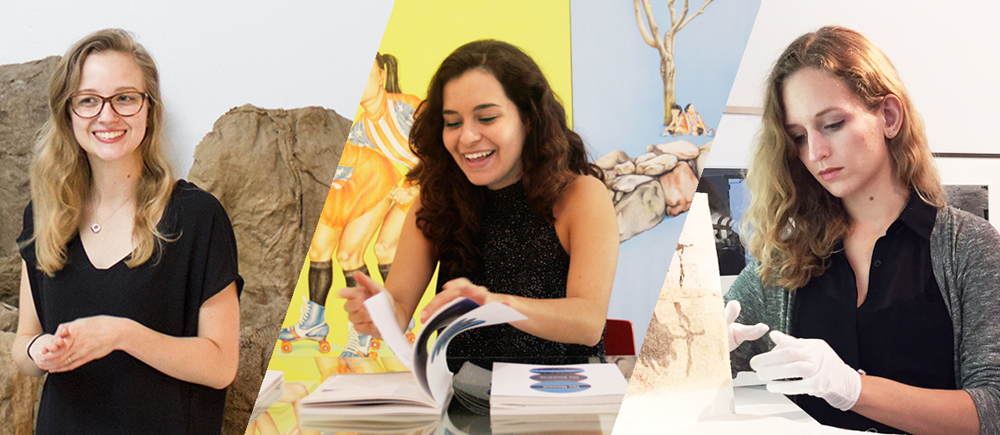 Girls' Club alumnae speak at FAU panel talk
Girls' Club alumnae Mariela Acuna, Jeanie Ambrosio and Brooke Frank will speak to an audience of undergraduate art students at Florida Atlantic University, Wednesday, April 20th about issues and experiences faced by recent art graduates as they pursue careers in the art world. As recent FAU graduates pursuing various tracks with in the South Florida art landscape, the panel will share their unique experiences graduating, navigating the balance between work/life/artistic practice and fielding questions like:
What do you wish someone had told you while still in art school?
What has been hardest part about transitioning from a student to a working professional
What has been the most eye opening experiences in your search for art-related work and income
What were some influences in your decision to enter the professional field vs continuing with education track, etc.
The panel is open to FAU students, alumni and the general public.
Florida Atlantic University
777 Glades Road, Room VA105
Boca Raton, FL
Questions more information, 954-828-9151, or email info [at] girlsclubcollection.org.
About the Panel
Jeanie Ambrosio received a BA in Art History and a BFA in Photography from Florida Atlantic University in 2013. She is currently a Curatorial Assistant at the Margulies Collection at the Warehouse in Miami and previously worked at the University Galleries, FAU, Art and Culture Center of Hollywood and interned at Girls' Club Collection in Fort Lauderdale. Her 2012/2013 internship with Girls' Club predated the current fellowship program, where she contributed to educational, curatorial and event-driven programs, including co-curating the exhibition and catalog Making Space: Beyond a Room at the Rosemary Duffy Larsen Gallery at Broward College.
Mariela Acuna received BA in Art History and a BFA in Sculpture from Florida Atlantic University in 2015. She worked at the University Galleries at FAU and currently works at  Norton Museum of Art as Family Programs Coordinator and Girls' Club collection as Collections Assistant. As the Fall 2015 fellow at Girls' Club she contributed to several programs and developed the independent, web-based project Information Proliferation offering an extended research-based online essay with a focus on three influential artists in the collection.
Brooke Frank is an emerging artist living and working in South Florida, and recent graduate of Florida Atlantic University, with a BFA in painting. In addition to her Spring/Summer 2016 fellowship at Girls' Club, she is currently the Spring 2016 Artist in Residence at FAU Wimberly Library's Jaffe Center for Book Arts (JCBA). As an undergraduate, she spent three years as a student assistant at the Jaffe Center, where most of her work was geared toward connecting students and members of the community to artists' books and multiples, and giving artists the resources to realize their projects.