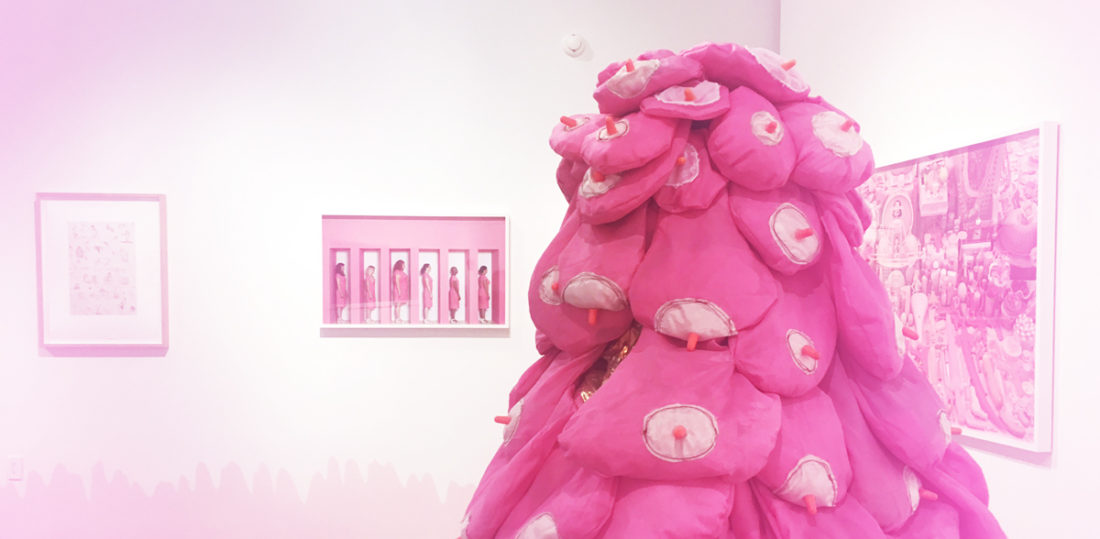 Pink Noise Closing Reception
Saturday, February 25, 2017, 6-9pm
Join Girls' Club for the closing of Pink Noise: Flexing the Frequency, the last exhibition on view at the iconic 117 Girls' Club building in downtown Fort Lauderdale, and performance by Jen Clay.
Downstairs, enjoy the exhibit and chat with exhibition curator Sarah Michelle Rupert, Girls' Club directors, featured artists and community members.
In the mezzanine, flip through 6 years of Girls' Club catalogs - all on sale for $20 - and limited editions from local artists - all on on sale for $20 off, and experience the launch of Pink Noise: Perspectives, an independent project by Girls' Club fellow Tayina Deravile.
Performance by Jen Clay
Fort Lauderdale-based artist Jen Clay will breathe life into a much talked about sculpture represented in the exhibition, Part sculpture, part performance costume, The Stewardess has welcomed visitors to the gallery with a mix of shock, awe and delight. Join us as we experience the sculpture come to life and interact with guests of the closing reception.
Performance will begin at 6:15pm.
Pink Noise: Perspectives Listening Station
Girls' Club fellow Tayina Deravile will be launching her independent project Pink Noise: Perspectives, a series of candid interviews that examine connotations of the color pink in social customs with local professionals from varied industries in South Florida.
"Using the exhibition as a focal point, I am on a quest to continue the conversation on pink. As individuals we all have our own ideas on the color. In a series of candid interviews with professionals I will examine personal narratives, social customs, research and vocational perspectives affected by the color pink."
The Listening Station will be available for the duration of the closing.
The 117 Building
The 117 Girls' Club building opened in the fall of 2007, renovated for use as an unpredictable art space by local architect and designer Margi Nothard of Glavovic Studio. Founded by Francie Bishop Good and David Horvitz, and led by director Michelle Weinberg, Girls' Club opened as the only private collection open to the public with a focus on contemporary art by women, in the world.
Throughout its 10-year history, the building has stood as a convergence point and catalyst for the growing contemporary art developments in the Fort Lauderdale and Broward County area. Its galleries have witnessed 10 major exhibitions of contemporary art, curated by emerging and mid career artists and curators.
The building has hosted film screenings, artist talks, stitch and bitches, professional development workshops, experimental theatre, lectures, musicial performances, parties, dinners, outreach workshops and countless student and community tours. Its walls have supported students artists, emerging artists, critically acclaimed artists, international rock star artists, both female and male. It's doors have welcomed women, men, dogs, cats, lizards, students, children, carebears, and everything in between in an effort to fulfill its mission to educate the public, act as a resource and the nurture of the careers of contemporary female artists.