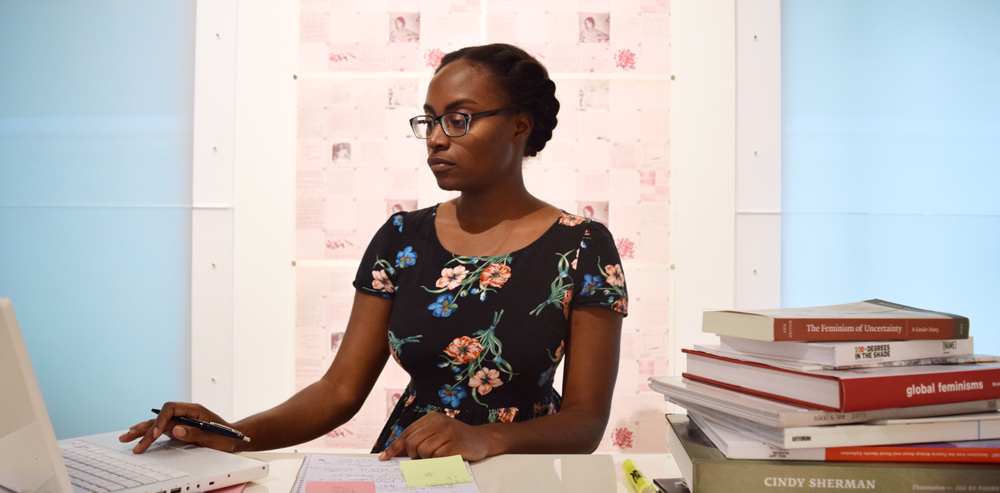 Hello Fellow: Girls' Club welcomes Tayina Deravile
Winter/Spring 2017 Fellowship
Girls' Club continues its fellowship program, welcoming Tayina Deravile to the Girls' Club team. Bridging the gap between art school and the professional workplace, the fellowship program works hands-on with young artists and professionals, combining education and practical experience to create a unique environment for professional growth.
The Fellowship Program at Girls' Club enables young arts professionals to gain substantive understanding of arts administration, programming and arts operations while contributing to Girls' Club exhibitions and public programs. Working closely with Girls' Club Gallery Director and Creative Director, fellows will be heavily involved in a variety of operations including curatorial, research, social media campaigns, building relationships with press, creating educational print and web content, developing curriculum, assisting in collection management and community involvement.
In addition to regular programming and operations, fellows are charged with the creation of an independent community-, education- or web-based project. They will have the opportunity to direct the project from inception, to completion – creating project goals and deliverables, researching and applying for project funding, vetting team of collaborators/contributors, writing press releases and contacting local press, devising cross-platform social media campaign, documenting the project and producing final reporting data for evaluation.
About Tayina

Deravile
Tayina Deravile holds a Bachelor of Science degree in Psychology from the University of Central Florida. She furthered her education in the social sciences, with a Master's degree in Mental Health Counseling at Nova Southeastern University. While attending graduate school, Tayina began her career in art administration at the NSU Art Museum. During her tenure at the museum, Tayina was able to facilitate outreach programs, studio art classes, and engage the community through the education department initiatives. She is also a member of the Arts Ed Forever! Committee, an arts advocacy group in Broward County led by the Broward Cultural Division.
As a proponent for beneficence, she is excited to join Girls' Club as their newest fellow and to continue developing art education as a catalyst for well being at any capacity. Her background in psychology and experience working with art institutions furthers her belief that art is essential in an individual's overall mental health. As Girls' Club's fellow, she is looking forward to working across artistic disciplines to facilitate the cultural and mental growth of the local community.
Fellowship Projects include
A Girls' Guide to Art Basel Miami Beach
A Girls' Guide to ABMB is an online source guide produced by Girls' Club to idenitfy to exhibitions, fairs, performances and programs featuring women artists, curators and art professionals during the 2016 ABMB week of events. Tayina identified local events of interest to supplement the guide. Her research was supportive to the guide's intent.
www.girlsclubcollection.org/a-girls-guide-to-abmb-2016
Now Be Here #3 at PAMM
Artist Jane Hart, Pérez Art Museum Miami (PAMM) and Girls' Club partnered with Los Angeles-based artist Kim Schoenstadt to organize a historic event – Now Be Here #3 – a gathering and photograph of South Florida female and female identifying contemporary artists.
Tayina assisted in data collection for the local female artists prior to the event. She also actively participated in providing event support to this chronicled event. She shared her thoughts on the experience in an on air radio interview with WLRN.
SPF'16
SPF Fort Lauderdale, South Florida's first Small Press Fair, kicked off its first edition at ArtsUp Concepts in FATVillage November 2016. Tayina participated in the SPF Volunteer meeting and screen printing session, helping the team of volunteers screen print their own t-shirts and tote bags in preparations for the fair.
During the fair, Tayina staffed the Girls' Club table, interacting with artists and engaging community members with information about Girls' Club's exhibitions, programs, events and publications.
Pink Noise Perspectives
Pink Noise Perspectives is an independent, web-based project by Winter/Spring 2017 Fellow, Tayina Deravile.
The project exists as a podcast series exploring the effects of the social constructs of the color pink to various individuals working in differing vocations. A teacher, a DJ, a noise artist, a producer, an optometrist, and a marriage and family therapist lend their introspection on the messages of pink and how the color relates to their respective practices. These brief discussions touch upon first memories of the color, anecdotal experiences related to the color, and vocation-specific queries.