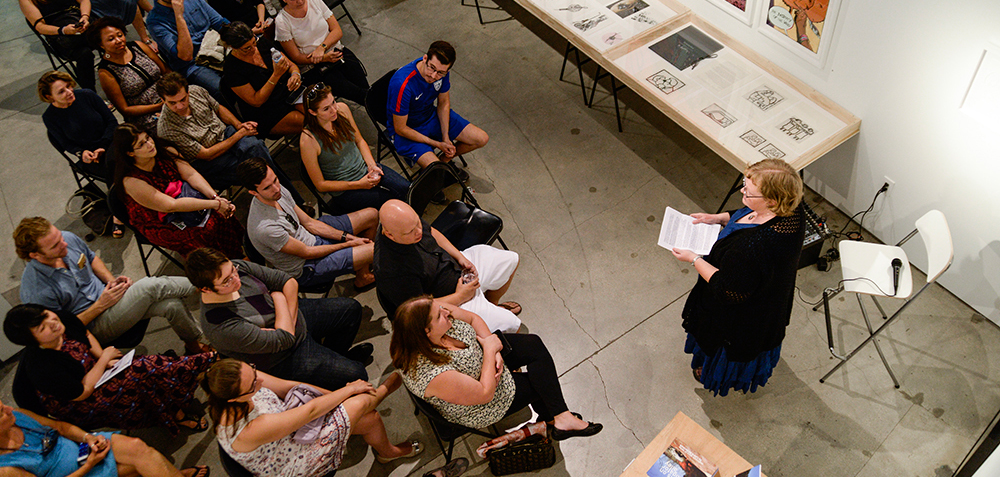 Live Reading with Writer in Residence Jan Becker and Local Authors
During the Catalog Launch event for Self-Proliferation, writer in residence Jan Becker invited a group of local authors to share their recent publications with Girls' Club and its audience.
South Florida is home not only to a growing visual art scene, but a dynamic, multi-faceted, multi-cultural, literary scene. Novelists, poets, historic writers and journalists have always been a part of South Florida's unique history. Like visual artists, they document our community and create lasting impressions of our weird, little sunny existence. Their stories reach far beyond our swampy borders and permeate the world.
Girls' Club began its annual writer in residence program in 2010, in part as a way to fuse the visual with the literary, and forge new relationships, collaborations and projects between the two.
Featured Authors
Jan Becker is the 2015-2016 Writer-in Residence at Girls' Club, Fort Lauderdale. She is a 2015 AWP Intro Journals Award recipient in nonfiction. Her work has appeared in Jai-Alai Magazine, The Colorado Review and Sliver of Stone Magazine, among other places. Becker will be reading poetry from the 2016 Girls' Club Collection Catalogue of the current exhibition, "Self-Proliferation."Marci Calabretta Cancio-Bello is the author of Last Train to the Midnight Market (Finishing Line Press; 2013). A Kundiman and Knight Foundation poetry fellow, she serves as co-founding editor for Print-Oriented Bastards, assistant editor for Jai-Alai Magazine, and producer for The Working Poet Radio Show. She will be reading from her forthcoming poetry collection Hour of the OX (Pitt Poetry Series; 2016), winner of the 2015 AWP Donald Hall Prize in Poetry.
Cathleen Chambless is a Miami-based poet, visual artist and activist who facilitates popular education based anti-oppression workshops with Miami's grassroots organization Seed 305. She will be reading poetry from her freshly-released collection Nec(Romantic) (Gorilla Press; 2016). Poet Campbell McGrath says Chambless' poetry is, "Witchy, incantatory and viper smart."
Fabienne Josaphat was born and raised in Haiti, and currently lives in Miami. In addition to fiction, Josaphat writes non-fiction and poetry, as well as screenplays. Josaphat will be reading from her debut novel, Dancing in the Baron's Shadow, which was selected as one of The Root's "Books by Black Authors To Look Out For in 2016." Her novel takes place in Haiti in the 1960s, during the oppressive regime of Papa Doc Duvalier, and follows the quest of two brothers to escape Haiti's notorious prison, Fort Dimanche.
A former firefighter, Louis K. Lowy is the recipient of a State of Florida Individual Artist Fellowship. His stories have appeared in, among other places, New Plains Review, The MacGuffin Magazine, and the anthology, Everything Is Broken. Lowy will be reading from his recently published second novel, Pedal (Panoptic Books; 2015), the story of 49 year-old music teacher Joanne Brick, who loses her job and struggles to reclaim her life through bicycle racing.
Laura McDermott was the 2014-2015 Girls' Club Writer-in-Residence. She is an Assistant Professor of English at Broward College, and the Executive Director of Orange Island Arts Foundation, a literary non-profit organization. McDermott will be reading poems from Visions on Alligator Alley (Lominy Books; 2015), an ekphrastic story-in-verse inspired by the 2015 Girls' Club exhibition "The Moment. The Backdrop. The Persona."
Nadra Mabrouk grew up in Miami, FL where she earned a BA in English from FIU. Her work has appeared in Best Teen Writing of 2010, RHINO, The Boiler Journal, and elsewhere, and she is an incoming MFA candidate at New York University. Nadra will be reading from her debut chapbook How Things Tasted When We Were Young (Finishing Line Press; 2016). Julie Marie Wade writes that this, "is a sleek, visceral volume that disturbs as it enraptures."