Defining a Moment: an independent project from Fellow Erica Mohan
Girls' Club presents Defining a Moment, an independent project created by Fall 2014 fellow Erica Mohan. Defining a Moment is a multi-part video blog series exploring the stories of select artists' decisions to pursue an artistic profession and the moments that sparked their transformation. Artists were selected from the private collection of Francie Bishop Good and David Horvitz, founders of Girls' Club, with a focus on local artists.
Defining a Moment shares an intimate glimpse of artists' personal struggles, discoveries, philosophies and fears involved with being a practicing artist in today's society.
About Erica Mohan
Erica Mohan was born in Toronto, Ontario, CA. She obtained a BFA from Florida Atlantic University and went on to hold Girls' Club first fellowship position in Fall 2015. She is an oil painter whose interests revolve around her experience with martial arts and its application in everyday life.
Follow the hashtag #DefiningaMoment on social media platforms for the latest interviews and updates.
---
Part One
features Girls' Club collection artists Jane Hart, Virginia Fifield, Carol Prusa, Lisa Sanditz, Dinorah de Jesus Rodriguez, Tara Penick and AdrienneRose Gionta
Published January 2015.
---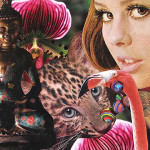 Jane Hart / TJ Ahearn
"..artwork was a way to kind of make sense of what was going on.."
---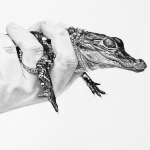 Virginia Fifield
"..it offered a degree of problem solving and that always really interested me.."
---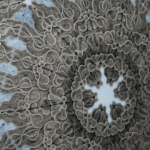 Carol Prusa
"..it would be like the hardest thing I could choose to follow, and it made me feel so alive.."
---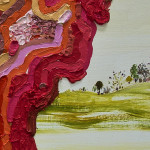 Lisa Sanditz
"As long as I can remember, I liked to make things, turning bags of bobbles and panty hose into knock-off Cabbage Patch dolls, fashioning cardboard records and a record player out of old boxes or making life size people out of old tennis ball cans. There was never an 'Ah-ha,' moment, just a steady series of material play.
"Some early highlights include, winning a coloring contest sponsored by a local grocery store by showcasing early collage skills and including glitter and cotton balls as textural elements in the otherwise standard black-outline coloring book image. This got me tickets to Six Flags or a Cardinals' game, I can't remember. Later in high school, painting clumsy sets for Roger and Hammerstein classics first challenged my own experience with scale as these sets crept across the dusty auditorium.
"All the while I sopped up art in local museums. I was aware of curious connections between Oceanic art and Cubism, saturated by Matisse's colors and intimidated by the German Expressionists powerful colors, narratives and gestalt.
"In college I studied art, of course. I graduated and made art. I had no back-up plan. Painting was and is the only plan. Crappy and great jobs and art sales have supported this over the years.
"Scale came back a round in a number of ways. I spent many foggy California days painting murals in San Francisco and also submitting a proposal to The Guinness Book of World Records to make the world's largest pair of underwear. The proposal was rejected and the panties never made- a shelved project for later days.
"The last ten years have been the most focused and dedicated on art making and specifically painting. I have played around with materials including, paper, ceramics, and most ferociously painting in both acrylic and oil. Tiny triumphs and giant failures occur on a daily basis in the studio.
"The defining moment happens on a daily basis, when I see a bright red Cardinal pop against a dusty dry winter landscape, see neon-vinyl scraps in a landfill in China or observe a mis-shapen tree cut to accommodate a power line in front of my house. These moments become interior in my mind and body and are then churned and unleashed in the studio. At times yielding fantastic creations and at others monuments of personal dissatisfaction and failure."
---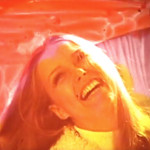 Dinorah de Jesus Rodriguez
"..it's not about what you do and get paid for, it's about the path you lay out for yourself.."
---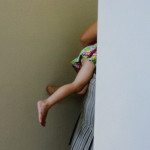 Tara Penick
"..at least for me if not for anybody else, this is what I was meant to do.."
---
AdrienneRose Gionta
"..now I'm going to see what happens, I'm just going to take the chance.."

---