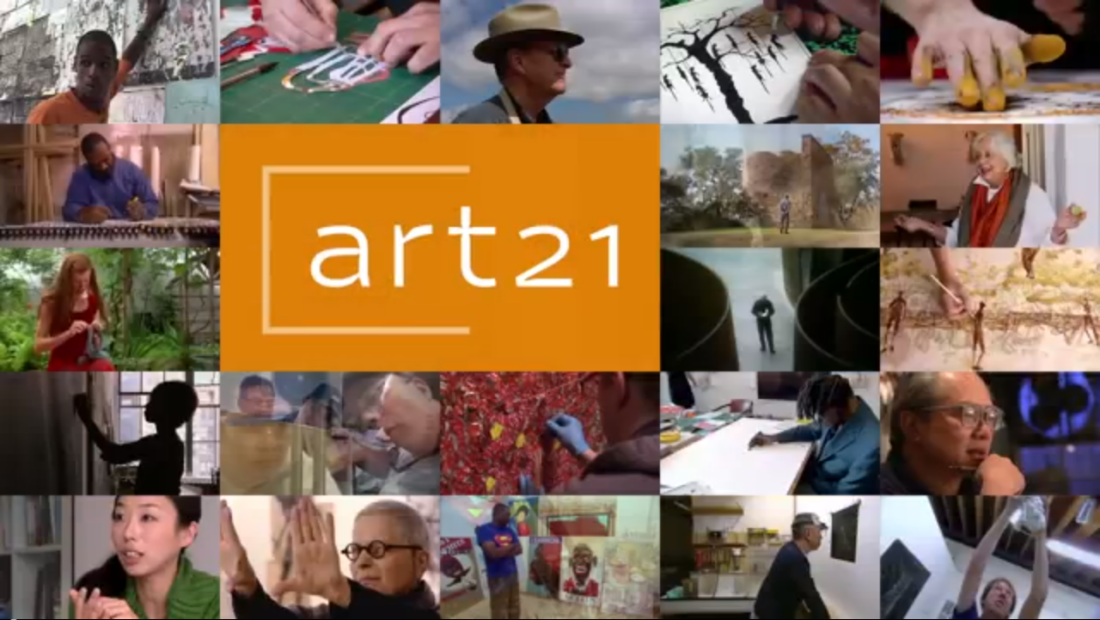 Artists in Self Proliferation on Art21
Extending opportunities for education and research on contemporary female artists, fellows Mariela Acuna and Brooke Frank have put together a video listing of artists in the current exhibition, Self Proliferation, who have been featured on ART21.
ART21 videos  are short documentaries that explore different aspects of artists' work. Through direct interviews these videos make accessible the unique ideas and processes of the various artists. They have become an indispensable resource to students, teachers, researchers and artists curious about learning more about leading contemporary artists.
ART21 viewers are provided with a depth of context and insight, which is largely untapped by biography alone, through the nuanced conversations and studio tours which are the foundation of each video.
About ART21
ART21 is a nonprofit contemporary art organization dedicated to introducing broad public audiences to today's visual artists—stimulating critical reflection as well as conversation through the production of films, publications, digital resources, and educational programs.
ART21 programs inspire creative thinking and educate: a new generation about contemporary art and art making; teachers about how to engage students with the art of their time; the public at large about the life of the creative mind.
ART21 has established itself as the preeminent chronicler of contemporary art and artists through its Peabody Award-winning, PBS-broadcast television series, ART21 Art in the Twenty-First Century.
More information at www.art21.org.
Ida Applebroog
Fendi Progeny, 2005
Digital print on Loulin de Larroque paper,
22.25" x 17"
Ephemera, 2014
Suite of 5 prints, etching, photogravure,
12" x 15"
on view in Self-Proliferation, curated by Micaela Giovannotti, on view November 12, 2015 - June 25, 2016
Ida Applebroog was born in the Bronx, New York, in 1929, and lives and works in New York. She attended the School of the Art Institute of Chicago and received an honorary doctorate from New School University/Parsons School of Design. Applebroog has been making pointed social commentary in the form of beguiling comic-like images for nearly half a century. She has developed an instantly recognizable style of simplified human forms with bold outlines. Anonymous "everyman" figures, anthropomorphized animals, and half-human/half-creature characters are featured players in the uncanny theater of her work. Applebroog propels her paintings and drawings into the realm of installation by arranging and stacking canvases in space, exploding the frame-by-frame logic of comic book and film narrative into three-dimensional environments. In her most characteristic work, she combines popular imagery from everyday urban and domestic scenes, sometimes paired with curt texts, to skew otherwise banal images into anxious scenarios infused with a sense of irony and black humor. Strong themes in her work include gender and sexual identity, power struggles both political and personal, and the pernicious role of mass media in desensitizing the public to violence. In addition to paintings, Applebroog has also created sculptures; artist's books; several films (including a collaboration with her daughter, the artist Beth B); and animated shorts that appeared on the side of a moving truck and on a giant screen in Times Square. Applebroog has received many awards, including a John D. and Catherine T. MacArthur Foundation Achievement Award and a Lifetime Achievement Award from the College Art Association. Her work has been shown in many one-person exhibitions in the United States and abroad, including the Corcoran Gallery of Art, Washington, DC; Whitney Museum of American Art, New York; Contemporary Arts Museum, Houston; and High Museum of Art, Atlanta; among others.
John Baldessari
Visionaire No. 64 Art: Red Edition (portfolio), 2014
Canvas clad portfolio,
12.8" x 18.8" x 1.9"
on view in Self-Proliferation, curated by Micaela Giovannotti, on view November 12, 2015 - June 25, 2016
John Baldessari was born in National City, California, in 1931. He received a BA (1953) and MA (1957) from San Diego State College, continuing his studies at Otis Art Institute (1957–59) and Chouinard Art Institute. Synthesizing photomontage, painting, and language, Baldessari's deadpan visual juxtapositions equate images with words and illuminate, confound, and challenge meaning. He upends commonly held expectations of how images function, often by drawing the viewer's attention to minor details, absences, or the spaces between things. By placing colorful dots over faces, obscuring portions of scenes, or juxtaposing stock photographs with quixotic phrases, he injects humor and dissonance into vernacular imagery. For most of his career, John Baldessari has also been a teacher. While some of the strategies he deploys in his work—experimentation, rule-based systems, and working within and against arbitrarily imposed limits to find new solutions to problems—share similarities with pedagogical methods, they are also intrinsic to his particular world view and philosophy. Baldessari has received several honorary doctorates, the most recent from the National University of Ireland, Burren College of Art (2006). He has participated in Documenta (1982, 1978); the Venice Biennale (2003, 1997); and seven Whitney Biennial exhibitions, most recently in 2008. His work has been shown in more than 120 solo exhibitions and 300 group exhibitions. A major retrospective appeared at Tate Modern, London; the Metropolitan Museum of Art, New York; and Los Angeles County Museum of Art in 2009–10. John Baldessari was elected to the American Academy of Arts and Letters in 2007. He lives and works in Santa Monica, California.
Ann Hamilton
Untitled (Honey/Pocket), 1999
Video
30 min. looped
on view in Self-Proliferation, curated by Micaela Giovannotti, on view November 12, 2015 - June 25, 2016
Ann Hamilton was born in 1956 in Lima, Ohio. She trained in textile design at the University of Kansas, and later received an MFA from Yale University. While her degree is in sculpture, textiles and fabric have continued to be an important part of her work, which includes installations, photographs, videos, performances, and objects. For example, following graduation she made "Toothpick Suit"—for which she layered thousands of toothpicks in porcupine fashion along a suit of clothes—that she then wore and photographed. Hamilton's sensual installations often combine evocative soundtracks with cloth, filmed footage, organic material, and objects such as tables. She is as interested in verbal and written language as she is in the visual, and sees the two as related and interchangeable. In recent work, she has experimented with exchanging one sense organ for another: the mouth and fingers, for example, become like an eye, with the addition of miniature pinhole cameras. In 1993, she won a prestigious MacArthur Fellowship. As the 1999 American representative at the Venice Biennale, she addressed topics of slavery and oppression in American society, with an installation that used walls embossed with Braille, which caught a dazzling red powder as it slid down from above, literally making language visible. After teaching at the University of California at Santa Barbara from 1985 to 1991, Hamilton returned to Ohio, where she lives and works.
Trenton Doyle Hancock
Fix, 2006
18 portfolio prints
on view in Self-Proliferation, curated by Micaela Giovannotti, on view November 12, 2015 - June 25, 2016
Trenton Doyle Hancock was born in 1974 in Oklahoma City, Oklahoma. Raised in Paris, Texas, Hancock earned his BFA from Texas A&M University, Commerce, and his MFA from the Tyler School of Art at Temple University, Philadelphia. Hancock's prints, drawings, and collaged-felt paintings work together to tell the story of the Mounds—a group of mythical creatures that are the tragic protagonists of the artist's unfolding narrative. Each new work by Hancock is a contribution to the saga of the Mounds, portraying the birth, life, death, afterlife, and even dream states of these half-animal, half-plant creatures. Influenced by the history of painting, especially Abstract Expressionism, Hancock transforms traditionally formal decisions—such as the use of color, language, and pattern—into opportunities to create new characters, develop sub-plots, and convey symbolic meaning. Hancock's paintings often rework Biblical stories that the artist learned as a child from his family and local church community. Balancing moral dilemmas with wit and a musical sense of language and color, Hancock's works create a painterly space of psychological dimensions. Trenton Doyle Hancock was featured in the 2000 and 2002 Whitney Biennial exhibitions, one of the youngest artists in history to participate in this prestigious survey....
Cindy Sherman
Untitled Film Still #19, 1978
Photograph
8" x 10"
on view in Self-Proliferation, curated by Micaela Giovannotti, on view November 12, 2015 - June 25, 2016
Cindy Sherman was born in 1954 in Glen Ridge, New Jersey. Sherman earned a BA from Buffalo State College, State University of New York (1976). In self-reflexive photographs and films, Cindy Sherman invents myriad guises, metamorphosing from Hollywood starlet to clown to society matron. Often with the simplest of means—a camera, a wig, makeup, an outfit—Sherman fashions ambiguous but memorable characters that suggest complex lives that exist outside of the frame. Leaving her works untitled, Sherman refuses to impose descriptive language on her images—relying instead on the viewer's ability to develop narratives, as an essential component of appreciating the work. While rarely revealing her private intentions, Sherman's investigations have a compelling relationship to public images, from kitsch (film stills and centerfolds) to art history (Old Masters and Surrealism) to green-screen technology and the latest advances in digital photography. Sherman's exhaustive study of portraiture and self-portraiture—often a playful mixture of camp and horror, heightened by gritty realism—provides a new lens through which to examine societal assumptions surrounding gender and the valuation of concept over style....
Nancy Spero
The Race, 1998
Handprinting and printed collage paper,
24.5" x 19.5"
on view in Self-Proliferation, curated by Micaela Giovannotti, on view November 12, 2015 - June 25, 2016
Nancy Spero was born in Cleveland, Ohio, in 1926. She received a BFA from the School of the Art Institute of Chicago (1949), and honorary doctorates from the School of the Art Institute of Chicago (1991) and Williams College (2001). Spero is a pioneer of feminist art. Her work since the 1960s is an unapologetic statement against the pervasive abuse of power, Western privilege, and male dominance. Executed with a raw intensity on paper and in ephemeral installations, her work often draws its imagery and subject matter from current and historical events such as the torture of women in Nicaragua, the extermination of Jews in the Holocaust, and the atrocities of the Vietnam War. Spero samples from a rich range of visual sources of women as protagonists—from Egyptian hieroglyphics, seventeenth-century French history painting, and Frederick's of Hollywood lingerie advertisements. Spero's figures co-exist in nonhierarchical compositions on monumental scrolls, and visually reinforce principles of equality and tolerance. Spero was elected to the American Academy of Arts and Letters (2006). Awards include a Lifetime Achievement Award from the College Art Association (2005); the Honor Award from the Women's Caucus for Art (2003); the Hiroshima Art Prize (jointly with Leon Golub, 1996); and the Skowhegan Medal (1995)....
Jessica Stockholder
With Your Salad, 2005
Plastic, igloo cooler, brushed aluminum wall sconce, extension cord, polyester resin, fabric,
  12" x 12"
on view in Self-Proliferation, curated by Micaela Giovannotti, on view November 12, 2015 - June 25, 2016
Jessica Stockholder was born in Seattle, Washington, in 1959. She studied painting at the University of British Columbia, Vancouver, and received an MFA from Yale University. Stockholder is a pioneer of multimedia genre-bending installations that have become a prominent language in contemporary art. Her site-specific interventions and autonomous floor and wall pieces have been described as "paintings in space." Stockholder's complex installations incorporate the architecture in which they have been conceived, blanketing the floor, scaling walls and ceiling, and even spilling out of windows, through doors, and into the surrounding landscape. Her work is energetic, cacophonous, and idiosyncratic, but close observation reveals formal decisions about color and composition, and a tempering of chaos with control. In a single work, Stockholder deploys a myriad of materials that might include bales of hay, fruit, toys, laundry baskets, curtains, heat lamps, fans, yarn, newspaper, bowling balls, automobiles, and construction materials: bricks, concrete, plywood, and sheetrock. To the vibrantly colorful plastic products of consumer culture, she adds painted areas of bright hues, calibrating each color for maximum optical and spatial impact....
Carrie Mae Weems
Blue Black boy
Magenta Colored Girl, 1989-1990
toned and or color-stained silver prints with text on mat
30" x 30"
on view in Self-Proliferation, curated by Micaela Giovannotti, on view November 12, 2015 - June 25, 2016
Carrie Mae Weems was born in Portland, Oregon, in 1953. Weems earned a BFA from the California Institute of the Arts, Valencia (1981), and an MFA from the University of California, San Diego (1984), continuing her studies in the Graduate Program in Folklore at the University of California, Berkeley (1984–87). With the pitch and timbre of an accomplished storyteller, Weems uses colloquial forms—jokes, songs, rebukes—in photographic series that scrutinize subjectivity and expose pernicious stereotypes. Weems's vibrant explorations of photography, video, and verse breathe new life into traditional narrative forms: social documentary, tableaux, self-portrait, and oral history. Eliciting epic contexts from individually framed moments, Weems debunks racist and sexist labels, examines the relationship between power and aesthetics, and uses personal biography to articulate broader truths. Whether adapting or appropriating archival images, restaging famous news photographs, or creating altogether new scenes, she traces an indirect history of the depiction of African Americans of more than a century. She has received honorary degrees from Colgate University (2007) and California College of the Arts (2001). Awards include the MacArthur Fellowship (2013); Anonymous Was a Woman Award (2007); Skowhegan Medal for Photography (2007); Rome Prize Fellowship (2006); and the Pollack-Krasner Foundation Grant in Photography (2002); among others. Weems's work has appeared in major exhibitions at Savannah College of Art and Design (2008); W. E. B. Du Bois Institute for African and African American Research, Harvard University (2007); Williams College Museum of Art, Williamstown (2000); and Whitney Museum of American Art, New York (1998); among others. Carrie Mae Weems lives and works in Syracuse, New York.