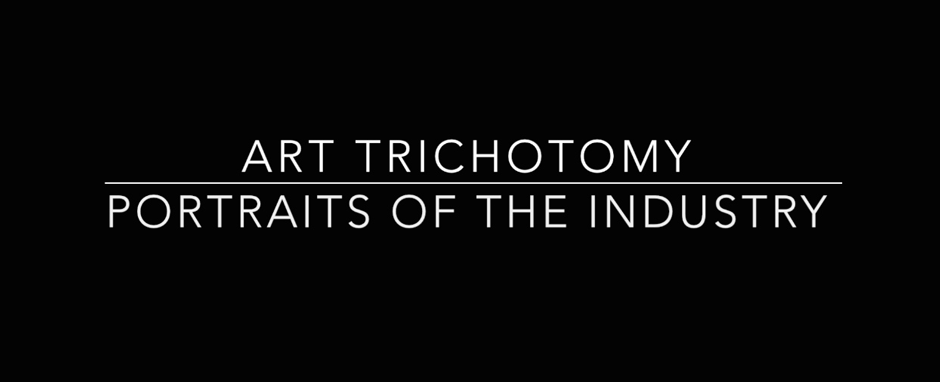 Art Trichotomy: an independent project from fellow Megan Castellon
Girls' Club presents Art Trichotomy: Portraits of the Industry, an independent project created by Spring Fellow Megan Castellon.
Art Trichotomy is a multi-part video series exploring personal stories and perspectives of women who hail from three pillars of the art industry: the gallerist, the curator, and the artist. Looking to the local art scene in South Florida, subjects include Dina Mitrani of the Dina Mitrani Gallery, independent curator Tami Katz-Freiman, and artists Lisa Rockford and Jillian Mayer.
Interviewed at their studios, galleries and workspaces, Castellon photographed their spaces, their inspirations, their surrounding and their clutter to build a visual narrative of each subject outside of the traditional self portrait. The photographs act as a moving portrait, weaving the viewer through the mindset of each subject, while audio of the interviews play overhead. Each video documents the subject's unique environment, workspace, and personal objects to present a fresh new angle of their personas otherwise unavailable to the public.
As part of the Girls' Club fellowship program, Castellon researched, directed, filmed and edited Art Trichotomy. The project was inspired by Castellon's own interests and experience navigating the art world as a young artist and arts professional, discovering the many moving pieces that make up the larger art industry. Art Trichotomy: Portraits of the Industry aims to explore how gallerists, curators, and artists interface within the art world and what factors shape the trajectory of each individual's career path.
About Megan Castellon
Megan Castellon is an artist focusing in painting and sculpture. She graduated from Ringling College of Art and Design with a Bachelor's Degree in Fine Art. Megan began her career by teaching art education to various groups including children, seniors, and those with mental disabilities. Since graduation, she has pursued multiple fields in the art world including working for galleries, creating commission paintings for interior designers as well as private clientele, and working as a sales representative during art fairs such as Art Miami and Context.
The Gallerist: Dina Mitrani
"You don't need to be at the same job for five years, what for? You're young, go have fun, go explore. You got to get your hands in, your feet in, get your hands dirty… because that's the only way you're going to learn about yourself." - Dina Mitrani
The Curator: Tami Katz-Freiman
Tami Katz-Freiman is an art historian, curator and critic, based in Miami, Florida, where she works as an independent curator of contemporary art. In addition to essays for catalogues and books published in conjunction with the exhibitions she has curated, Katz-Freiman has written numerous articles, essays, and reviews addressing various issues in contemporary art. She is a board member of AIRIE and a member of IKT and AICA/USA, the International Association of Art Critics.
"I think of my job, at many times, as the Conductor of a symphony, and the exhibition is the symphony, with the orchestra as the artists." -Tami Katz-Freiman
The Artist: Lisa Rockford
Lisa Rockford earned her BFA in Painting and a BS in Art Therapy from Bowling Green State University in 1999, and a MFA in 2001 from the School of the Art Institute of Chicago. She currently resides in South Florida as an artist and curator, being named a "Rising Star" in Gold Coast Magazine's article, "40 under 40" for her community building art events.
"Artists can typically find inspiration about anywhere they are, and figure out how to make something interesting from that." - Lisa Rockford
The Artist: Jillian Mayer
Jillian Mayer is an artist and filmmaker living in South Florida, currently represented by David Castillo Gallery in Miami. Her video works and performances have been premiered at galleries and museums internationally such as MoMA, MoCA:NoMi, BAM, Bass Museum, the Contemporary Museum of Montreal with the Montreal Biennial (2014) and film festivals such as Sundance, SXSW, and the New York Film Festival.
"It's a special thing to be alive during the same time as some people that make work that makes you feel better about living. So, you should try and find them if possible." - Jillian Mayer