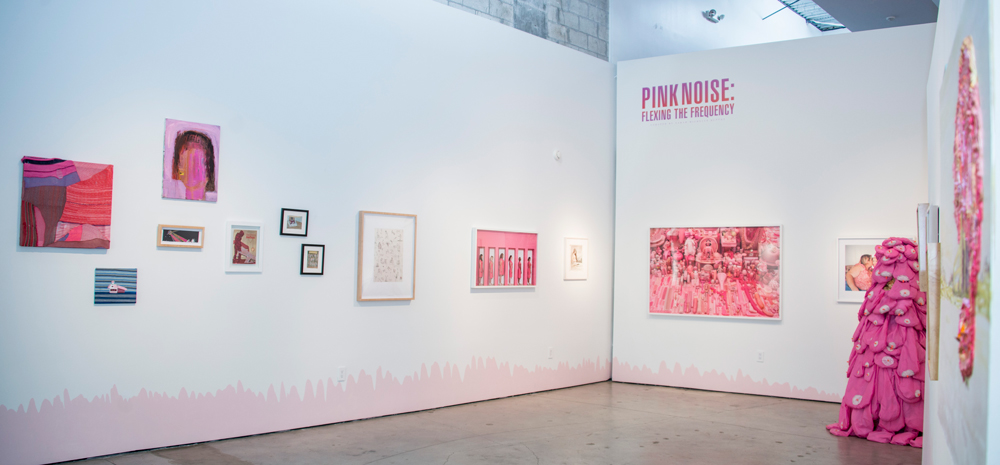 ABMB Artist + Curator Brunch
Saturday, December 3, 2016, 9am-1pm
Join Girls' Club directors, artists and Pink Noice curator Sarah Michelle Rupert for an informal brunch celebration during Art Basel, Miami Beach. Hear about the current exhibition Pink Noise: Flexing the Frequency - the unique collection of Francie Bishop Good and David Horvitz. Enjoy fresh brunch snacks and mimosas with locally brewed coffee from Argyle Coffee.
In the Main Space
Pink Noise: Flexing the Frequency features over 30 internationally, nationally and locally renown artists from the collection of Francie Bishop God and David Horvitz and beyond as they flexing their collective muscle along a narrow rose-hued continuum - morphing and contorting, expanding and evolving assumed notions of femininity and a female style.
Curated by Sarah Michelle Rupert, the more than 30 artists of Pink Noise approach traditionally "female" topics such as motherhood, performance, identity and objectification with a skeptical and discerning eye, and find topics once considered outside the female domain securely part of their current realm.
In the Annex
Recent work from Girls' Club founder, artist Francie Bishop Good, represented by David Castillo Gallery in Miami Beach.
These portraits are a jumping off point for my experimental work and digital encounters. Merging and compressing ideas and time, I transform the high school yearbook pictures to a new reality. My influences are varied; feminism, Andy Warhol, Chantal Joffe and Charline Von Heyl to my roots in Allentown and remembering my first visits to see the Kress Collection at the Art Museum to my preschool education at Hess' Department Store.
Free Shuttles to local venues and ABMB
Coinciding with the Girls' Club Artist + Curator Brunch is NSU Art Museum's VIP Director's Brunch hosted by Bonnie Clearwater and special morning hours at FAT Village Projects, FAR Gallery and Artsup Concepts in FATVillage. A complimentary shuttle is available to take visitors between each venue. Shuttles are available to and from Art Basel Miami Beach from NSU Art Museum.
The NSU Art Museum VIP Director's Brunch is open to Art Basel VIP cardholders and exhibitors and NSU Art Museum Patron level members and above.
RSVP directly with the museum by email or 954-262-0258.
This event is free and open to the public.