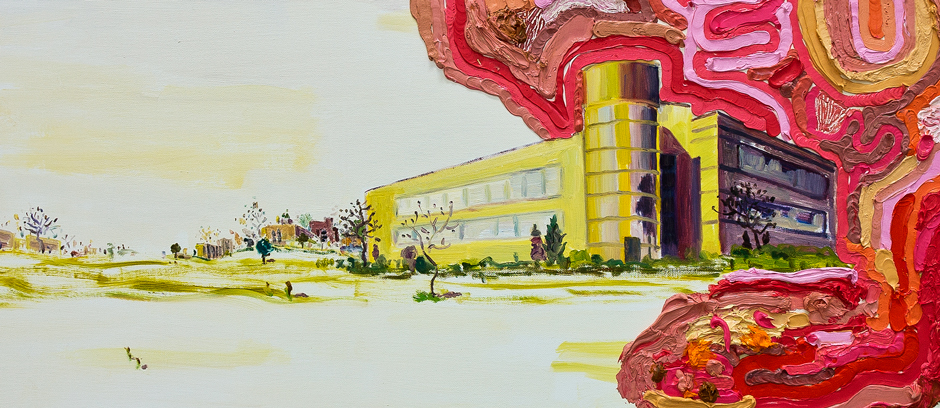 Visiting Artist: Lisa Sanditz
Girls' Club welcomes Visiting Artist Lisa Sanditz to South Florida to present a public artist talk and workshop.
This Visiting Artist initiative is a new addition to Girls' Club public programming, and aims to addresses itself to the national sphere by fostering dialogue between South Florida artists and institutions and their counterparts throughout the country. By nurturing networks and discourse between contemporary female artists working today, Girls' Club hopes to play a part in unifying the concerns of artists working in the United States today.
Each Visiting Artist in invited to present a public artist talk and workshop. Artists talks will introduce audience members to the careers, ongoing projects and creative processes of Visiting Artists. The public is invited to ask questions an engage in conversation.
About Lisa Sanditz
Lisa Sanditz's paintings obsess over peculiar features in the post-industrial American landscape such as circular farms and shopping malls and trees halved by power lines. She zeroes in on wayward sites and events that epitomize environmental and cultural miss-steps, strange overlaps of nature and commerce, convergences that arise from opportunism, tourism, waste, scarcity and nostalgia. Her free-ranging commentary commentaries may be read as cautionary tales, but they enable a formal exploration that is clearly whimsical, sensual, humorous and celebratory. Her paint vocabulary is lush and vivid, brimming with eccentric flourishes and multi-colored blends.
Sanditz is represented by CRG Gallery in New York, Acme Gallery in Los Angeles, and Galerie Rodolphe Janssen in Brussels.
For more information about Lisa Sanditz and to view her work, visit www.lisasanditz.com.
Acknowledgments
Funding for this exhibition, catalog and related programming was made possible in part by Funding Arts Broward, Broward County Board of County Commissioners as recommended by the Broward Cultural Council, the State of Florida, Department of State, Division of Cultural Affairs and the Florida Council on Arts and Culture and private donors.