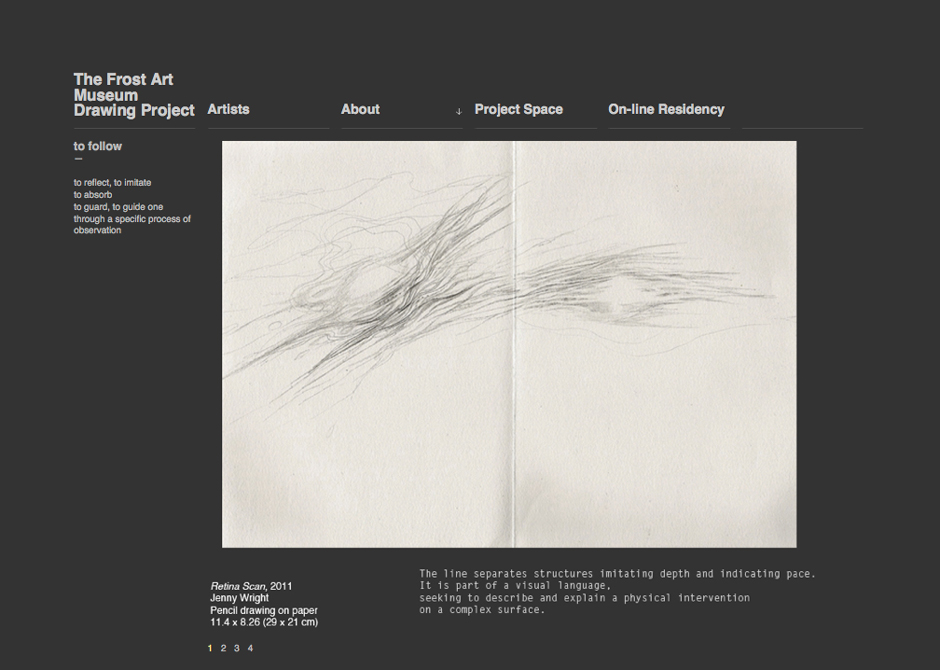 The Drawing Project: an on-line exhibition and project space collaboration
Project Launch: Wednesday, April 3, 5pm
www.drawingproject.frostartmuseum.org
The Drawing Project at the Frost Art Museum is a collaborative investigation curated by artist/educator and FIU graduate Emmy Mathis. The on-line exhibition/project space consists of an on-line exhibition where pieces from the Frost's permanent collection, many of which have never been exhibited in the museum, are displayed along with international work culled by the Drawing Research Network, work by local Miami artists, and a special curatorial section of work from contemporary women artists from the Girls' Club Collection.
Artists include internationally renowned artists such as Jean Cocteau, Shirin Neshat and Robert Rauschenberg, as well as practitioners in the academic field of drawing such as Andrea Kantrowitz and John Adams, and local artists including Jenny Brillhart and Kevin Arrow. The website also hosts a project space that is open for proposals and an on-line residency whose first artist will be Jenny Brillhart for the months of April & May.
Extending beyond the screen, The Drawing Project continues into the tangible world in the form of public programs including a series of webisodes, talks, panel discussions and events, inviting the public to experience the project in a multitude of forms and make their own decisions regarding what defines line and what spaces it can it occupy.
Parts of the website www.drawingproject.frostartmuseum.org are currently live, and the full site will launch April 3rd. Although the exhibition will be complete, the site itself is not finite. Check back regularly to see additions to the 'to write' and 'to document' galleries, as well as the Project Space and the On-line Residency.
Drawing Project Upcoming Events
Wednesday, April 3, 5pm: Launch and Introductory Panel
Along with a panel, a reception will usher in the launch of The Drawing Project; What is line and how does it travel through space.  Panelists: Emmy Mathis, curator; Jorge Pantoja, artist; Dr. Arturo Mosquera, collector; Sarah Michelle Rupert, gallery director of Girls' Club, moderated by Sherry Zambrano, Frost Art Museum Registration & Collections
Frost Museum of Art, at FIU, 10975 SW 17th Street, West Miami
Friday, April 19, 7pm: Artists in Action! artist talk with Ana Albertina Delgado
Ana Albertina Delgado will present her work and discuss her creative inspirations and processes as part of Girls' CLub Artists in Action! series. A workshop led by Delgado is offered for the following day, details at www.girlsclubcollection.org.
Girls' Club, 117 NE 2 Street, Fort Lauderdale
Tuesday, April 30, 7pm: Panel Discussion
This discussion will hone in on the mutable conditions of drawing and line with input from artists and arts professionals working with the medium. Panelists: Emmy Mathis, Felice Grodin, Amanda Sanfilippo, and Jenny Brillhart, moderated by Sarah Michelle Rupert
Bas Fisher Invitational, 100 NE 11 Street, Downtown Miami
Thursday, May 9, 7pm: Roundtable Discussion
The public is invited to join the conversation with a roundtable discussion about the viability and future of online exhibition. As technologies continue to advance, the parameters of visual art experience march on, invading virtual space in the form of online exhibitions, mobile exchanges and other digital forms. How does this expansion affect the presentation of visual art, and what does it mean for its future?
Lester's Miami, 2519 NW 2nd Avenue, Wynwood Miami
Artist Opportunities
The Drawing Project is accepting proposals for the project space.  Artists with project proposals that respond to the question: what is line and how does it travel through space?  please contact: [email protected].
---
About Girls' Club
Girls' Club is a private foundation and alternative space established in 2006 by Francie Bishop Good and David Horvitz. Girls' Club produces exhibitions, educational programming, publications and events that change lives, nurture local artists, and inspire cultural growth in Broward County.
About the Drawing Research Network
The Drawing Research Network (DRN) was established in 2001 as part of the Campaign for Drawing. The DRN is an international network of individuals and institutions who are involved in some way with improving our understanding of drawing. It aims to use this knowledge to raise the profile of drawing and drawing research.
About the Patricia & Phillip Frost Art Museum at Florida International University
The Frost Art Museum opened its current 46,000-square-foot state of the art building in November 2008. Admission to the Museum is always free. The Frost is an American Association of Museums accredited museum and Smithsonian affiliate and is located at 10975 SW 17thStreet, across from the Blue garage and adjacent to the Wertheim Performing Arts Center on the Modesto A. Maidique Campus. Hours of operation are Tuesday through Saturday 10 a.m. – 5 p.m. and Sunday noon-5 p.m. Closed on Mondays and most legal holidays. For more information, please visit http://thefrost.fiu.edu or call 305-348-2890. Follow us on Twitter and Like Us on Facebook.
About FIU
Florida International University is one of the 25 largest universities in the nation, with nearly 50,000 students. Nearly 110,000 FIU alumni live and work in South Florida. Its colleges and schools offer more than 180 bachelor's, master's and doctoral programs in fields such as engineering, international relations and law. As one of South Florida's anchor institutions, FIU is worlds ahead in its local and global engagement, finding solutions to the most challenging problems of our time. FIU emphasizes research as a major component of its mission, with research expenditures of more than $100 million per year. For more information about FIU, visit FIU Online.