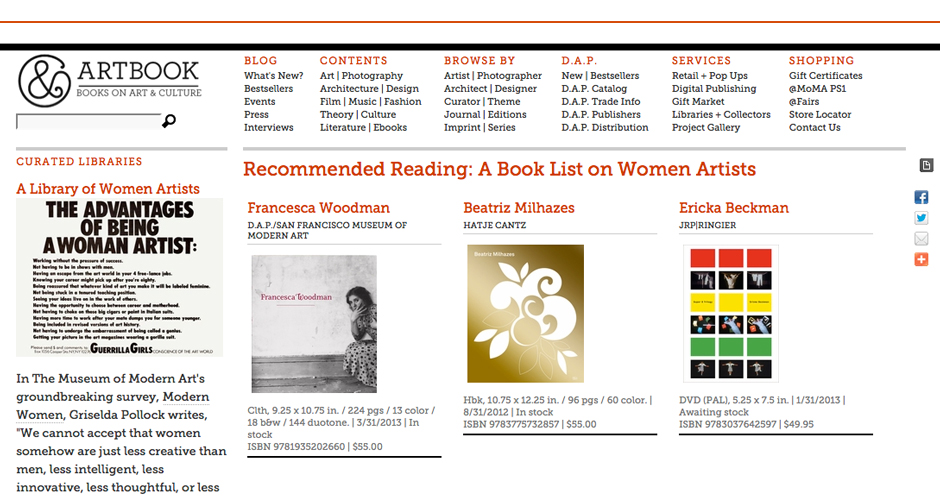 Strongly Recommended Reading: ARTBOOK compiles comprehensive women artists book listing
We just found the mother lode of contemporary female artists book lists!
Available for purchase through and compiled by ARTBOOK.
ARTBOOK sells books to the passionate audience of people who work in and live through the arts. Founded by the same team that runs D.A.P., the world's foremost distributor of books and exhibition catalogs on the arts, in order to partner with cultural institutions and businesses who want to enrich their programming with true content — the kind you find in a well-conceived, authored, and designed book.
ISBN 9780979956225 | $48.00

DUMONT BUCHVERLAG

ISBN 9783832193560 | $45.00


SKARSDEDT GALLERY
ISBN 9781616237196 | $30.00

WALTHER KöNIG, KöLN
ISBN 9783865609137 | $45.00

HATJE CANTZ
ISBN 9783775728096 | $60.00

WALTHER KöNIG, KöLN
ISBN 9783865608741 | $59.95

SIGLIO
ISBN 9780979956263 | $45.00

COOPER-HEWITT, NATIONAL DESIGN MUSEUM, SMITHSONIAN INSTITUTION
ISBN 9780910503846 | $35.00

HATJE CANTZ
ISBN 9783775725675 | $60.00

DAMIANI
ISBN 9788862080774 | $45.00

WALTHER KöNIG
ISBN 9783865605313 | $45.00

THE TROUT GALLERY, DICKINSON COLLEGE
ISBN 9780976848882 | $45.00

DOMAINE DE KERGUEHENNEC
ISBN 9782906574090 | $30.00

WALTHER KöNIG, KöLN
ISBN 9783865603524 | $85.00

JRP|RINGIER
ISBN 9783905701555 | $49.00

JRP|RINGIER
ISBN 9783905770568 | $49.00

JRP|RINGIER
ISBN 9783905829563 | $22.00

HOLZWARTH PUBLICATIONS
ISBN 9783935567466 | $50.00

WALTHER KöNIG, KöLN
ISBN 9783865606310 | $39.00

GREGORY R. MILLER & CO.
ISBN 9781616234966 | $60.00

D.A.P./SAN FRANCISCO MUSEUM OF MODERN ART
ISBN 9781935202660 | $55.00

HATJE CANTZ
ISBN 9783775732857 | $55.00

JRP|RINGIER
ISBN 9783037642597 | $49.95

HATJE CANTZ
ISBN 9783775731539 | $55.00

JRP|RINGIER
ISBN 9783037642603 | $45.00

ASIA SOCIETY MUSEUM
ISBN 9780878481132 | $55.00

SANTA MONICA MUSEUM OF ART
ISBN 9780983967200 | $39.95

THE MUSEUM OF MODERN ART, NEW YORK
ISBN 9780870708244 | $45.00

D.A.P./TATE
ISBN 9781935202813 | $49.95

VIOLETTE EDITIONS
ISBN 9781900828376 | $75.00

RM
ISBN 9788492480753 | $45.00

THE MUSEUM OF MODERN ART, NEW YORK
ISBN 9780870707476 | $50.00

THE MUSEUM OF MODERN ART, NEW YORK
ISBN 9780870707711 | $65.00

RM/THE JOSEF AND ANNI ALBERS FOUNDATION
ISBN 9788492480524 | $70.00

GILES
ISBN 9781904832614 | $55.00

VERLAG FüR MODERNE KUNST NüRNBERG
ISBN 9783941185302 | $60.00

NIEVES
ISBN 9783905714517 | $38.00

HATJE CANTZ
ISBN 9783775724180 | $60.00

KNOEDLER & COMPANY
ISBN 9780982074909 | $50.00

HATJE CANTZ
ISBN 9783775719759 | $45.00

THE MUSEUM OF MODERN ART, NEW YORK
ISBN 9780870708121 | $60.00

KUNSTHAUS BREGENZ
ISBN 9783865609687 | $65.00

PARRISH ART MUSEUM
ISBN 9780943526508 | $29.95

GREGORY R. MILLER & CO.
ISBN 9780982681305 | $45.00

JRP|RINGIER
ISBN 9783037642207 | $55.00

NEUBERGER MUSEUM OF ART
ISBN 9780979562938 | $30.00

HAYWARD PUBLISHING
ISBN 9781853322938 | $45.00

SILVANA EDITORIALE
ISBN 9788836619924 | $45.00

THE MUSEUM OF MODERN ART, NEW YORK
ISBN 9780870708114 | $50.00

INDEPENDENT CURATORS INTERNATIONAL
ISBN 9780916365851 | $25.00

WALTHER KöNIG, KöLN
ISBN 9783865609717 | $55.00

DAMIANI/ THIRD LINE
ISBN 9788862081757 | $70.00

GRANARY BOOKS
ISBN 9781887123792 | $20.00

EDITORA COBOGó
ISBN 9780915557936 | $49.95

KERBER
ISBN 9783866784499 | $55.00

KERBER
ISBN 9783866783201 | $50.00

HATJE CANTZ
ISBN 9783775725798 | $60.00

HATJE CANTZ
ISBN 9783775724616 | $60.00

BRINKMANN & BOSE
ISBN 9783940048066 | $195.00

MB ART PUBLISHING CO.
ISBN 9780615309903 | $55.00