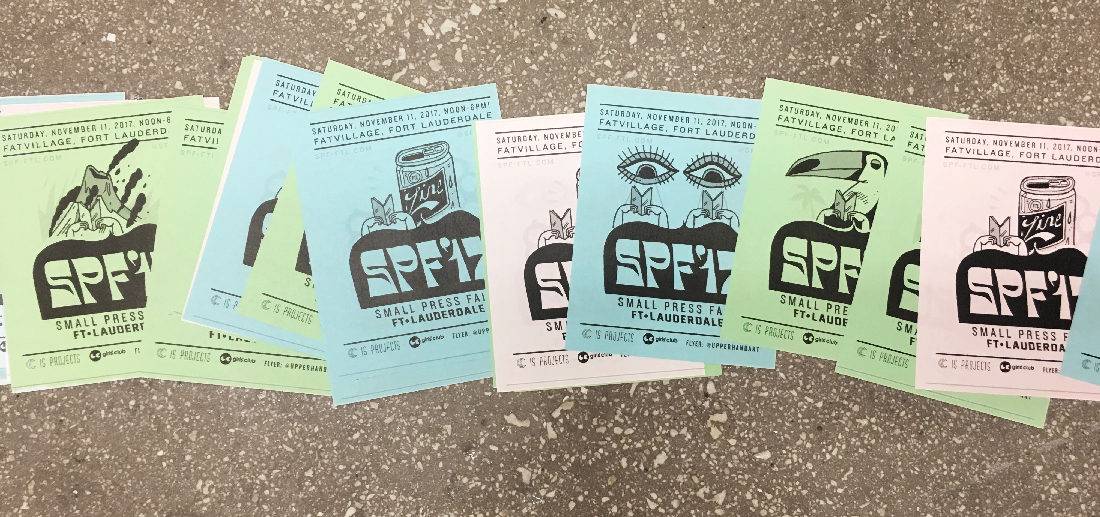 SPF'17: Small Press Fair Fort Lauderdale
Saturday, November 11, 2017, Noon-6pm
Girls' Club and IS Projects present the second edition of SPF Fort Lauderdale, the area's only Small Press Fair.
SPF Fort Lauderdale is a Small Press Fair where artists, independent publishers and small presses can exhibit and sell their creations and the general public can learn about the world of independent print making, book publishing and zine making. It is a fair where art-meets-literature, where musicians, poets, artists and designers showoff, trade, teach and the community can get in on the fun with hands-on workshops, live demonstrations and zine trades.
SPF'17 will be held at the FATVillage warehouses on NW 1 Avenue in Fort Lauderdale.
More info on exhibitors, events, workshops and details at
More exhibitors announced weekly! Interested in exhibiting at SPF? Do you make prints, book or zines? Apply today at www.spf-ftl/apply. Exhibitor sales will be independently handled and collected by exhibitors with no interference from SPF. Early registration is encouraged.
The Market
Exhibitor sections showcasing print, book and zine creations from local, regional and national artists, designers, writers, printers, publishers, editors, musicians, poets, and other creatives.
The Steamroller
A larger-than-life steamroller printing event with an industrial steam roller. Artists are invited to bring their own giant blocks, create their own blocks at the large format relief workshop or just come enjoy the spectacle.
Demonstrations
Live demonstrations at SPF Fort Lauderdale share the experience of some of our favorite, local master printers at work using classical, traditional and contemporary printing technologies and techniques.
Creative Stations
Hands-on activities for the artists, families and kids are held at creation stations set up inside the fair, led by local artists. Join us and create your own printed postcard, zine or doodle from SPF'17!
The Stage
Live readings from local writers, poets and musicians.
Program schedule and times TBA soon.
SPF Doodle Party Zines
Created at various SPF Doodle Parties in the weeks leading up to SPF Fort Lauderdale, these Doodle Party Zines are a total community-collaboration. At each Doodle Party, the public is invited to doodle, draw, scribble, on blank sheet of paper. Those sheets are then collected and made into these zines. Sales of these zines goes to support SPF Fort Lauderdale programming.
Vol. 2 Issue 1: Doodle Party at Tate's Comics
Vol. 2 Issue 2: Doodle Party at IS Projects and FATVillage Artwalk
Vol. 2 Issue 3: Doodle Party at Laser Wolf Bar
$5 per zine, $1 to ship