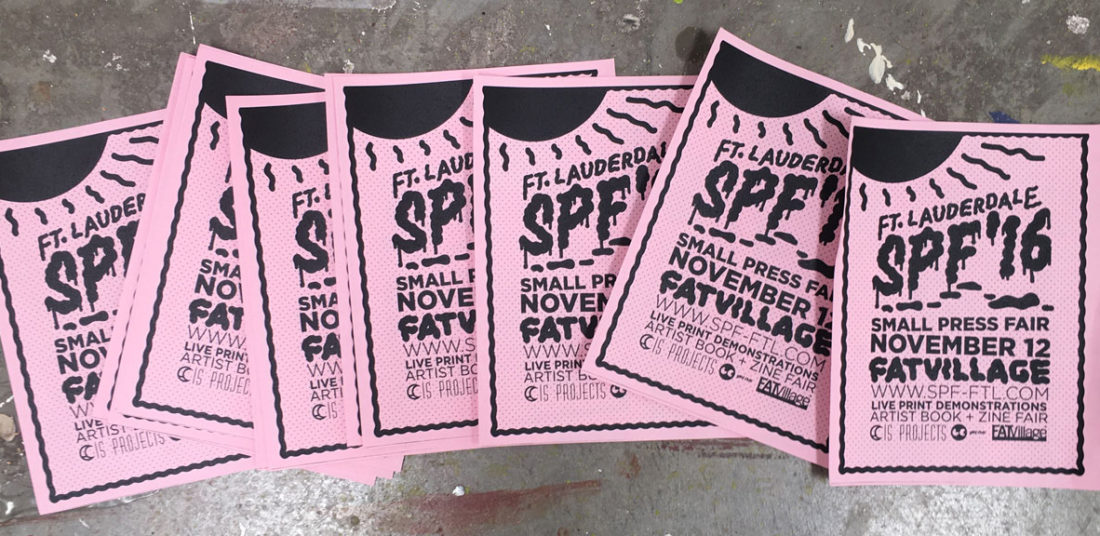 SPF'16: the launch of Fort Lauderdale's first Small Press Fair
Saturday, November 12, 2016, Noon-6pm
SPF Fort Lauderdale is a Small Press Fair where artists, independent publishers and small presses can exhibit and sell their creations and the general public can learn about the world of independent print making, book publishing and zine making. It is a fair where art-meets-literature, where musicians, poets, artists and designers showoff, trade, teach and the community can get in on the fun with hands-on workshops, live demonstrations and zine trades.
Print / Book / Zines Exhibitors
Over 50 exhibitors will occupy the 5,800 sq ft ArtsUp building in FATVillage, Fort Lauderdale, celebrating the growing interest and support for independent and small press artists and publishers that have fueled the sub-culture in South Florida and beyond for years.
Beach Front | the best real estate at the fair. Find independent publishers, small presses, universities, collections and other institutional exhibitors at these double-wide spaces.
Zine Dunes | a sandy concentration of zine energy. Find individual artists, printers, collectives and small organizations at these byo-table spaces.
Apply to exhibit at SPF'16! Click here!
Printing Demonstrations
Live demonstrations share a glimpse the intricate world of print making, book making and zine making.
Steamroller | hosted by Ingrid Schindall of IS Projects, where you can take part in this larger than life printing process that makes fun use of construction equipment. Artists are invited to bring their own giant blocks, try out our large format relief workshop, or just come enjoy the spectacle. Click here to sign up.
Letterpress | hosted by local print makers from IS Projects, where you can make commemorative SPF postcards using historic, but portable letterpress machinery
Risograph | hosted by artists Leila Leder Kremer and Juana Menses of Portable Editions, where you can learn about the retro Japanese printing system that has amassed a cult following in the printing and zine world
Screenprinting | station where you can purchase SPF tote bags and watch them created on the spot by artist Tennille Schuster and Nova Southeastern University College of Arts students. Tote bags for sale on site, bring your Tshirt to print!
Creation Stations
Hands-on activities for the community, families and kids at creation stations set up inside the fair invite everyone to join in the creative production. Join us and create your own printed postcard, zine or doodle at SPF'16!
Workshops and Lectures
In the weeks leading up to the fair, IS Projects, Girls' Club and community partners will present hands on workshops for artists, designers and the public to learn about and create their own print, book or zine related items.
For a full listing of related events and workshops visit spf-ftl.com.
Tours
IS Projects will host hourly tours of its print studio throughout the day, featuring antique printmaking and letterpress presses along with modern print and book making equipment. The studios boasts a Vandercook SP15, Craftsmen 6 x 10, 2 Kelsey 5 x 8s, 44" Johnson Board shear, 19" Challenge Guillotine, 10" x 15" book press, corner rounder, pamphlet stapler, an extensive collection of lead and wood type, leather skiver and more.
Eat and Drink
Colada House Cuban Coffeehouse and Eatery will be on site fueling exhibitors and visitors with some of the most caffeinated café con leche on the planet and offering tasty snacks to hungry SPFers. Local breweries will be on hand with beer tastings from Fort Lauderdale-born brews and batches.
More information at www.spf-ftl.com.