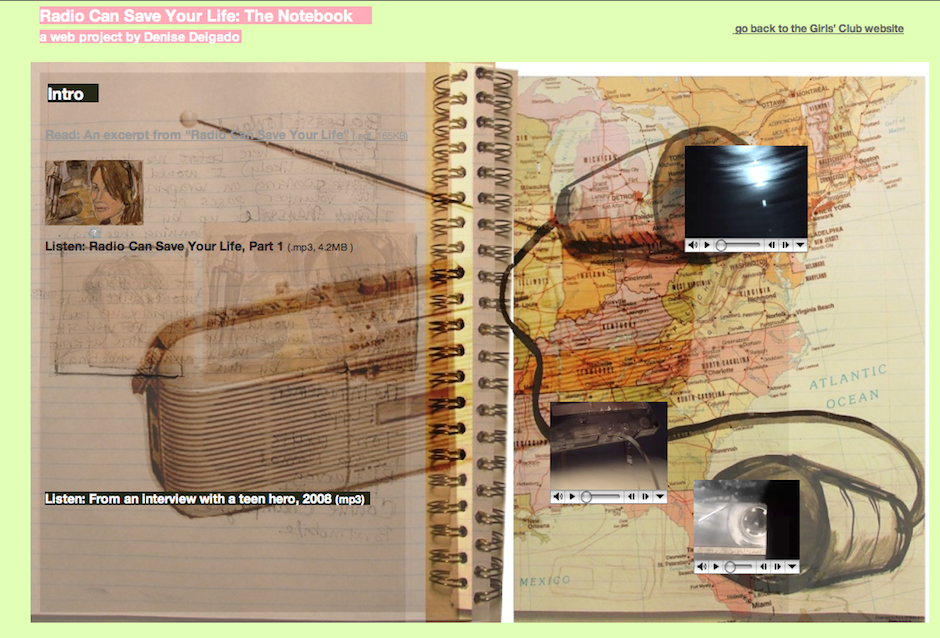 Radio Can Save Your Life by Denise Delgado
Artist and writer – currently Girls' Club Writer-in-Residence – Denise Delgado created an interactive web-based project for Girls' Club in conjunction with the exhibition Under the Influence.
Check it out here.
Denise Delgado is a Miami-based writer, artist and curator. She has read, exhibited and performed her multidisciplinary work at events and venues including the Miami Book Fair International, the Ashé Cultural Center and the Contemporary Arts Center in New Orleans; Universidad del Sagrado Corazón in San Juan, PR; Girls' Club in Ft. Lauderdale, FL; Sweat Records in Miami, FL; and ArtCenter South Florida, as well as readings and performances as a member of the Miami Poetry Collective. Denise is the recipient of grants from Alternate ROOTS/The Ford Foundation, Tigertail Productions' Artist Access Program, and Miami-Dade County Department of Cultural Affairs. As an artist and educator, she has completed residencies and facilitated workshops and community projects with many South Florida schools, museums, and organizations. Denise received a BHA from Carnegie Mellon University, an MA from The New School and an MFA in fiction from Warren Wilson College. Her fiction has appeared in Inch, Dossier, the Cent Journal Series, The Selected Collective: Poetry, Prose and Projects from the Miami Poetry Collective (A Tigertail South Florida Poetry Annual), and Jai-Alai Magazine. Denise is Writer-in-Residence for Girls' Club and is currently working on A Wig in the Duplex, a collection of short stories set in Florida.