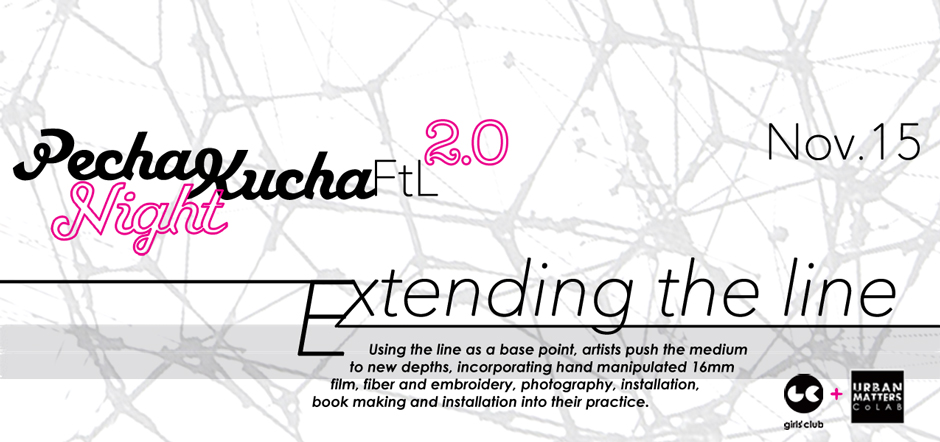 Pecha Kucha Night at Girls' Club Extends the Proverbial Line
November 15, 7pm
In partnership with Urban Matter CoLAB, Girls' Club hosts the second installment of Pecha Kucha FTL, a series of rapid-fire artist presentations. PechaKucha is a simple presentation format where you show 20 images, each for 20 seconds. The images forward automatically as the presenter speaks along with each image. PechaKucha Nights are informal and fun gatherings where creative people get together and share their ideas, works, thoughts, etc.
The Pecha Kucha FTL, Vol. 02 lineup of artists draws from Girls' Club collection and beyond – female artists who use line as a point of origin for experimental work.  Artists include Rosemarie Chiarlone and Susan Weiner, Jiae Hwang, Nereida Garcia Ferraz, Maureen McQuillan, Dinorah de Jesús Rodríguez and Carrie Sieh. Pushing the drawing "envelope", these artists incorporate hand manipulated 16mm film, fiber and embroidery, photography, book making and installation into their practices.
Pecha Kucha FTL 2.0 artists:
Artists Rosemarie Chiarlone and poet Susan Weiner have been collaborating since 2001. Living and working in Miami Beach Florida, the pair explores issues pertaining to social ideologies related to life, society, and gender in the 21st century with a minimalist approach to materials.
Using drawing, painting, video and installation Jiae Hwang investigates hypothetical and open ended structures that address issues such as technology, the past, the future and the viability of those notions in a time when the demand for "speed" has rendered them almost irrelevant.
Nereida Garcia Ferraz is a visual artist living and working in Miami. She has a studio at Fountainhead Spaces and was recently a finalist for the Cintas Fellowship in visual arts.
The work of Maureen McQuillan has long centered on the process of drawing and has ranged over many different mediums, including cameraless photography, ink and resin work on paper, lightbox drawings and other installation.
Carrie Sieh is an interdisciplinary and mixed-media artist whose mediums include photography, textiles, painting, and interactive installation. Her work primarily concerns the roles of technology, gender, and nature in human experience.
Dinorah de Jesús Rodríguez is a film/video artist working with hand-crafted 16mm film, video, installation, multimedia performance, and a recent emphasis on multiple-channel site-specific public interventions. Her collage works have been exhibited internationally in film festivals, museums, galleries, TV, art-house theatres, onstage collaborations, parks, and random public locations.