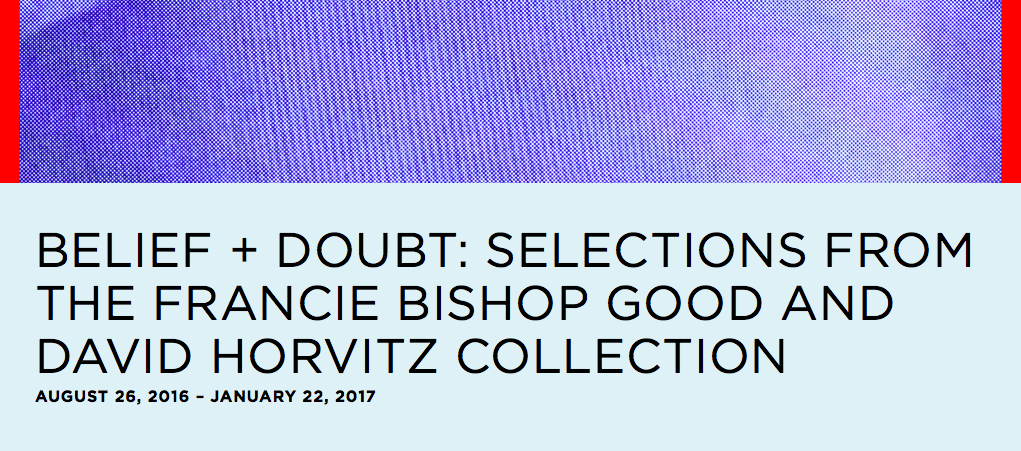 On Loan: Belief + Doubt at NSU Art Museum
On view August 26, 2016 - January 22, 2017
This exhibition provides a snapshot of contemporary art from the 1990s to the present with works by more than 60 artists from the collection of Francie Bishop Good and David Horvitz. The couple is among South Florida's most prominent and active arts advocates and philanthropists and their highly regarded collection focuses on the work of women artists, as well as African American, Latin American and South Florida artists. The collection includes many works acquired early in its artists' careers, among them: collage by Kara Walker; paintings by Mickalene Thomas; neons by Tracey Emin, digital animation by Jennifer Steinkamp; paintings by Amy Sillman; sculpture by Kiki Smith; wall relief by Teresita Fernandez and woven trompe l'oeil by Miami artist Frances Trombly, among others.
The exhibition is organized by NSU Art Museum Fort Lauderdale and curated by Bonnie Clearwater, museum director and chief curator.
More information at www.nsuartmuseum.org.
NSU Art Museum Fort Lauderdale
1 E. Las Olas Blvd, Fort Lauderdale, FL
www.nsuartmuseum.org
954-525-5500