n.paradoxa, international feminist art journal, releases July 2012 issue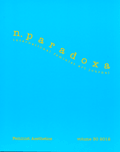 Founded in 1998, n.paradoxa publishes scholarly and critical articles highlighting feminist art and feminist art theory written by women critics, art historians and artists on and in relation to the work of contemporary women artists post-1970 (visual arts only) working anywhere in the world.
KT press is the publisher of n.paradoxa (ISSN: 1461-0424) and operates as a not-for-profit publishing company whose aim is to promote understanding of women artists and their work.
Each thematic volume in print contains artists and authors from up to 10 countries in the world and explores their work in relation to feminist theory and feminist art practices. n.paradoxa is published bi-annually (January and July) in print as volume numbers. n.paradoxa is available for sale by mail order to individuals and libraries. Subscriptions are available for print and/or electronic forms of the journal. Single volumes or sets of earlier volumes are available for purchase. Libraries can order directly from KT press or through subscription agents, including Swets, Ebsco and Harrassowitz. Click here for details for libraries.
More information about KT press available at www.ktpress.co.uk.  Learn more about n.paradoxa on their blog www.nparadoxa.wordpress.com.
Volume 30, July 2012 | Feminist Aesthetics
Editorial by Katy Deepwell
María Laura Rosa | Our bodies, our history: Mujeres Públicas's activism in the city of Buenos Aires | Aesthetics and Identities: interview with Reena Saini Kallat'
Eileen Legaspi-Ramirez | Questions and Answers: interview with Lani Maestro
Anna Bunting-Branch and Rose Garrard | Frames of Reference' Rose Garrard: Interview
Ming Turner | Quasi-skin and post-human: Lin Pey Chwen's Eve Clone series, 2010-2011
Bracha L. Ettinger | Artists' Pages
Carol Archer | Womanly Blooms: Cai Jin's Beauty Banana Plant Paintings
Marta Cenini | Coco Fusco's Room:Rethinking Feminism after Guantanamo
Christine Conley | Making Space for Utopia, FAG and the Aesthetics of Activism: Christine Conley interviews Allyson Mitchell and Deirdre Logue
Katy Deepwell | Re.act Feminism: feminist, gender-critical and trans-gender performance art: Katy Deepwell interviews Bettina Knaup and Beatrice E. Stammer
Maria Photiou | The Green Line: Greek Cypriot Women Artists' Politicised Practices, Lia Lapithi and Marianna