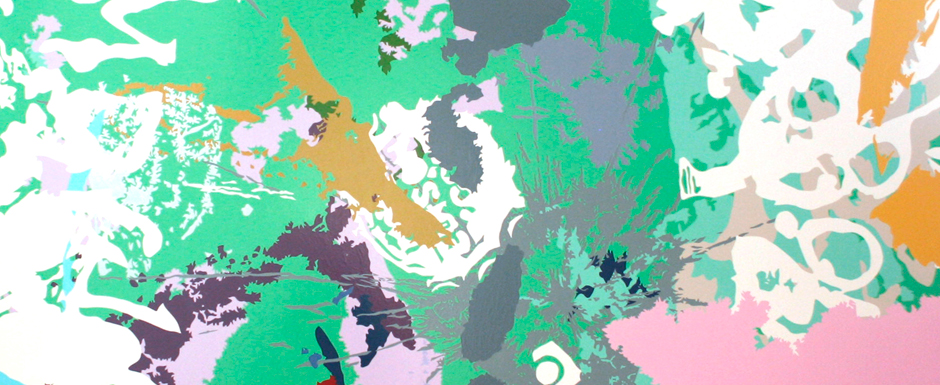 On Loan: Ingrid Calame at Fruitmarket Gallery, Edinburgh Festival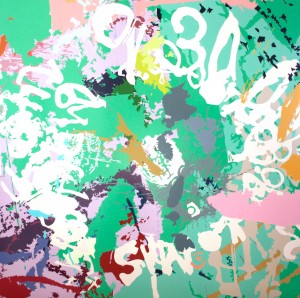 Ingrid Calame
Hoo-koo-koo-koo, 2003
Enamel paint on aluminum
72 x 72 inches
Ingrid Calame
The Fruitmarket Gallery
Edinburgh Art Festival Exhibition
August 5 – October 9, 2011
The Fruitmarket Gallery presented the first solo exhibition in Scotland of the work of American artist Ingrid Calame, whose beautifully-colored, intricate drawings and paintings have a specific, if abstracted relationship to the world.
The exhibition presented the development of Calame's singular visual language from her earliest tracings on her studio floor to her most recent workings and reworkings; bringing together drawings and paintings made from 1994 to 2011, including a new wall drawing, L.A. River at Clearwater Street 2006-8 (2011) made especially for and in The Fruitmarket Gallery.
The paintings and drawings all begin with Calame tracing marks, stains and cracks on the ground. She then combines, layers and retraces the tracings before transforming them into drawings in colored pencil or pure pigment, and paintings in enamel or, more recently, oil paint. The works that result from this singular process are beautiful and intelligent abstractions. Displayed in a gallery, they retain their connection with the world outside at several removes, exerting an oddly insistent presence. The sources of most of the work are markings from the dried-out concrete banks of the L.A. River, and three locations in Buffalo, New York: the ArcelorMittal Steel Shipping Building, the Perry Street Projects wading pool, and the Albright-Knox Art Gallery car park.
Related Links
www.independent.co.uk/arts-entertainment/art/reviews/ingrid-calame-fruitmarket-gallery-edinburgh-2339646.html
www.youtube.com/watch?v=lb0gjm6IZ1g&feature=youtu.be
www.abstraktion.org/2011/08/ingrid-calame-fruitmarket-gallery.html