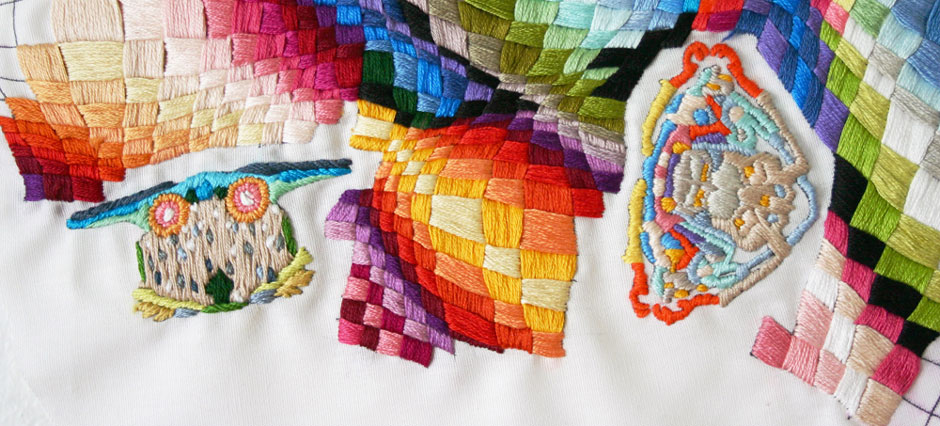 In Bituin: transmuting, traveling and transforming, special exhibition at Girls' Club Annex Space
Girls' Club presents In Bituin: transmuting, traveling and transforming, a project from Dwelling Projects, curated by Sofia Bastidas a former Girls' Club intern. Inspired by Girls' Club recent exhibitions Following the Line and I think it's in my head, the exhibition pulls explores themes touched upon in each exhibition.
Artists featured: Valeria Guillen, Benjamin Hayward Smith, Greisy Lora, Lorena Marañón, Tara Penick, Michelle Lisa Polissaint, Dennis Pomales, Ali Spechler and Jean-Michael Vissepo.
In Bituin's title refers to the idiom meaning "in between" – an anglicism of the Taino Indians who are indigenous to the islands of Greater Antilles, current day Puerto Rico, Hispañola and nearby islands. The term in this case is used to describe the mystical, the occult and the things that lay in between the physical and the spiritual.
In Bituin explores the recurring metaphysical themes found in Taino-influenced culture in Latin America and the Caribbean such as Santeria, telepathic communication, connection to the Earth and other subjects related to spirituality by using line and shadows as way to manifest the underlying realities we can experience. The exhibition is composed of fiber and textile work, drawings, monotype and linoleum prints, photographs and performance from local South Florida artists.
[add_eventon_el el_type="pe" el_title="Related Events" event_type_2="477" hide_so="yes" show_et_ft_img="yes" number_of_months="1000" event_order="DESC"  ]
"During my internship, I had the opportunity to work along with the Following the Line exhibition, curated by Carol Jazzar, having the time to appreciate the beautiful and intimate drawings in this exhibit, but it also made me think on how overshadow[ed] drawing can be in a time bombarded with media, street art, installation, and performance.

"On that same thought, after visiting the current exhibition I think it's in my head, curated by TM Sisters, I found it intrinsically compelling how this exhibit transforms and transmutes from lines to vibrant photographs, dimensional perspectives and absurd realities, with some of the same artists.

"Each artists' process differs, but they all begin with the simplest of gestures: the line and the point. From this beginning point work takes on complex forms, diverges into a plethora of disciplines and mediums, varying drastically and even winding in and out of reality, conceptuality and spirituality. This inspired the creation of "In Bituin" project" says Bastidas.
Sofia Bastidas is an artist, historian and curator living and working in South Florida. Born in Ecuador, Bastidas moved to the United States in 2007 and often travels abroad, collaborating with artists and venues in various locations.
"As an artist, art historian and curator I find fascinating the interrelation one can develop with art while traveling, but also establishing a home, a base where all this knowledge can pass on."
The Girls' Club Annex Space is adjacent to Girls' Club, located in the Francie Bishop Good Studio at 117 NE 2 Street, Fort Lauderdale, FL. Free parking is available during the opening in the adjacent parking lot, metered parking available at the City Hall Parking Garage across the street.
In Bituin at Girls' Club Annex