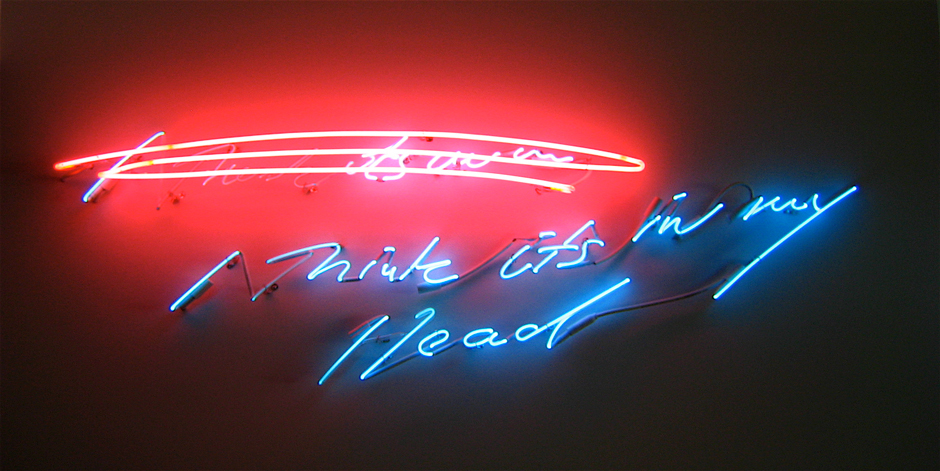 on view thru September 26, 2014

Girls' Club has engaged Miami artist team TM Sisters – sisters Monica and Natasha Lopez de Victoria – to collaborate with the collection of contemporary art by women amassed by Fort Lauderdale collectors Francie Bishop Good and David Horvitz, and curate the 2013/2014 exhibition.
After viewing works in the collection, the TM Sisters, who themselves create works in a range of media, have selected works which spoke to the mysterious attraction the girls felt to each piece.
Works in all media have been chosen for their vivid metaphysics: transforming figures, metamorphosis, supernatural mysteries, telepathic communication, explosions of psychic power. Some works depict visible protagonists. In others, the viewer is the subject, witnessing the magic internally.
Works by internationally renowned artists Barbara Kruger, Jenny Holzer, Ana Mendieta, and current practitioners on the world stage such as Tracey Emin, Lorna Simpson and Catherine Opie will be shown. South Florida artists include Harumi Abe, Jen Stark, Samantha Salzinger and others.
I think it's in my head opens Sunday, November 10, 2013, 5-8pm at a special twilight event.
the catalog
Designed by Augusto Mendoza, the 86-page, full color catalog features an introduction from creative director Michelle Weinberg, an essay on feminism and science fiction by artist and lead singer of the band Yacht Claire Evans, a work of fiction by Vanessa Garcia and an interview with Monica and Natasha Lopez de Victoria of the TM Sisters. I think it's in my head was printed and bound locally and in a limited edition of 200.
Available at Girls' Club and online.
artists
Harumi Abe
TJ Ahearn
Tracey Baran
Uta Barth
Cecily Brown
Sophie Calle
Autumn Casey
Vija Celmins
Gregory Crewdson
E.V. Day
Marcel Dzama
Tracey Emin
Claire Evans
Ellen Gallagher
AdrienneRose Gionta
Jenny Holzer
Jiae Hwang
Courtney Johnson
Brenda Ann Keanneally
Barbara Kruger
Nikki S. Lee
Loretta Lux
Vivian Maier
Ana Mendieta
Deborah Mesa-Pelly
Wangechi Mutu
Catherine Opie
Tara Penick
Dinorah de Jesus Rodriguez
Samantha Salzinger
Dana Schutz
Sandra Scolnik
Beverly Semmes
Lorna Simpson
Kiki Smith
Jen Stark
Amy Stein
Devin Troy Strother
Eugenia Vargas
Michelle Weinberg
Lisa Yuskavage
related links + media
acknowledgments
The exhibition and catalog are made possible by Funding Arts Broward and the Florida Division of Cultural Affairs.
---
featured image: Tracey Emin, I Think It's In My Head, 2002, Blue and pink neon