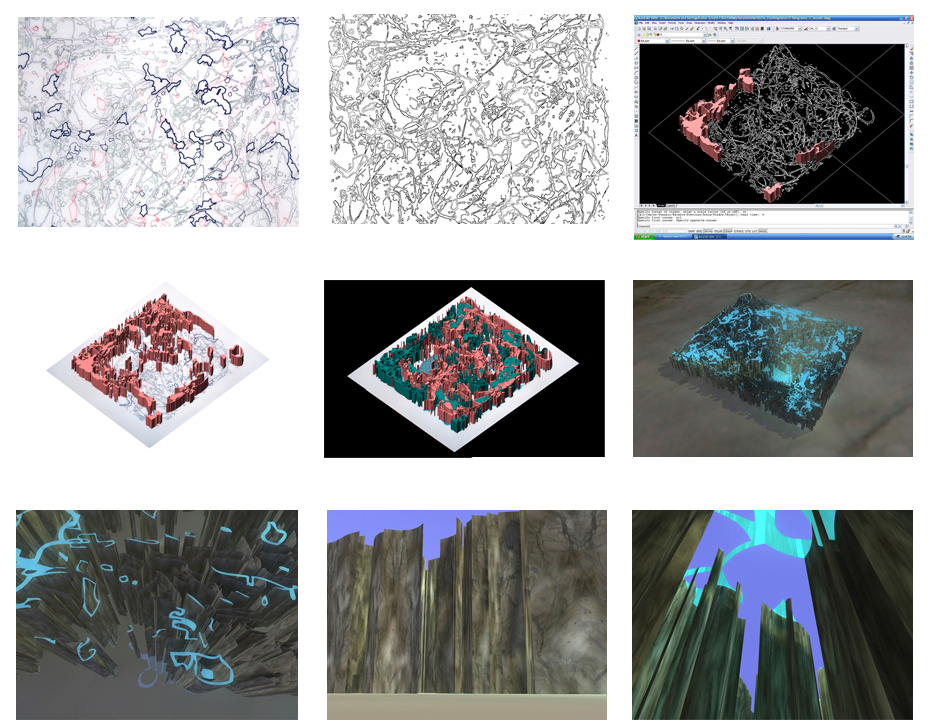 Felice Grodin & Carter Johnson web-based project for Girls' Club exhibition Set to Manual
Migration of the Golden Toad
Duration: 1 minute
Believed to be one of the first casualties of global warming, the Golden Toad of Costa Rica was rumored extinct by the late 1980's.  Inhabiting the Monteverde cloud forests, many species in addition to the toad began disappearing due to a rise in temperature as well as fungal infection.  However, locals refused to accept that the infamous toad had vanished and instead chose to faithfully believe that the species had migrated to higher mountainous elevations – where the clouds have risen and the toad could thrive.
The belief in survival through migration, a movement and interface from one region to another speaks of the evolution of all living species.  This project metaphorically attempts this by 'setting to manual' and migrating to digital.  Attempting to trap the myth of the Golden Toad, an original ink drawing is a freehand map-like field of camouflage with a layering of depth.  It is a planometric view from above – an ideal view.  By attempting to render a three-dimensional perspectival world – the human point of view, the project maps not only a new way of experiencing Migration, but reveals the process itself, as one technology must interface with another in order for this strange evolution to emerge.  From ink on paper and the subsequent importation and transformation through four different digital programs – five in including the internet itself – the Migration of the Golden Toad speaks of the vacillation between old and new technologies as it affects our capacity both to create and perceive.
Felice Grodin was born in Bologna, Italy and currently lives and works in Miami Beach.  She obtained her B.Arch. from Tulane University and her M.Arch. with Distinction from Harvard University.  Her first solo show Lost Horizon recently debuted at Diana Lowenstein Fine Arts.  Her work was also featured in the group show Drawing Beyond the Plane at the Tampa Museum of Art.  In addition, her first curatorial project was he at Locust Projects in Wynwood called "Synesthetics" which explored the creative interface between art and technology.
Carter Johnson received a B.A. in English Literature from Columbia University and an M.Arch. from Massachusetts Institute of Technology in 2000. He currently lives in New York City where he also teaches art and digital media. In the Spring of 2010 he will be traveling to Spain where he will be collaborating on a new project in photography and virtual technologies.