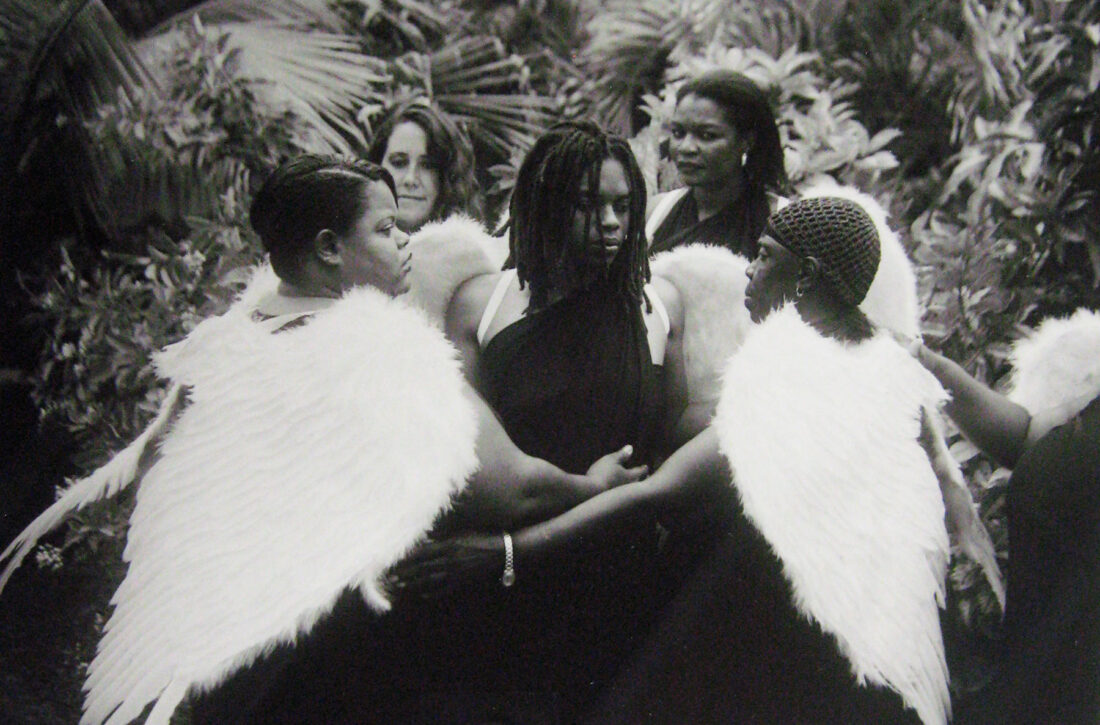 Necessary Trouble: Civil Rights Era Photography and Contemporary Art from the Collection
December 4, 2020 - June 25, 2021
at Girls' Club Warehouse
May - July 2022
at L.A. Lee YMCA Family Center
Girls' Club presents, Necessary Trouble: Civil Rights Era Photography and Contemporary Art from the Collection.
Necessary Trouble brings together documentary photography from the Civil Rights Era with contemporary painting, drawing, sculpture and photography from the collection of Francie Bishop Good and David Horvitz.
Works by photographers Bob Adelman, Bruce Davidson, Elliott Erwitt, Leonard Freed, James Karales, Danny Lyon, Steve Schapiro, Stephen Somerstein, Burk Uzzle and Ernest Withers; and artists Layla Ali, Jackie Nickerson, Marielle Plaisir, Onajide Shabaka, Carrie Mae Weems, Shoshanna Weinberger and Paula Wilson.
at Girls' Club Warehouse
723 NE 2 Avenue, Fort Lauderdale, FL
at L.A. Lee YMCA Family Center
408 NW 14TH Terrace, Fort Lauderdale, FL
Catalog Coming Soon
Necessary Trouble: Civil Rights Era Photography and Contemporary Art
from the Collection of Francie Bishop Good and David Horvitz
Works by photographers Bob Adelman, Bruce Davidson, Elliott Erwitt, Leonard Freed, Danny Lyon, Steve Schapiro, Stephen Somerstein, Burk Uzzle and Ernest Withers; and artists Layla Ali, Jackie Nickerson, Onajide Shabaka, Carrie Mae Weems, Shoshanna Weinberger and Paula Wilson.
Catalog designed by Edwin Beachamp
Curated and Edited by Sarah Michelle Rupert
Research Assistance by Tayina Deravile
Featured poetry by
Darius V. Daughtry is a poet, playwright, director, and educator. He is the Founder and Artistic Director of Art Prevails Project, a performing and literary arts organization cultivating community and creating equitable access to the arts through performance, arts education, and community engagement.
Nailah Daaj was born to creative parents who enrolled her in Broward County performing arts schools and the Boys and Girls Club of South Florida's creative arts unit. After high school she studied music in Sweden, earned a degree in Broadcast Journalism and worked in theater and fashion in New York, NY. Now, back in South Florida, she teaches poetry with The Art Prevails Project and continues to use her talents to create and contribute.
Devonne Campbell (Sophia's Daughter) is a multi-disciplinary Haitian-Jamaican American artist, based in Newark, NJ, specializing in live music production and performance, theatre, spoken word, and literature. She has performed professionally across the U.S. for the last 6 years and has studied since the age of four to pursue a career in the arts with a vision to provide humanity healing, empowerment, insight, and empathy through her creativity.
Emonde Prosper is a poet and educator based in Fort Lauderdale, FL who has used creative expression as a beacon for over 15 years. Her words and conviction have been sent across the globe as a spoken word artist and organizer. For the past five years, she has used her passion to help young creatives find their voices through poetry and drama.
Opening Day, Friday, December 4, 2020, 1-5pm
Join us for the opening of our new exhibit at Girls' Club Warehouse. Gallery hours are Friday, 1-5pm, and other times by appointment. Parking is available on NE 2 Avenue and Flagler Avenue. There is no cost for admission. Masks must be worn the entire visit.
Curator Brunch, Saturday, December 5, 2020, 10am-Noon
Join us for a casual take-away brunch to celebrate the opening of Necessary Trouble: Civil Rights Era Photography and Contemporary Art from the Collection and Miami Art Week.
Collector Talk, Tuesday, March 23, 2021, Noon-1pm
Hear directly from Girls' Club co-founder and collector David Horvitz on Zoom, in conversation with Girls' Club director Sarah Michelle Rupert, in the online collector talk event. Discussion will revolve around Horvitz's passion for Civil Rights Era photography, the inspiration for this focus, and how he and Francie Bishop Good support and invest in education, culture and other initiatives that focus on women and communities of color.
Discussion to be 30-40 mins, followed by Q&A.
Curator Talk, Tuesday, May 12, 2021, Noon-1pm
Hear from Girls' Club director and Necessary Trouble curator Sarah Michelle Rupert on Instagram Live about the inspiration for the exhibit, the curatorial process and details about the artists and works included in the show.
Tour to be 30-40 mins, followed by Q&A.
Civil rights era photographers helped change the world. Their unflinching portraits of non-violent demonstrations, sit-ins, marches, activists, and leaders illustrated a nearly century-long struggle to combat Jim Crow laws and an institutionalized system of segregation, suppression, violence and racism towards Black Americans.
Their photographs shed a spotlight on the racial inequalities inherent in the United States at the time, and helped push the debate for Civil Rights to the forefront of the national conversation.
From an intimate perspective, these black and white photographs propelled a moral reckoning and helped bring on a sea of change culminating in the signing of the Civil Rights Act in 1964.
In Necessary Trouble, these photographs are shown alongside contemporary art, inspiring new conversations and new interpretations between the generations.
The exhibition features contemporary painting and mixed media from Chicago-born, New Mexico-based Paula J Wilson and Miami artist and cultural practitioner Onajide Shabaka; painting from Layla Ali and Shoshanna Weinberger; photography from iconic multiple-disciplinary artist Carrie Mae Weems, and American-born British artist Jackie Nickerson.
All works are part of the Good/Horvitz Collection. Founded in 2006, Girls' Club was created by Francie Bishop Good and David Horvitz with a mission to educate the public, act as a resource and nurture the careers of contemporary female artists.
"To each and every one of you, especially you young people ... go out there, speak up, speak out. Get in the way. Get in good trouble, necessary trouble, and help redeem the soul of America"
- Representative John Lewis
Civil Rights Era Resources
Laylah Ali was born in Buffalo, New York, in 1968, and lives and works in Williamstown, Massachusetts. She received a BA from Williams College and an MFA from Washington University in St. Louis, Missouri. The precision with which Ali creates her small, figurative, gouache paintings on paper is such that it takes her many months to complete a single work. She meticulously plots out every aspect of her work in advance, from subject matter to choice of color and the brushes that she will use.
Nickerson is an American born British artist who lives and works between London and rural Ireland. Her work is held in many important private and public collections and has been exhibited in venues which include the Santa Barbara Museum of Art; Museum of Modern Art, Salzburg; Palais des Beaux-Arts, Brussels; National Portrait Gallery, London; Mudam Musee d'Art Moderne, Luxembourg; Irish Museum of Modern Art, Dublin; Nerman Museum of Contemporary Art, Kansas; Sunderland Museum, UK; Harn Museum, Gainesville; Vatican Museums, Rome; Benaki Museum, Athens Irish Museum of Modern Art, Dublin.
Onajide Shabaka has lived in California and Florida where his art practice is connected through historical/biographical themes related to geography that include African diaspora and Native American cultures. Using ethnobotany and the performative as aesthetic vehicles for making those references, its historical reconstruction, his art practice comes into being through the complex effects of institutions, histories, and human experiences. Additionally, Shabaka's writing and curatorial practice focuses largely on contemporary art and culture, and subject specific research.
Considered one of the most influential contemporary American artists, Carrie Mae Weems has investigated family relationships, cultural identity, sexism, class, political systems, and the consequences of power. Determined as ever to enter the picture—both literally and metaphorically—Weems has sustained an on-going dialogue within contemporary discourse for over thirty years. During this time, Carrie Mae Weems has developed a complex body of art employing photographs, text, fabric, audio, digital images, installation, and video.
Born in Kingston, Jamaica, Shoshanna Weinberger received her BFA from The School of the Art Institute of Chicago in 1995 and MFA from Yale School of Art in 2003. Living and working in Newark, NJ since 2006, Weinberger explores the standards and consequential implications and experiences of racial identity and external perception or imposition of racial categorization. Much of Weinberger's work is rooted in an exploration of her Caribbean-American heritage. It draws strongly on the complexity of heritage and assumed norms. Referencing her own adolescent memory and our current xenophobic zeitgeist, Weinberger renders her female muses along a spectrum of character types. Some are excessive, sexualized, and quirky; while others are passive, or dominant, a culmination of figures that ultimately question standards and the psychology of beauty and identity.
Mixed-media artist Paula Wilson enlists an extensive range of techniques to create her hybrid works. Using sculpture, collage, painting, installation, and printmaking methods such as silkscreen, lithography, and woodblock, Wilson explores perceptions of light, form, and the body in space. Various textures and vibrant colors are layered in collaged pieces, such as Tomorrow's Tomorrow (2008), where a vase of flowers lit by a stained glass window is constructed on a piece of paper through oil, spray paint, and collaged, inlayed woodblock prints. Equally multifaceted as her densely layered collages is her subject matter and vast expanse of inspirations, drawn from cultural histories, identities, and an exploration of various female personas.
Featured image: Carrie Mae Weems, Untitled (detail), 2008