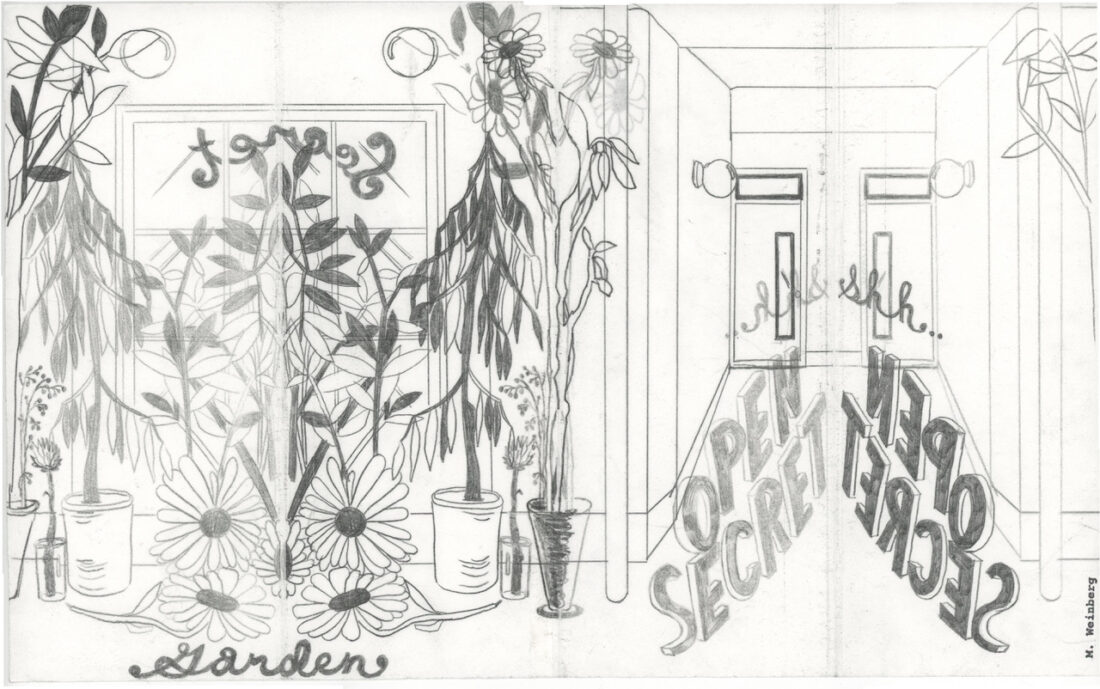 Girls' Club Warehouse presents, Double Trouble: An Artist Book Project by Michelle Weinberg and Denise Duhamel. The exhibition follows the ambitious ongoing collaboration between Miami/New York-based visual artist Michelle Weinberg and Broward-based poet Denise Duhamel in the creation of an artist book.
at Girls' Club Warehouse
723 NE 2 Avenue, Fort Lauderdale, FL 33304
Gallery Hours: Friday, 1-5pm and by appointment
Begun in 2018, the drawings for Double Trouble are created using a trace and transfer technique with graphite and carbon on mulberry paper that is folded in various ways to transfer the imagery and words from one side of the page to another.
The resulting works are eccentric repositories for language that doubles and mirrors, and they derive from a natural, spirited collaboration between artist and poet, whose imaginations are aroused along similar lines. The scenes depicted evoke traditional scroll narratives as well as scenography from 1960s and 70s cartoons such as Tom and Jerry. They uncover the miraculous (or at least the humorous) amidst the banalities of everyday situations and stories.
Weinberg's interest in hand-drawn typography and signage is evident, and the words float like banners or subtitles, or are planted like lawn signs or billboards in the landscapes and interiors. The female body and the feminist condition are viewed through a joyful lens. Pattern as visual rhythm is engaged in these works, and the repeated phrases have an aural, incantatory quality, like mantras or echoes.
Although Weinberg and Duhamel have collaborated on numerous projects previously, Double Trouble is a more comprehensive and intuitive collaboration that goes beyond the art being provided for a book cover, or the text being provided for a print broadsheet in response to a specific assignment. The images and words in Double Trouble inspire one another in a looping, integrated way, neither one coming first or asserting authority over the other.
The original drawings each measure 11" x 18". The pages for Double Trouble will be hand-printed in 3 grays in silkscreen with graphite and carbon added to the inks by Ingrid Schindall of IS Projects in Fort Lauderdale, FL. The books will be hand-bound using a drum leaf binding with foldouts (dimensions 11" x 4.25"), to replicate for the reader/viewer the experience of how the drawings were made. Each book will have a unique cover produced by Weinberg of heat-transfer of images scattered onto cloth in a field-like configuration. No two covers will be alike.
Readings, exhibitions, demonstrations and workshops for the public are currently being scheduled.
Artists
Michelle Weinberg is a painter who also creates art for interiors, architecture and public spaces. She received her BFA from School of Visual Arts in NYC and her MFA from Tyler School of Art in Philadelphia. She is the recipient of awards and fellowships including a Pollock-Krasner Foundation Award, Lower Manhattan Cultural Council grant, a Joseph Robert Foundation Award, a South Florida Cultural Consortium Fellowship in Visual & Media Art, an Individual Artist Fellowship and Artist Enhancement Grant from the State of Florida, the National Foundation for Advancement in the Arts, and residencies at MacDowell Colony, Millay Colony, 100W Corsicana, the Fine Arts Work Center in Provincetown among others. Recent exhibitions of her work include: Untitled Art Fair, FIU Frost Art Museum, Dot FiftyOne Gallery and Emerson Dorsch Gallery in Miami, Cyan Gallery in Barcelona, ARENA and the Hewitt Gallery at Marymount Manhattan College in NYC, The Bob Rauschenberg Gallery at Edison State College in Fort Myers, FL, The Schoolhouse Gallery in Provincetown, MA, Miami Art Museum, Fort Lauderdale Art Museum and Islip Art Museum in NY. Commissions include The Wolfsonian Museum-FIU, Facebook offices in Miami, Miami-Dade County Art in Public Places, Jacksonville, Tampa, Hollywood and private property owners. Weinberg is a consultant to museums, libraries and non-profits, developing exhibitions, education programming and more.
Denise Duhamel's most recent book of poetry is Scald (University of Pittsburgh Press, 2017). Blowout (Pittsburgh, 2013) was a finalist for the National Book Critics Circle Award. Her other titles include Ka-Ching! (Pittsburgh, 2009); Two and Two (Pittsburgh, 2005); Queen for a Day: Selected and New Poems (Pittsburgh, 2001); The Star-Spangled Banner (Southern Illinois University Press, 1999); and Kinky (Orhisis, 1997). She also has co-authored four collaborative books with Maureen Seaton, the most recent of which is CAPRICE (Collaborations: Collected, Uncollected, and New) (Sibling Rivalry Press, 2015). She and Julie Marie Wade co-authored The Unrhymables: Collaborations in Prose (Noctuary Press, 2019). In 2008, Madrid's Bartleby Editores, the leading Spanish-language press publishing poets in English, released a bilingual edition of her poems, Afortunada de mí (Lucky Me). In 2013, Ediciones Recovecos published Reina por un día, a Spanish translation of Queen for a Day in Argentina. Duhamel is a recipient of fellowships from the Guggenheim Foundation and the National Endowment for the Arts. She served as the guest editor is for The Best American Poetry 2013. She is a Distinguished University Professor in the MFA program at Florida International University in Miami.
Weinberg and Duhamel have collaborated previously on various projects prompted by the SWEAT broadsheets projects for South Florida-based artists and writers, Word Image Lab (WAIL) book projects, and Extra Virgin Press' Home/s: project. Weinberg has provided covers for two of Duhamel's books, BlowOut and The UnRhymables.
Weinberg and Duhamel gratefully acknowledge support from Broward County Cultural Division, 100West Corsicana residency and the Joseph Robert Foundation. The first exhibition and reading of Double Trouble was presented at Berl's Poetry Shop, Brooklyn, NY in December 2019.
Funding for this project is provided in part by the Broward County Board of County Commissioners as recommended by the Broward Cultural Council.