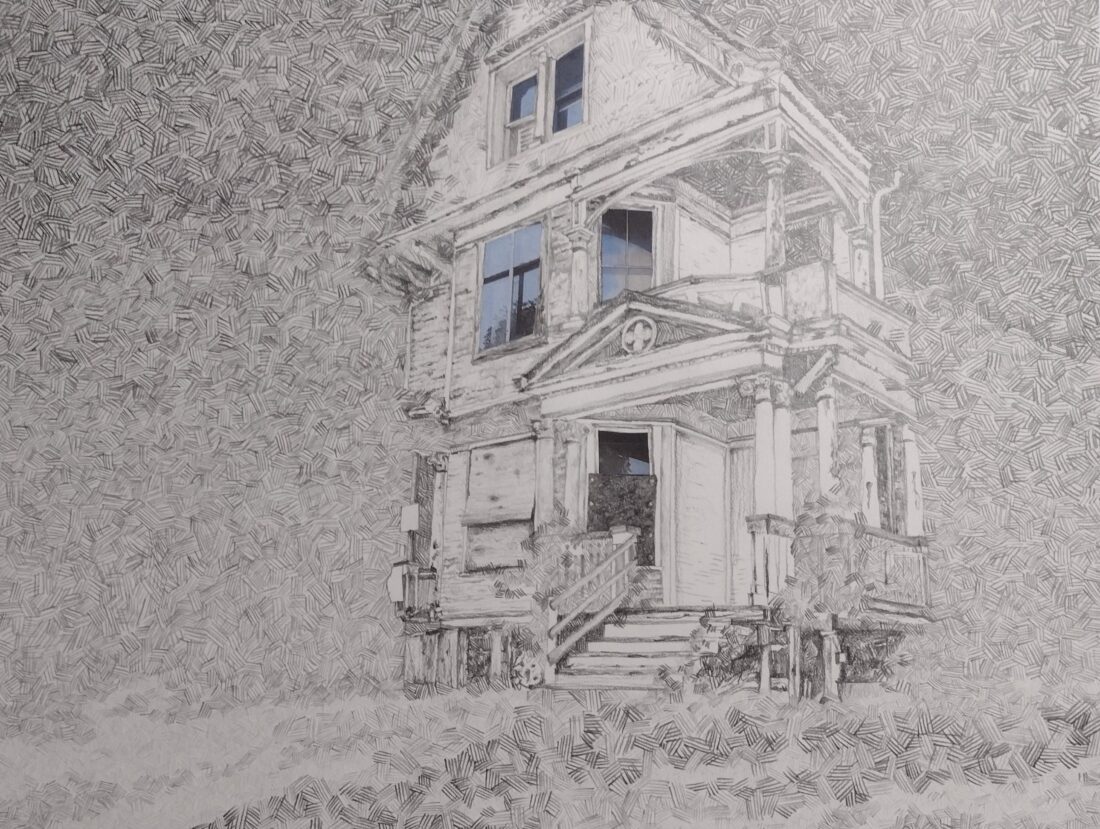 Destroy to Build. Passage.
On View April 8 - May 27, 2022
Girls' Club Warehouse presents the guest exhibit Destroy to Build. Passage., by Khaulah Naima Nuruddin that draws upon the familiar, yet unique experience of purging and clearing objects, clutter, and possessions to cleanse and renew one's personal space.
The conceptual approach of Destroy to Build. Passage. speaks to rummage and estate sales, where people release all the stale, unused or overused, forgotten or futile things that have accumulated over time. The objects purged in these sales often weigh heavy with regret, pain, and sorrow, markers of time passed, missed opportunities, and lives or loves destroyed or lost.

Society itself has amassed a weight of concepts, ideas, images and objects that fill our collective understanding with decayed, toxic energy that reflects shared trauma and collective loss. Removing violent, triggering content from a space opens it to be available for a cleansing, a renewal. The space still exists, but now it has endless possibility to become a social environment that is inclusive, equitable, and healthy. The space, more broadly society itself, has the power to embrace something new, to become something new.

This act of purging and cleansing represents an individual and collective decision to discard what no longer serves in order to embrace our best selves. The process also requires us to create boundaries. We can say "no" to oppression in order to say "yes" to safety, inclusion, and freedom.

Destroy to Build. Passage. is an opportunity to be better, to be stronger, to be authentic. This exhibition imagines discovering and building passages to love, play, and work freely as a result of purging the various weights that impede our ability to stand as a strong collective.

- the artist
This project follows the solo exhibition, Not For Sale, Not Today, presented at North Miami's Under the Bridge gallery in 2020. Not For Sale, Not Today was an exhibition of Khaulah Naima Nuruddin's new works, curated by Tayina Deravile, featuring installations, paintings, drawings and ceramics from Nuruddin's Scratching series. The exhibit addressed the nature of how Black women labor in their relationships with work, family, romance, friendship and community.
Unlike, Not For Sale, Not Today, which specifically addressed the concerns of Black women, Destroy to Build expands to address experiences of disparity that all marginalized groups suffer. The exhibit will include new works including portals, both actual and representational figures, sight-specific sculptural elements, layers of texture and bold, vibrant color that is coupled with soft, subtle details. The show will be supplemented by two public programs that include an Artist Talk with Q&A and discussion as well as an art making workshop.
This exhibit is free and open to the public.
Girls' Club Warehouse
723 NE 2 Avenue, Fort Lauderdale, FL 33304
Gallery hours: Fridays, 1-5pm and by appointment. Call or email to schedule.
Events
Opening Reception and Artist Talk: Friday, April 8, 6-8pm
Join us for the opening of Destroy to Build. Passage. at Girls' Club Warehouse. Parking is available on NE 2 Avenue and along Flagler Drive.
Workshop: Saturday, May 7, 1-3pm
Join Khaulah for an interactive printmaking workshop at Girls' Club Warehouse. Parking is available on NE 2 Avenue and along Flagler Drive. RSVP coming soon.
About Khaula Naima Nuruddin
Khaulah Naima Nuruddin is a multimedia artist from Milwaukee, Wisconsin, who lives and works in South Florida. Nuruddin's work explores the intersections of personal expression and social commentary by initiating public discussion of race, sexuality and the social transfer inherent to her work as a Black visual artist. Nuruddin earned her BFA from The University of South Florida and her MFA from Florida Atlantic University. She is an adjunct studio-art instructor and serves as Curator and Exhibitions Manager for Spady Cultural Heritage Museum.
Funding for this exhibit is provided in part by the Broward County Board of County Commissioners as recommended by the Broward Cultural Council and Greater Fort Lauderdale Convention & Visitors Bureau.