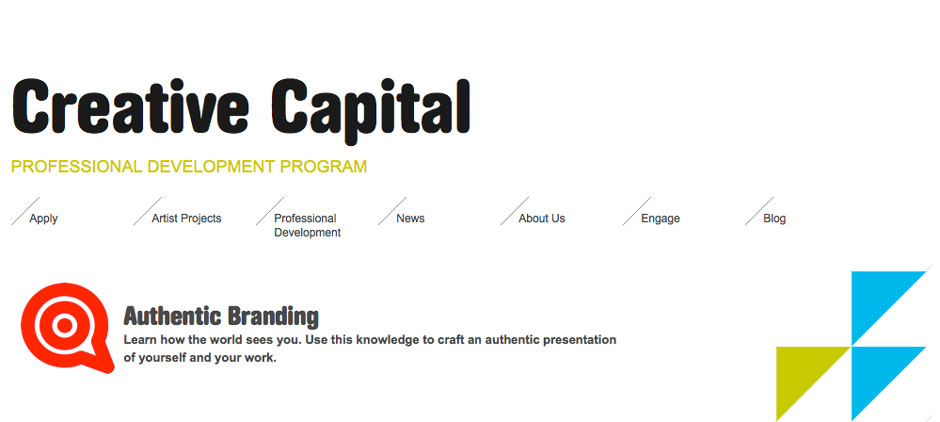 Creative Capital Professional Development Workshop: Authentic Branding Intro at Girls' Club
Tuesday, April 1, 7-8:30pm
In partnership with Broward County Cultural Division, Girls' Club will host this mini workshop taken from from the day-long Creative Capital "You Are Your Brand" workshop. This session provides an introduction to the concept of "authentic branding," which has been used to help visual artists, authors, celebrities, and business executives be more of who they are publicly, to make their work more accessible and viable for their audiences.
Workshop leader Maxine Lapiduss will lead participants through a few key exercises designed to help you discover what makes you unique, what traits you project, and how others perceive you. With this knowledge you can then create an authentic personal narrative to more effectively present yourself and your work in your marketing materials, website, social media, and in-person communications.
Whether you know it or not, the moment you enter a room, people form an opinion about you. Only a fraction of your message is conveyed through the words you choose—what you wear, the energy and enthusiasm you convey, and how you engage others all affect how people respond to you, and thus to your art. Corporations work exhaustively to calibrate and convey their brand. As artists, we can do the same. We must know exactly who we are and what we want, and carefully yet authentically sculpt the messages we send.

-Maxine Lapiduss, via Creative Capital
---
Workshop Leader
Maxine Lapiduss
www.lapidusscreative.com
In addition to her highly successful TV writing and producing career which spans over 25 years (Golden Globe winner, 4 Emmy nominations, Peoples Choice Award), Maxine has spent the last 10 years as an entrepreneur, non-profit founder, and Creative Strategist — helping visual artists, authors, filmmakers, and other creatives think more like successful businesses, and helping successful businesses think more creatively– expanding their brands and bottom lines. Currently Maxine is shuttling back and forth between Los Angeles, where she works in television and consults with clients, and Moscow where she is a Consultant for Sony International. Maxine is a Pittsburgh native and a graduate of Carnegie Mellon University.
About Creative Capital
Creative Capital is a national nonprofit organization dedicated to providing integrated financial and advisory support to artists pursuing adventurous projects in five disciplines: Emerging Fields, Film/Video, Literature, Performing Arts and Visual Arts. Working in long-term partnership with artists, Creative Capital's pioneering approach to support combines funding, counsel and career development services to enable a project's success and foster a sustainable practice for its grantees. Since its founding in 1999, Creative Capital has committed nearly $25 million in financial and advisory support to 372 projects representing 463 artists, and has reached an additional 5,500 artists in more than 150 communities around the country through its Professional Development Program.
Creative Capital's core program receives major support from The Andy Warhol Foundation for the Visual Arts, Doris Duke Charitable Foundation, Toby Devan Lewis, The Theo Westenberger Estate, Robert W. Deutsch Foundation, Lambent Foundation, The Andrew W. Mellon Foundation, Booth Ferris Foundation, William K. Bowes, Jr. Foundation, The Nathan Cummings Foundation, Ford Foundation, Muriel Pollia Foundation, Catharine & Jeffrey Soros, Paige West, Cordish Family Foundation, Sylvia Golden, Rappaport Family Foundation, Stephen Reily & Emily Bingham, and John L. Thomson, in addition to support from more than 150 other institutional and individual donors. Support for the Professional Development Program is provided by Kresge Foundation, National Endowment for the Arts, Doris Duke Charitable Foundation and the Joan Mitchell Foundation.
More information at www.creativecaptial.com.
About PDP
Creative Capital created the Professional Development Program (PDP) to share with the broader arts community the tools and methods developed to help its grantees manage the business side of their art with greater efficiency and results. Through workshops led by Creative Capital grantees and other arts professionals, PDP teaches artists about self-management, strategic planning, fundraising, verbal communication, promotion and maximizing online capabilities to help them expand their skills and build more sustainable practices. Support for the Professional Development Program is provided by the Kresge Foundation, National Endowment for the Arts, Doris Duke Charitable Foundation and the Joan Mitchell Foundation.
More information at www.creative-capital.org/pdp
About Broward County Cultural Division
Broward Cultural Division is a local arts agency, one of thousands across the U.S., providing financial, technical and marketing assistance to artists and arts organizations.  Broward County has more than 1.8 million residents, 11.1 million visitors, 10,000 artists, 7,773 arts-related businesses employing 26,755 people, 575 not-for-profit cultural organizations and 31 cities, some of which operate their own arts councils and public art programs.
More information at www.broward.org/Arts