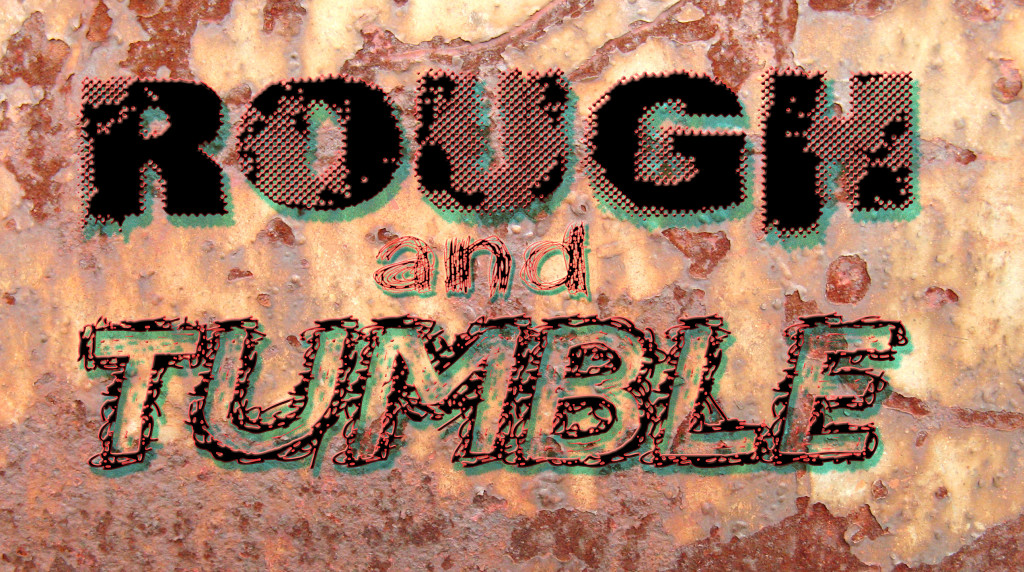 CALL FOR ARTWORK: "Rough and Tumble" Deadline for entry: July 28, 2013
Rough-and-Tumble:
1. characterized by violent, random, disorderly action and struggles.
2. given to such action.
3. rough and unrestrained activity
4. Characterized by roughness and disregard for order, rules, or conventional systems
SUBMISSION INFO:
Open to all media. Sculpture, Installation art, Video art, Mixed media, Use of found objects, and/or non-traditional media are preferred. Larger sizes and Site specificity preferable.
Proposals for New works, site-specific Installation art, and performances are welcome. A proposal explanation and examples of previous work are required.
Submitted artwork should be relevant to the "rough and tumble" theme (see definitions above).
For the Curator's inspirations, please visit: http://pinterest.com/nunsopink/rough-tumble/
Exhibition Site: The exhibition will be held within "The Projects" in FAT Village ARTS District, the leading exhibition space for monthly art walks. FAT Village ARTS District, located in downtown Fort Lauderdale,FL, spans 4 square blocks and is populated with artist's studios, galleries & other creative businesses.
The exhibition space is a raw Warehouse space, 8000 square feet of open space (no columns), cement floors, 12 foot brick walls, with much a domed ceiling that begins at 17 feet high and rises to at least 25 feet high. Some movable drywall panels are also available. Floor plan and images available upon request.
To see images of a few previous exhibits in the space, go to http://www.fatvillageprojects.com/
Jury fee: is a donation of $15.00 for up to 10 images, payable through paypal (nunsopink@yahoo.com) or by mail. Images will not be considered before jury fee is received. Read and follow the "ART SUBMISSION CHECKLIST" (details below) before submitting.
To be considered, all materials and jury fee must be submitted by email before Midnight, July 28, 2013.
Additional Info & Requirements:
• Artists that are accepted for exhibition must be willing to deliver and pick up artwork at their own cost.
• For larger works and installation art, Artists must be available to install their own artwork.
• Artists that are not within reasonable driving distance of Ft Lauderdale, FL, must be willing to ship the artwork to and from the gallery at your own cost.
• The space is securely indoors, but does not have air conditioning. Artwork should be able to withstand Florida temperatures, which include some humidity.
• Artists will be notified by August 7th, 2013.
• If accepted, each artist will be asked to pay a one time, $10 participation fee (on top of the jury fee, a Total of $25).
• A 20% commission is required from sales of artwork in the exhibition.
• All Accepted artworks must be delivered to the gallery between August 15 – 29, 2013.
• Artists in the exhibition must make arrangements to pick up/ship artwork at the end of the exhibition, between October 6 – 11, 2013.
EXHIBITION INFO:
Exhibition Dates: August 31 – October 5, 2013
The Rough & Tumble exhibition will open on August 31, for the monthly FAT Village Artwalk, with a second ArtWalk on September 28, and included in the Third Annual ART FALLOUT downtown Fort Lauderdale art tour on October 5th, 2013. ART FALLOUT is a collaboration between Girls Club Art Collection, 1310 Gallery, The Museum of Art Fort Lauderdale, FAT Village Arts District, and other local venues. There will be a shuttle bus rotating between each of these locations. Multiple venues will host their own new art exhibitions and events on the same night, and all participating venues will be cross-promoted on a printed map and flyer, and publicized in local newspapers. ART FALLOUT venues are unified in the mission to celebrate the Broward County Cultural Division's designation of October as "a month for art," supporting the production and presentation of contemporary art in the local community. These events will bring both greater awareness and unity to arts establishments within the proximity of downtown Ft Lauderdale.
The gallery will print 5000 brochures to advertise the exhibition that will include all participating artists. Girls Club Art Collection will be also distributing flyers for the ART FALLOUT event, cross-marketing for this exhibition.
ART SUBMISSION CHECKLIST:
1. Process payment for jury fee.
– Go to PAYPAL.com and Submit your Secure Payment by credit card or bank account for $15 to nunsopink@yahoo.com. (Click on "Personal", then "send Money online")
? Make sure to Click on "Attach a Note" and list your NAME and "Rough & Tumble Submission"
OR Mail the jury fee to
Lisa Rockford
1310 SW 2nd Ct. #301
Ft Lauderdale, FL 33312
2. Email your images to nunsopink@yahoo.com with the following specifications:
? Subject Line: Please put "Rough & Tumble Entry: (Your Name)"
? Images: Specify whether images are works submitted, or a new proposal with evidence of past work.
Each digital image should be 72 dpi, RGB format, .jpg, .gif, or.pdf, at least 500k, no larger than 3 Megabytes each.
?Title each image with your First & Last name, title, & image #
(i.e. Lisa_Rockford-SheMonster-1.jpg)
? Copy and Paste this/ Include this Entry Info in the email:
Full Name:
Email:
Your Website (or link to more images online):
Statement about the artwork or how this artwork relates to the theme (1 – 5 sentences, or under 120 words):
This statement will be used for the title cards and/or catalogue if your work is accepted into the show.
For Site Specific Proposals:
Amount of space needed (Height, width and depth):
Type of space needed: (Floor, hanging from Ceiling, Brick wall, movable drywall, etc.)
AND
?Include this info in the email for EACH artwork:
Image #:
Art Title:
Media:
Dimensions (inches, Height x Width x Depth):
Year Completed:
Sale Price or NFS:
Questions? email nunsopink@yahoo.com