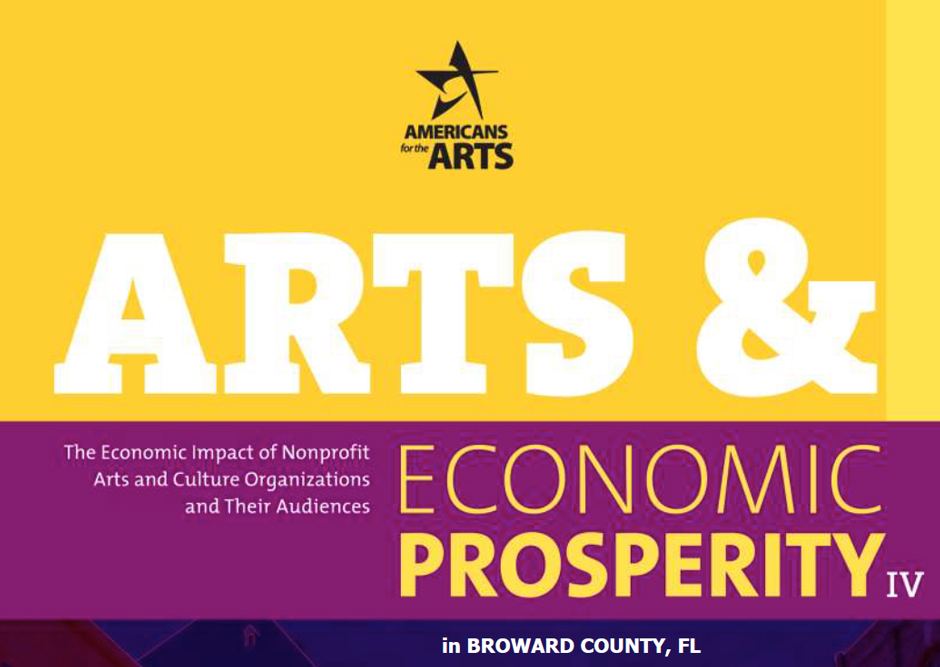 Broward's Arts and Culture Industry Generates $230 Million in Economic Activity
In June, the nation's leading nonprofit organization for advancing the arts in America, Americans for the Arts, released Arts and Economic Prosperity IV. The study shows that Broward County's arts and culture industry grew by 50 percent, in the period from 2005 – 2010, generating $230 million in economic activity. Included in this study were 182 communities – representing all 50 states and the District of Columbia.
Broward County's nonprofit arts and culture industry generated $230 million in local economic activity, a number that is comprised of $103 million in spending by nonprofit organizations and $127 million in event-related spending by audiences. This total number supports 6,402 full-time-equivalent jobs, generates $157 million in household income to local residents, and delivers $21.9 million in local and state government revenue.
The study also confirms that an arts and cultural visitor will spend an average of $34.60 in audience participation, while a resident spends an average of $21.63. This highlights the importance of the cultural tourist who should always be a definite target in any plans for economic development.
"This research shows that the nonprofit arts and culture industry attracts audiences, spurs business development, provides jobs, generates government revenue, and is a cornerstone of tourism," says Mary A. Becht, director Broward Cultural Division. "When communities support arts and culture, they enhance the quality of life and invest in the County's economic well-being."
Broward County Cultural Division's portfolio of services includes: county-wide public information; community cultural planning; financial and marketing incentives; capacity-building technical assistance for artists and cultural organizations; micro-credit program and artist fellowships; pre-development and investment in cultural facilities (ArtServe's arts incubator, ArtsParks and Artist Lofts); arts education; urban design and county facility enhancement through the Public Art & Design Program.
Click here to download Broward County's Arts & Economic Prosperity IV study. Click here to download a summary report.
---
Americans for the Arts is the leading nonprofit organization for advancing the arts in America. With offices in Washington, DC, and New York City, it has a record of more than 45 years of service. Americans for the Arts is dedicated to representing and serving local communities and creating opportunities for every American to participate in and appreciate all forms of the arts. Additional information is available at www.AmericansForTheArts.org.