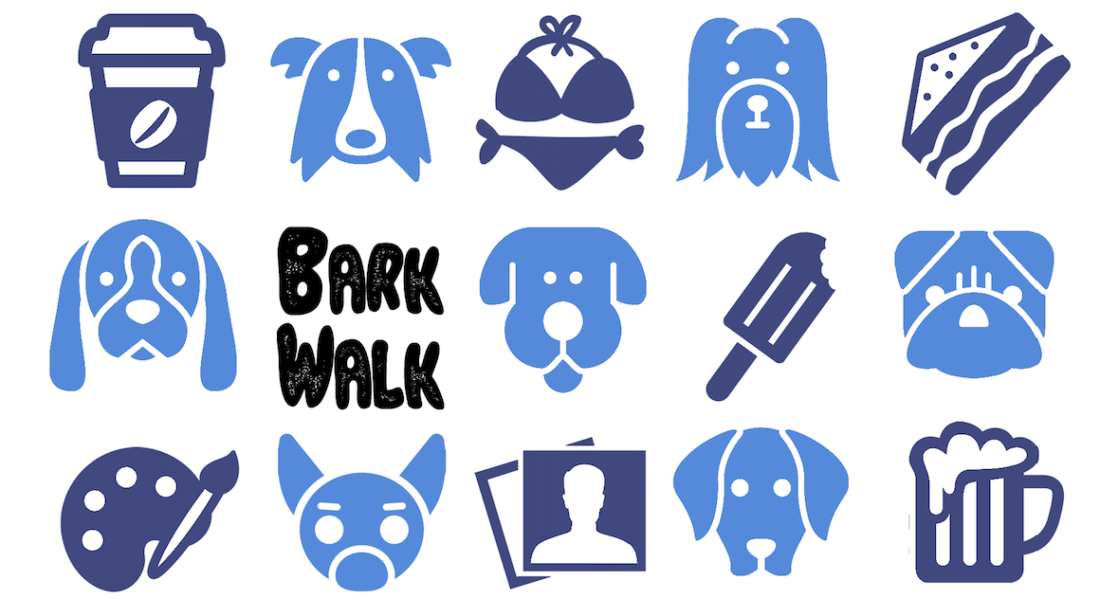 Bark Walk, a dog-friendly artwalk event
Saturday, May 26, 5-8pm
Adoptable Dog Parade at 6pm
Girls' Club Collection presents block-wide Bark Walk to benefit Pets Broward, a non-profit organization dedicated to saving shelter pets and creating a community where all pets and people are valued and treated with respect, kindness, and compassion.
The Bark Walk will feature dog-themed art exhibitions from local artists, a live photo booth shoot with artist Alissa Alfonso, dog and kid friendly art making activities, and a heart-melting Adoptable Dog Parade of the most adorable and eligible doggy bachelors and bachelorettes looking for forever homes.
The Bark Walk takes place Saturday, May 26, 5-8pm during the artwalk in the shops along the north edge NE 2 Avenue in Flagler Village. The event is free and open to the public. Well-behaved pets welcomed and encouraged to join.
A new hot spot in Fort Lauderdale, the shops along NE 2 Avenue and Flagler Drive recently opened for business this year with a craft coffee roaster and cafe Wells Coffee, a fit-focused swim shop Montce Swim, high-intensity functional HIIT studio The Fit Shop, a creative-thinking hair salon Form, the working artist studio of Madeline Denaro and the city's only private art collection/alternative art space Girls' Club Collection.
Bark Walk activities will benefit Pets Broward, with a portion of proceeds going to the non profit organization, who will also host an Adoption / Foster info booth for visitors learn more about the adoption and foster program and meet their crew of friendly, furry faces looking for new families. Pets Broward will lead the Adoptable Dog Parade, introducing each pup and highlighting their unique personalities.
The Bark Walk coincides with the last Saturday artwalk, connecting with the FATVillage and the MASS District art neighborhoods of Fort Lauderdale for an epic evening out.
Open Call Exhibition: Best in Show
Girls' Club presents Best in Show, an open call exhibit taking place during the May 26 artwalk event - Bark Walk - during the monthly Artwalk event in Fort Lauderdale at Girls' Club.
Best in Show highlights artists' affinity for and reliance on our four-legged friends in a variety of media and perspectives. The long history of canine companionship, protection and service has been a constant in cultures around the world and throughout millennia.

As our two species evolved together, a unique symbiotic relationship formed unlike any in history. That special relationship carries on today as dogs' unique ability to understand human emotion, gestures and speech patterns has earned the species a permanent position as humankind's "best friend."

From cave paintings, to renaissance masterpieces to modern and contemporary art, the depiction of dogs in the annals of art history is ubiquitous, and sometimes even obsessive. Artists have long shown the layered, intimate bonds between humans and our dogs.
Best in Show Artists
Ariel Baron-Robbins, Bonney Goldstein, Elena Tejada-Herrera, Enma Saiz, Janis Ehlers, Judy Polstra, Julerys Diaz-Hance, Kelcie McQuaid, Kristin Beck, Lexi Bursa, Luz "Liight" Angel, Lydia Rubio, Michelle Lopate, Natasha Clark, Nereida Garcia Ferraz, Paula S. Gillam, Riley Arthur, Skip Hartzell, Susan Doll, Tilly Strauss, Victoria Sheridan, Virginia Fifield, and Wilma Bulkin Siegel
Collector's Choice "Best in Show" award winner: Lexi Bursa
SouthFlorida.com | by Phillip Valys
May 21, 2018
Roll over, FAT Village Art Walk: Our drooling, shaggy companions are the stars of Saturday's Bark Walk in Fort Lauderdale.
An art walk programmed by the dog lovers behind the Girls' Club Collection art gallery, the Bark Walk will stretch a full city block from 5 to 8 p.m. May 26, along Northeast Second Avenue south of Flagler Drive. Inside Girls' Club is a new canine-focused group art exhibit, "Best in Show," billed as a celebration of how hopelessly devoted we are to our pups
Hollywood Gazette
May 26, 2018
Hollywood-based visual artist and curator and animal lover will be participating at Bark Walk, an artwalk event presented by Girls' Club.
Bark Walk is an artwalk event for all the dog-lovers in South Florida that welcomes our special furry, four-legged friends too, to benefit Pets Broward
723 NE 2 Avenue
Girls' Club Warehouse hosts open call exhibit Best in Show and live dog-friendly photo shoot. Local artists submit and share their hopelessly-devoted to-all-things-pets artworks for exhibition and sale at Girls' Club.
The call is open to any and all creators with in South Florida, with 100% of the entry fees going to support Pets Broward's mission and activities. Refreshments available, with all profits benefiting Pets Broward.
Also at Girls' Club, Alissa Alfonso, artist and curator of the Squatter Pup Gallery, will set up a photo shoot for glamor shots of you and your best four legged friends.
713 NE 3 Avenue
At Madeline Denaro Studio, an open studio and meet-and-greet with guest artist Kerry Phillips.
Fiber-based artist Kerry Phillips will be exhibiting works from her carpet portrait series, showing visitors her unique process for creating her memorable, commissioned portraits. Meet the artist and take a look inside her very tactile process while considering your very own petable carpet dog portrait.
737 NE 2 Avenue
Wells Coffee will be open, serving the strongest coffees in town, with well-behaved dogs welcome on the outdoor patio.
Grab a cup of locally-made, locally-roasted java and kick back in the shade with your favorite beastie-bestie. Reusable coffee cups, glasses available for sale.
731 NE 2 Avenue
Montce Swim will be showing off their latest season of swim and beachwear with a dog-friendly kiddie pool to splash around in. Be one of the first to preview their summer collection of locally-made, fit-focused swimwear and the cutest inflatables.
733 NE 2 Avenue
The Fit Shop will be hosting dog versus human and dog/human couple athletic competitions throughout the day. Get in shape with your best friend!
727 NE 2 Avenue
Form Hair Studio will be offering pet-safe pastel dye jobs for your trendsetting pups and their fun-loving humans. They'll also have a special kid- and dog-friendly paw print making art activity to create cross-species collaborative works of art to take home.
www.formhairstudiofl.com
Want to Help?
Pets' Broward relies solely on donations to accomplish its mission and goals.
"We operate using all volunteers and do not have paid staff. Your donation will help us educate the public regarding animal welfare issues in Broward County, provide free and low cost spay/neuter surgery assistance to qualified individuals, and assist in finding homes for pets in need of adoption or foster."
Come by Girls' Club or to the Bark Walk with donations of:
Martingale collars, all sizes, for dogs (like these or these!)
Leashes of all sizes
Training treats for dogs
Catnip Toys
Washable cat beds
Ping Pong Balls for Cats (like these!)
No Pull Harnesses (like these!)
Drop off during open hours or contact us to schedule an appointment. You can also bring your donations to the Bark Walk and drop off then!
Acknowledgments
Funding for this program was made possible in part by Broward County Board of County Commissioners as recommended by the Broward Cultural Council, the State of Florida, Department of State, Division of Cultural Affairs.