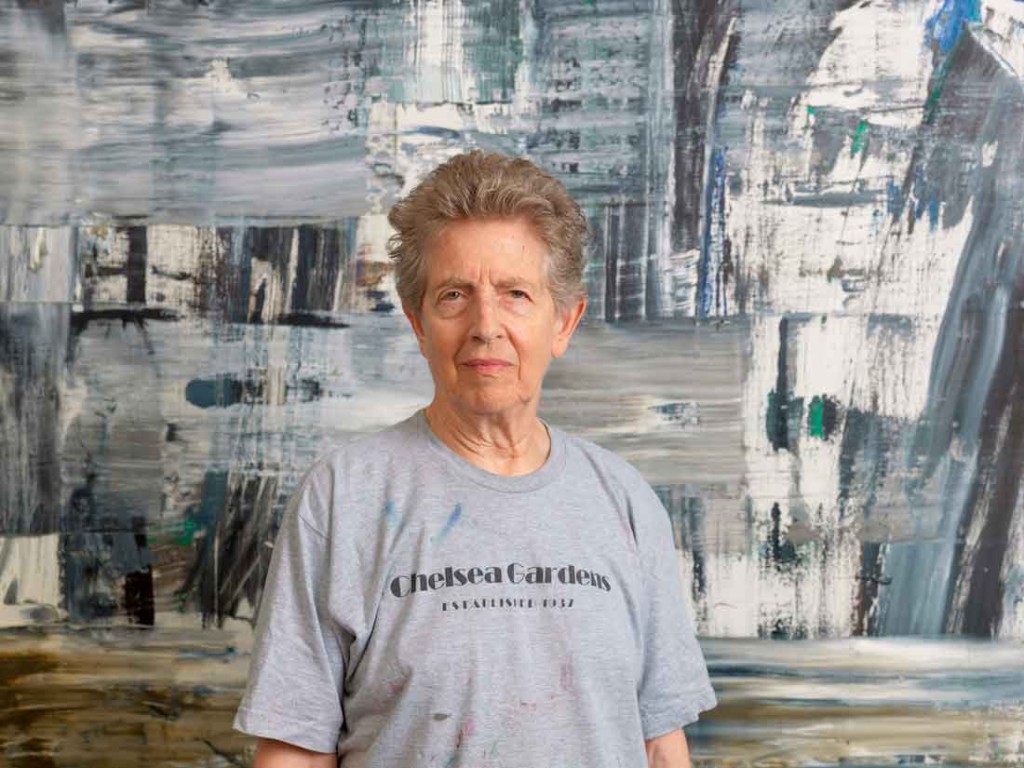 Artsy Editorial: On Louise Fishman's Hard-Won Task: Making Feminism and Abstract Expressionism Play Nice
Artsy Editorial
By Alexxa Gotthardt
Published: Nov 9th, 2015 11:35 pm
Featured Photo by Brian Buckley. Courtesy of Cheim & Read, New York.
Read full article on artsy.net
On an unseasonably warm fall day, Louise Fishman, a 76-year-old painter with a shock of short white hair, a fanny pack slung at her hip, and a radiant quality of openness, settled casually into a chair in the back room of Cheim & Read, her dealer since the late '90s. She had just passed through, for the umpteenth time, her show of new paintings—surging abstractions where urgent strokes of paint explode through loose, albeit anchored, grids. With names like Credo (2015), Bel Canto (2014), and The Foot Upon the Earth (2014), Fishman's canvases express a bursting but grounded energy—not unlike the chaotic activity that gushes through Manhattan's grid plan.
The show at Cheim & Read marks what could be seen as Fishman's 50th anniversary as an artist. After graduating with an MFA in 1965, she promptly moved to New York, where she lived and made work in an apartment on West Broadway in SoHo, "before it was an art center; when
it was still filled with factories and trucks and stuff," she recalls. At the time, she was influenced by Sol Lewitt and Al Held, artists whittling forms down to their essential lines and, in turn, pioneering a canon-shattering approach to abstraction—Minimalism. Steeped in this scene, Fishman made big paintings where squares of sky blues, subdued reds, and buttery yellows were stacked into sturdy grids with soft edges. Since then, she's pushed abstraction into countless new forms with a hungrily experimental body of work, one that's included geometric patchwork panels, swooping oil paintings, loose watercolors, and little sculptures that each exude fluctuating tonal cadences—from lilting to loud to downright angry.