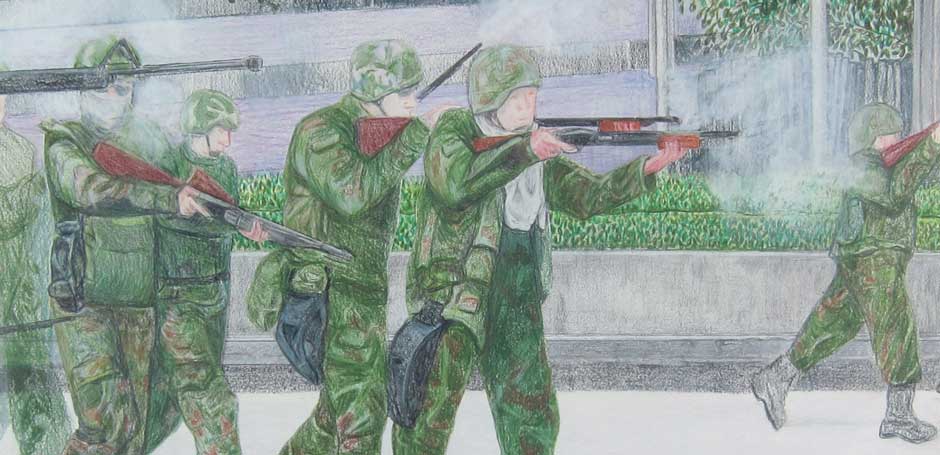 Artists in Action! with Lou Anne Colodny
Lou Anne Colodny
Artist Talk | 7pm, Friday, May 17 | free and open to the public
Workshop | 1-4pm, Saturday, May 18 | $30, student discount available

Lou Anne Colodny's experiences in dance, theater and museum administration have greatly informed her art. She was a recipient of the 2008 Cultural Consortium Fellowship in the Visual and Media Arts for Broward County in Florida and BEST IN SHOW for her videos in the 2005 Boca Museum of Art's 54th Annual All Florida Exhibition.
Locally, Lou Anne's videos have been included in five (5) Optic Nerve programs at MoCA, the Museum of Contemporary Art; Bridge Art Fair at Carol Jazzar Contemporary;the American Arena Video Wall; the Unaffiliated Artist Exhibition at the Living Room, Miami Design District; The House; The "NO" show, Beauty or Not curated by Carol Jazzar and in the video programs of –SCOPE MIAMI, 2005 and –SCOPE NY 2006. She was juried into the 2007 Art and Culture Center All Florida exhibition, Hollywood, Florida. In 2008, she was the featured artist in the Hollywood Art and Culture Center's project room.
Colodny has shown her videos, drawings and photographic work at the Saltworks Gallery and Eyedrum Gallery (an alternative space) in Atlanta, Georgia, and in group shows at the Fred Snitzer, Dorsch, David Castillo and Carol Jazzar Galleries in Miami, Florida.
Her works are in the Permanent Collections at MAM, Miami Art Museum, Miami, Florida; the Southeast Museum of Photography, Daytona Beach, Florida; MoCA, Museum of Contemporary Art Optic Nerve archive, North Miami, Florida; Miami-Dade Community College, Miami-Dade Public Library Collection, and the Okaloosa-Walton College, Niceville, Florida.
Colodny was the founding director of MoCA, Museum of Contemporary Art in North Miami, Florida and director of its precursor, COCA for 15 years.
Lou Anne will lead workshop participants in a Venetian Exploding Box Saturday, May 18, 1-4pm. Registration form available soon.
Explosion boxes look like a little gift, but when the lid is removed the sides fall down to reveal multiple tags that can display photos, drawings, collages, texts, and other embellishments. Participants will learn how to construct the box, making secret compartments and simple techniques to create a clean, professional finish.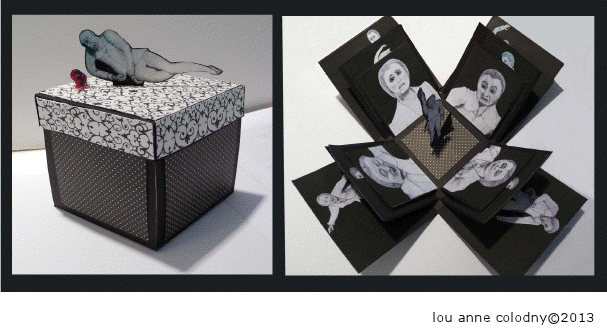 Image: detail of On the Street Where You Live 3, 2011, currently on view at Girls' Club
---