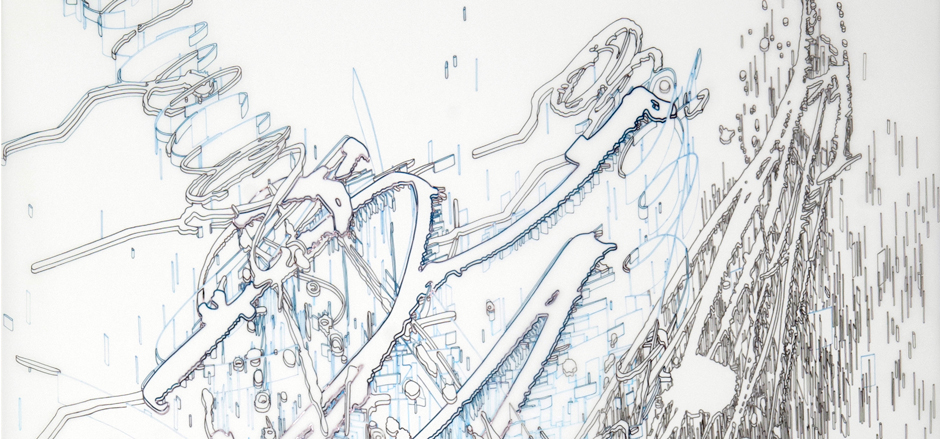 Artists in Action! with Felice Grodin
Felice Grodin
Artist Talk | 7pm, Friday, March 15 | free and open to the public
Workshop | 1-4pm, Saturday, March 16, $30
Hear Felice Grodin speak about her evolving career in the arts, her creative inspirations, and recent projects. Talk is free and open to the public. Seating is limited. RSVP to [email protected].
Felice Grodin was born in Bologna, Italy and currently lives and works in Miami Beach. She obtained her BA from Tulane University and her MA with Distinction from Harvard University.
"By exploring through the grain, I attempt to map trajectories.  Algorithmic use of off-the-shelf materials, drawn cartographies of paintings, catalogued art deco buildings in a state of decomposition and recomposition, and diagrammatic stealth projections are presented not as finite compositions, but carefully considered mutable moments along their way…"
Felice will lead participants in the process of mapping a body sequence, focusing on new spatial effects in which intensification through mapping is investigated on Saturday, March 16, 1-4pm. Registration form below.
Mapping a Body Sequence: Participants will record and print photographs of themselves or another person as a movign sequence – one after the next – consisting of a considered motion or manipulation of the body. Through these manipulations we will create new spatial effects in which intensification through mapping are investigated. Through this exercise they will explore the nature of interactions between the human body and space.
Image: detail of The Collaboration, currently on view at Girls' Club
---