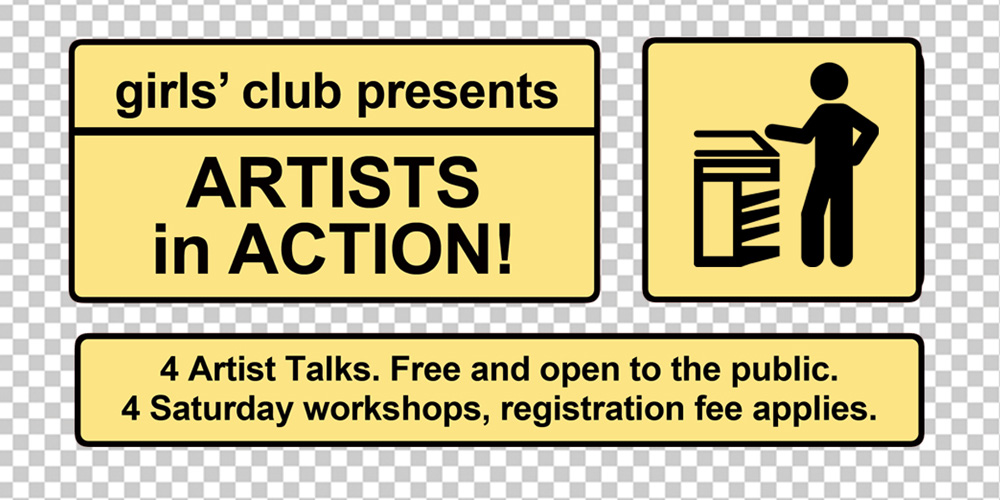 Four presentations at Girls' Club by prominent local artists will offer a glimpse into their unique methods of artmaking. Chosen from the current exhibition Self-Proliferation, the four presenting artists work with diverse media, employing various printing and proliferation techniques to carry their message.  They will share their inspirations, career paths and ah hah! moments with the public. A lively atmosphere and stimulating discussion is guaranteed.
Curated by New York-based Micaela Giovannotti, Self-Proliferation. is a selection of works from the collection of Francie Bishop Good and David Horvitz which express the natural female propensity for replication and fecundity. The majority of works are created as multiples - artist books, prints, photographs, videos. They manifest the fungible nature of contemporary art production and collection today, and exhibit an easy familiarity with technology. The supremacy of the original masterwork is sidestepped in favor of a more accessible and, at the same time, more radical awareness of the artwork within the marketplace.
At each event, Girls' Club will release an affordably priced limited edition multiple produced by the artists for sale to the public. These multiples are all priced under $100 and range in object and function. Each object is created in collaboration with Girls' Club and is informed by the artists' interests. This is an opportunity for budding art collectors to own one copy of a signed, limited edition work, published by Girls' Club.
Quisqueya Henriquez
Talk: Saturday, March 26, 7pm
Edition: August Macke Colored Squares Weekender, 2016
limited edition travel bag made of 1000 Denier Polyester
22x 14 x 12 inches
edition of 10
$100
Quisqueya Henriquez was born in Havana, Cuba and currently lives and works in Santo Domingo, Dominican Republic.
Her work provokes conventions of race, ethnicity, and gender encountered in Caribbean and Latin cultures and practiced universally. Working across collage, print, video, installation, and sound, Henriquez connaturalizes stereotypes originating in corporeal notions of beauty and athleticism and expanding to manifest destinies perpetuated by contemporary ideals of cognitive ability, economic achievement, political power, and art history.
More information about Quisqueya Henriquez available at www.davidcastillogallery.com/artist/quisqueya-henriquez.
Jillian Mayer
Talk: Saturday, April 30, 7pm
Edition: Are U Feeling It Yet?, 2016
limited edition hard cover book
28-page, 9.5 x 6.5 inches
edition of 25
$40
Jillian Mayer is an artist and filmmaker living in South Florida. Her video works and performances have been premiered at galleries and museums internationally such as MoMA, MoCA:NoMi, BAM, Bass Museum, the Contemporary Museum of Montreal with the Montreal Biennial (2014) and film festivals such as Sundance, SXSW, and the New York Film Festival. She was recently featured in Art Papers, ArtNews and Art Forum discussing identity, Internet and her artistic practices and influences.
More information about Jillian Mayer available at jillianmayer.com.
Dara Freidman
Talk: Saturday, May 28, 7pm
Edition: Gift, 2016
Limited edition bundle of vintage 1960s and 1970s children's books with handmade leather snake wrap
dimensions vary
edition of 8
$60
Dara Friedman was born in Bad Kreuznach, Germany and currently  lives and works between Miami and Bad Kreuznach, Germany.
She is an internationally acclaimed, Miami-based artist who is best known for experimental, non-narrative works that deconstruct the techniques of conventional filmmaking. Using the camera lens as an extension of her eye and body, Friedman strives for a heightened sense of subjectivity, distilling individual moments in time down to their emotional essence.
More information available at www.gavinbrown.biz/artists/dara_friedman/works
Rosemarie Chiarlone
Talk: Friday, June 10, 7pm
Edition: Hide Me, 2016
Limited edition bookmark with original text stamped by hand on natural sheepskin
8 1/4 x 2 inches
edition of 10
Each with a slightly different design
Rosemarie Chiarlone is a visual artist who lives and works in Miami. She received her degrees from The Pennsylvania Academy of Fine Arts in Philadelphia, and at Florida International University, Miami, Florida. Her work addresses the physical and psychological boundaries of human connectedness and the impact of its loss in the several contexts, both individually and within a larger societal scope. This is explored in works on paper, artist books, installation and video.