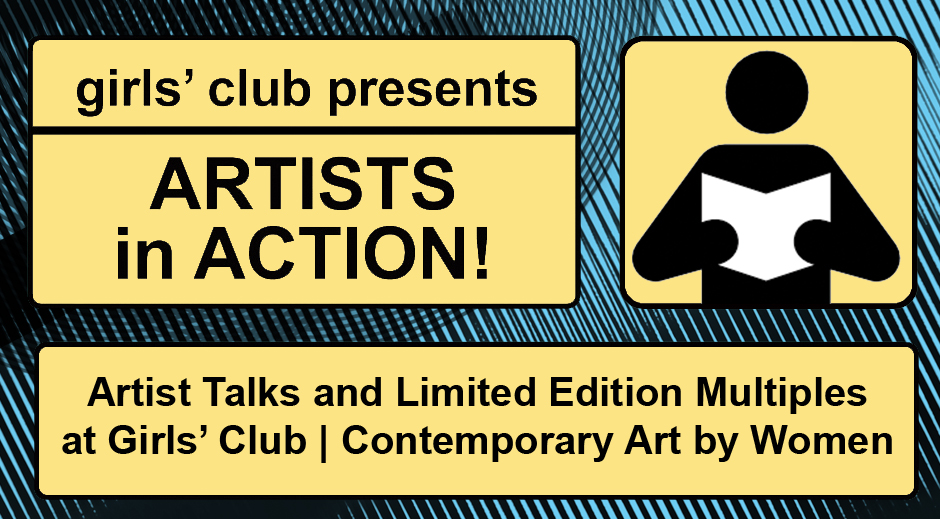 Four presentations at Girls' Club by prominent local artists will offer a glimpse into their unique methods of artmaking. Chosen from the current exhibition The Moment. The Backdrop. The Persona., the four presenting artists work with diverse media, employing various printing and proliferation techniques to carry their message.  They will share their inspirations, career paths and ah hah! moments with the public. A lively atmosphere and stimulating discussion is guaranteed.
Curated by directors Michelle Weinberg and Sarah Michelle Rupert, The Moment. The Backdrop. The Persona. is a selection of works from the collection of Francie Bishop Good and David Horvitz that explore current state of narrative and story based art.
Exhibited works invite the viewer to experience a singular isolated moment, an evocative backdrop or a deeply imagined character, sometimes a combination of two or more. Mostly the work of female contemporary artists, many of the stories channel archetypal narratives from mythology and fairy tales. Others examine contemporary relationships across a vast range from sober examinations of self and environment to high melodramas.
At each event, Girls' Club will release an affordably priced limited edition multiple produced by the artists for sale to the public. These multiples are all priced under $100 and range in object and function. Each object is created in collaboration with Girls' Club and is informed by the artists' interests. This is an opportunity for budding art collectors to own one copy of a signed, limited edition work, published by Girls' Club.
[add_eventon_el el_type="pe" el_title="Related Events" event_type_2="462" hide_so="yes" show_et_ft_img="yes" number_of_months="1000" event_order="ASC"  ]
David Rohn
Talk: Saturday, March 28, 6pm
Edition: Dirty No.2 and Dirty No.3, 2015
limited edition set of two archival prints with oval frames
9 x 7 inches framed
edition of 14
$75 each
Born and raised in the suburbs of New York, David Rohn studied Urbanism, Art and Art History at Colgate University and New York University, and Architecture at the Pratt Institute and Ecole des Beaux Arts, Paris. Rohn moved to Miami in 1992 and began exhibiting and and practicing performance art, incorporating interactive and situational elements with installation, self-portraiture and video tackling issues of identity, gender and social practice.
He formed Homo-Sapiens (art for evolution) Colab in 2008 with Danilo de la Torre, engaging in collaborative performance projects. Rohn has exhibited and performed widely in South Florida Galleries and Museums where his work has garnered frequent press notice. He has also exhibited at Scope NY, Berlin and Tel Aviv. Rohn has exhibited and been represented by Carol Jazzar Contemporary since 2008.
Natalya Laskis
Talk: Saturday, April 25, 6pm
Multiple: Kitchen Dates, 2015
Limited edition set of two kitchen towels
24 x 16 inches each
Edition of 15
$50
Natalya Laskis was born 1980 in Miami, Florida. She received a BFA from the Maryland Institute College of Art, Baltimore, MD in 2002 and attended the New World School of the Arts in Miami. Much of Laskis' paintings present representational snapshots of social groups, other works utilize an abstracted and emotionally-tuned visual language that transcend narrative with loosened application of paint.
She is represented by CANCIO Contemporary Miami/ New York. Laskis currently shares her time between West Palm Beach and New York City.
More information at www.natalyalaskis.com.
Christina Pettersson
Talk: Friday, May 15, 7pm
Multiple: Christina Pettersson's Grave, on Bamboo, 2015
Limited edition print on bamboo
Edition of 15
8 x 8 x 0.75 inches
$100
Christina Pettersson's work explores resurrection and savage demise on a grand scale once reserved for history painting. Her works reference classic mythology and literature, and include herself as the recurring female figure surrounded by animals, most particularly birds. She is known for her meticulous, large scale graphite drawings, multi screen videos and sculptural installations.
Christina Pettersson was born in Stockholm, Sweden in 1976, and currently lives in Miami, Florida. She received a Fulbright Grant to return to Sweden in 2000, and attended the Valand School of Fine Arts in Gothenburg. She has received the South Florida Cultural Consortium Fellowship twice (2006, 2011), and the Individual Artist Fellowship (2010). More recently she has attended residencies at the Vermont Studio Center, Yaddo, the Deering Estate and Artists in Residence in Everglades.
More information at www.christinapettersson.com.
Leah Brown
Talk: Saturday, June 27, 6pm
Multiple: Deerchildren, 2015
Limited edition cast plastic sculpture
Edition of 10
4 x 4.3 x 3.5 inches
$100
 
Leah Brown's work explores intricate narratives that weave together surreal characters, landscapes and storylines found in the space between reality and dreamscape. Her materials include a combination of plaster, found objects, human hair, and castings from life and from clay.
Leah Brown received her BFA with honors from the Rhode Island School of Design (2004), and an MFA in Sculpture from the University of Miami (2014). In addition to her studio practice, Brown is co-curator of the FATVillage Arts District, where she oversees the execution of art exhibitions at the 501c3 nonprofit gallery, THE PROJECTS Contemporary Art Space. She is also a partner and artist for the public art and design collaborative, Art+Light+Space.
More information at www.leahbrownart.com.