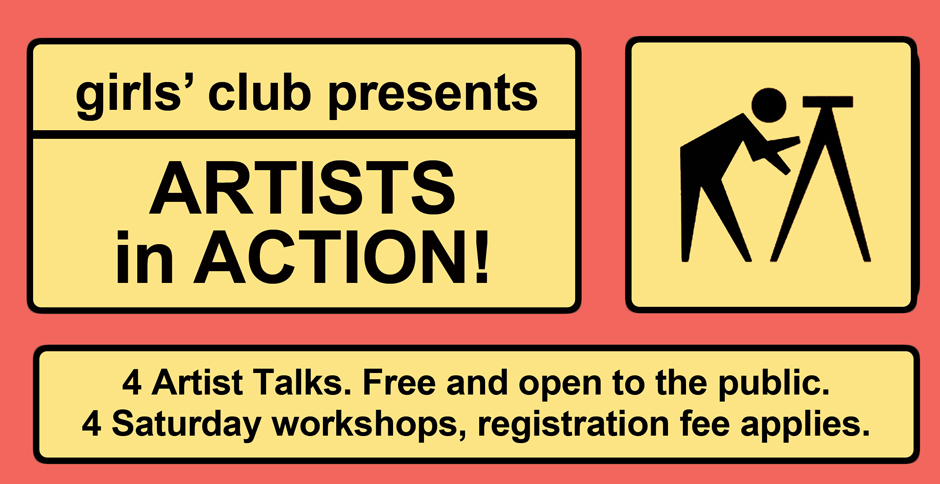 Four presentations at Girls' Club by prominent local artists will offer a glimpse into their unique methods of artmaking. Chosen from the current exhibition Re-Framing the Feminine the four presenting artists share an affinity for the photographic image and process.  They will share their inspirations, career paths and ah hah! moments with the public. A lively atmosphere and stimulating discussion is guaranteed.
Curated by Miami-based photography curator and gallerist Dina Mitrani, Re-Framing the Feminine demonstrates the varied strategies employed by female photographers to frame their experiences using the technology of film photography and digital media.
The exhibition assembles forty-seven works from the 1950s to the present from the collection of Francie Bishop Good and David Horvitz. It is an anthology of photographic images made by women during an era when their own lives were undergoing dramatic changes.
At each event, Girls' Club will release an affordably priced limited edition multiple produced by the artists for sale to the public. These multiples are all priced under $100 and range in object and function. Each object is created in collaboration with Girls' Club and is informed by the artists' interests. This is an opportunity for budding art collectors to own one copy of a signed, limited edition work, published by Girls' Club.
[add_eventon_el el_type="pe" el_title="Related Events" event_type_2="496" hide_so="yes" show_et_ft_img="yes" number_of_months="1000" event_order="ASC"  ]
Marina Font
Talk: Friday, March 23, 7pm
Workshop: Saturday, March 24, 2012, 1pm | $30 registration fee
Edition: End of Innocence and Just a Memory, 2012
limited edition mixed media photography panel
5 x 7 x 2 inches
edition of 20
$80 each
Marina Font was born in Cordoba, Argentina in 1970. Her work explores issues of identity and concepts of memory and tradition through photography and installation. Often presenting objects, trinkets and furniture that pull the nostalgic chords of our collective memory, her work speaks to the spirit of family and cultural confrontations. Marina studied design, sculpture, and photography at the Escuela de Artes Visuales Martin A. Malharro, Mar del Plata, Argentina. In 1996 she moved to Boston and studied sculpture at the Museum of Fine Arts School and then traveled through India as a photographer. She spent the summer of 1998 studying photography at Speos Ecole de la Photographie in Paris, and continued working as a freelance photographer. She earned an MFA in Photography from Barry University, Miami in 2009.
For more information visit www.marinafont.com.
Peggy Levison Nolan
Talk: Saturday, April 13, 7pm
Workshop: Saturday, April 14, 1pm | $30 registration fee
Edition: Stay, 2012
limited edition photography book and Untitled (sweater), 2001 C-print
edition of 50
$75
Peggy Levison Nolan's approach to art is to dissolve all boundaries between daily life and artistic practice,  Glimpses of everyday events, places, people, her children, her kitchen – all are rendered precisely in her camera lens. Peggy Levison Nolan is a mostly self-taught photographer and single mother of seven working in South Florida. She is a full time staff member of the Art and Art History Department of Florida International University where she received both a BFA and MFA. Her work is collected by major institutions including New York's MOMA, San Francisco Museum of Modern Art, MOCA, Norton Museum of Art, National Museum of Women in the Arts, The Light Work Permanent Collection and the Martin Z. Margulies Collection. Peggy was selected for Light Work's artist-in-residence program in 2005 has twice won the South Florida Consortium Individual Artist Grant in 2004 and 1994.
For more information visit www.dinamitranigallery.com/peggy-levison-nolan.
Odalis Valdivieso
Talk: Saturday, May 18, 7pm
Workshop: Saturday, May 19, 2012, 1-4pm | $30 registration fee
Edition: 4.2012, 2012
Limited edition set of 12 postcards with texts by curator Rene Morales and artist Diego Singh.
edition of 25
$50
Born in Caracas, Venezuela, Odalis Valdivieso is a Miami-based artist who experiments with photography to go beyond its own discourse to a broader notion of the medium in the expanded field, focusing on the points of intersection between urban landscapes and spatial analysis. Her current system explores ideas of materiality and moments of process, questioning at what point is a moment a moment.
Odalis received an MA in Photography from The RCA, London, UK and was a winner of the South Florida Cultural Consortium Grant in 2004. She was part of Talking Head Transmitters, an experimental low – frequency radio, airing at 88.3 MHz FM from 2005 until 2010. She is currently part of the project The Nightclub, an art project, that fosters a network of artists and cultural producers in a one night art venue.
Ania Mousawel
Talk: Friday, June 1, 7pm
Workshop: Saturday, June 2, 1-4pm | $30 registration fee
Edition: Remembrances (Raw Kibbi), 2012
Limited edition set of video stills and recipe card
edition of 15
$50
Born and raised in Miami, FL Ania Moussawel studied photography in Parsons School of Design and Barry University. Influenced by her mixed cultural backgrounds, themes such as identity, female gender roles, and domesticity often occur in her work. Using photography and video, Moussawel also explores the nature of memory and nostalgia, while making observations about the everyday.
Ania received her BFA in photography from Barry University in Miami Shores and has an MFA from the School of Visual Arts in New York. She lives between Miami and New York.
More information available at www.aniamoussawel.com.
Acknowledgments
Funding for this exhibition, catalog and related programming was made possible in part by Broward County Board of County Commissioners as recommended by the Broward Cultural Council and private donors.