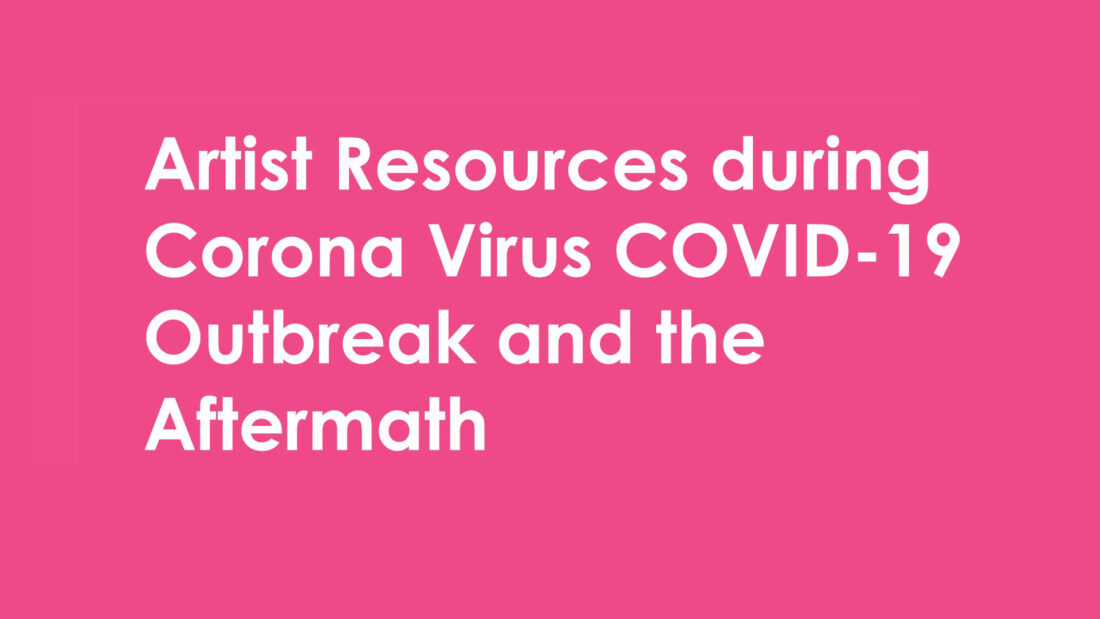 Artist Resources during Coronavirus (COVID-19) Outbreak
As we experience these uncertain and difficult times, we hope you are enduring as healthy and safely as possible. Our social, professional and occupational lifelines have changed course dramatically over the past few weeks due to the threat and spread of Coronavirus COVID-19. For many in the arts, that means a drastic interruption of work, loss of income and health insurance, food and/or rent insecurity. We have compiled a small list of trusted resources below to help guide artists in seeking emergency aid, relief, guidance and news.
For those seeking to help there are endless ways to make a difference - small and large. We encourage you to purchase work from artists, donate to your favorite nonprofit arts organizations, support to a fund listed below, and shop/support local.
Above all, please keep yourself and your loved ones safe.
CORONAVIRUS (COVID-19) RESOURCE AND RESPONSE CENTER
Up-to-date news and resources for the arts and culture field. Americans for the Arts continues to closely monitor recommendations from the Centers for Disease Control (CDC) and the Federal and D.C. governments as developments evolve concerning the coronavirus. Our organization cares about the health and safety of our members, stakeholders, staff, and board in communities across the country, and we understand that health, work, and travel require personal decisions that individuals must make for themselves.
Artist Relief is an emergency, non-restricted fund that will grant $5,000 to individual artists facing financial hardship; serve as an informational resource; and co-launch the COVID-19 Impact Survey for Artists and Creative Workers, designed by Research Partner Americans for the Arts, to better identify and address the needs of artists moving forward. To apply for relief, please click here.
Organized by a coalition of national arts grantmakers, consisting of Academy of American Poets, Artadia, Creative Capital, Foundation for Contemporary Arts, MAP Fund, National YoungArts Foundation, and United States Artists, the fund will launch with $10 million, consisting of $5 million in seed funding from The Andrew W. Mellon Foundation matched with $5 million in initial contributions from an array of foundations across the United States. To make a donation to this growing fund, please click here.
COVID-19 RESOURCES
A compilation of resources, tools and opportunities that we hope will provide artists and those who work with artists support to be able to thrive in the wake of these challenging circumstances.
List of Arts Resources During the COVID-19 Outbreak
In times of crisis, artists are often among those most affected. In addition to health concerns, this is a challenging moment for many in our community as we deal with cancelled income and trying to make plans during uncertain times. Creative Capital has always been anchored by a rich spirit of community and mutual generosity, and we believe that continuing communication and exchange are crucial for all of us. As COVID-19 continues to spread across the United States, we have created a list of resources for artists working in all disciplines, as well as arts philanthropists, and arts professionals.
COVID-19 Resources for Artists and Arts Organizations
Listing of art service organizations are providing frequently updated news and resources for artists and arts organizations.
EMERGENCY RESOURCES
NYFA's Emergency Resources Directory is a centralized source of information for artists throughout the United States and its territories. Artists who experience personal hardship or who are impacted by a large-scale disaster, or who need funding for a last-minute opportunity can find critical resources in NYFA's Emergency Resources Directory. Originally housed on the NYFA Source database, these resources are now included on NYFA's website to ensure ease of access. Coupled with the NYFA Source Hotline, this portal works as a centralized repository and a lifeline for artists experiencing both unexpected and long-term, chronic challenges.
RESOURCES AND EMERGENCY GRANTS FOR ARTISTS AFFECTED BY COVID-19
In the midst of the manifold fallouts caused by COVID-19, it's been heartening to witness friends, families and communities building solidarity together and establishing ongoing support: errand-running for neighbors, organizing emergency funds and mutual aid groups, engaging in empowered forms of action, big and small.
In our continued support of the community that helps make CULTURED what it is, we've compiled a list of emergency grants and funds for artists, activists and freelancers of all stripes—often those who make their own hours are facing a one-two punch of no work and no fallback. Because efforts to support those in need will be ongoing, we've also included a list of other such lists, as well as additional resources. If you don't find what you're looking for here, you might find it at one of the other links.
This survey is to collect data and anecdotes on the impact of COVID-19 on visual artists and artists who work in the visual arts realm.
Local Resources and Funds
Oolite, Relief Fund for artists for COVID-19, Up to $500 to cover lost income due to the novel Coronavirus.
Fountainhead Residency, Resources
Broward Health Foundation COVID-19 Relief Fund
United Way of Broward, COVID-19 Campaign