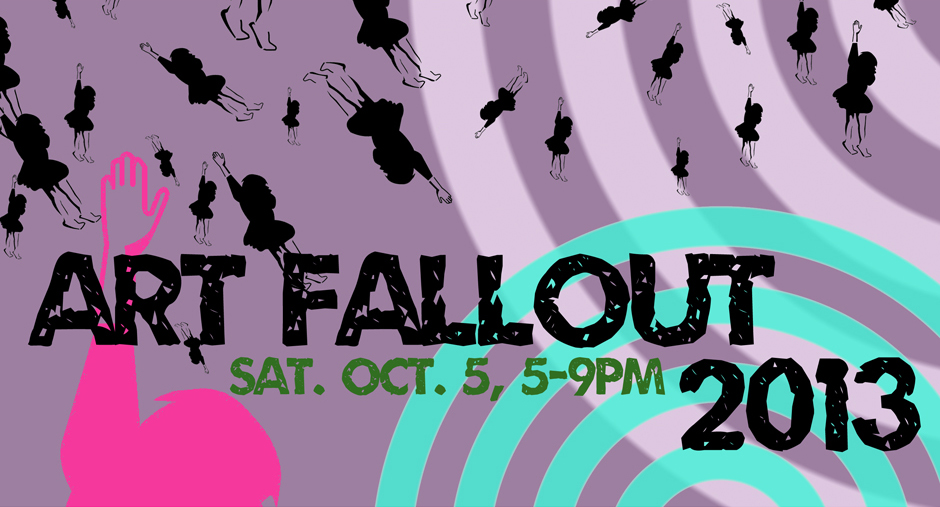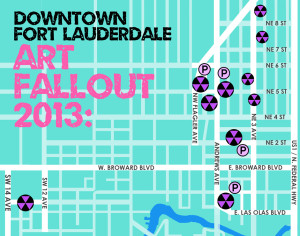 To celebrate National Arts and Humanities Month, a coast-to-coast collective recognition of the importance of culture in the United States, Girls' Club is hosting the fourth annual Art Fallout, a day for contemporary art in downtown Fort Lauderdale.
2013 Participating Venues
Girls' Club
Museum of Art | Fort Lauderdale
1310 Gallery at Sailboat Bend Artist Lofts
FAT Village
Cadence Pop Up Gallery
Bedlam Lorenz Assembly
Glavovic Studio
Third Avenue Art District
More info available at www.artfallout.blogspot.com.
A free shuttle bus will circulate throughout the Art Fallout radius.
Free and metered parking available at multiple locations.
Cafes and food trucks will be posted at each venue.
Afterparty at Museum of Art Fort Lauderdale – CANCELLED. Make your own afterparty at nearby Riverwalk, Laser Wolf or on Las Olas!
Updates and more info about participating venues and food trucks at www.artfallout.blogspot.com.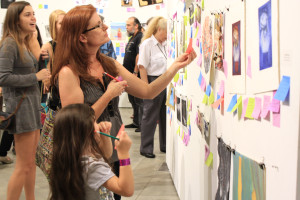 At Girls' Club
Art Fallout: Thinking on Paper
All south Florida artists are invited to submit work on paper as part of a one-day, open call exhibition Art Fallout: Thinking on Paper. A panel of prominent South Florida arts professionals will informally judge the works in the exhibition on their merits.  The public is also invited to give personal feedback to the artists via a system of color-coded handwritten messages. Artists go home with a stack of colorful Post-Its with comments, feedback, constructive criticism and sometimes contact info from interested curators/collectors. This unique system is a fun way to connect artists with art enthusiasts, curators and gallery owners.
Bite Gastrotuck will be just outside, seving a menu which includes one of Americas top 100 burgers with a large arrange of toppings, crafted milkshakes, hand cut fries and onion rings.
Light refreshments  inside provided by Fresh Market.
Panel of Arts Professionals
Ariel Barron-Robbins, Artist/Professor, Florida Atlantic University, Boca Raton
Pip Brant, Artist/Educator
Susan Caraballo, Artistic Director, ArtCenter/South Florida
Amalia Caputo, Artist/Writer, www.amaliacaputo.com
Denise Delgado, Writer/Curator/Artist and Project Manager, Vasari Project Archive, Miami-Dade Public Library Service
Jane Hart, Curator of Exhibitions, Art and Culture Center of Hollywood, Hollywood
Carl Hildebrand, Director, Pecha Kucha Miami
Rachel Talent Ivers, Director of Exhibitions & Curatorial Services, Museum of Art | Fort Lauderdale, Fort Lauderdale
Vanessa Garcia, Artist/Writer, www.vanessagarcia.org
Paula Gillam, Professor, Art Institute of Fort Lauderdale
Deborah Kerr, Collector and Chair of Broward Cultural Council
Kathryn Mikesell, Collector and Foundress of the Fountainhead Residency, Miami
Peggy Levison Nolan, Artist/Professor, Florida International University, Davie
Carol Prusa, Artist/Professor, Florida Atlantic University
Samantha Salzinger, Artist/Associate Professor and Art Department Chair, Palm Beach State College, Boca Raton
Onajide Shabaka, Artist
Jill Slaughter, Curator of Special Projects, City of Pembroke Pines
Jessie Vail Aufiery, Writer and World Literature Editor, The Literary Review
Michelle Weinberg, Artist and Creative Director, Girls' Club, Fort Lauderdale
How to Submit
1. Fill out the submission form below, note artwork guidelines. (*if you are having problems viewing form, you can fill this out at drop off)
2. Send payment by paypal, check or with cash in-person.
3. Drop off your works at Girls' Club , Wednesday – Friday, 1-5pm from Sept 4 to Oct 4.
4. Come to Art Fallout!! See people commenting on your work. Comment on other's work.
5. Pick up your work the night of the event, after public hours, or the following week during open hours.
SUPPORT, CONTRIBUTE and ENJOY local art in your community!
---
Art Fallout 2013 submissions have now closed