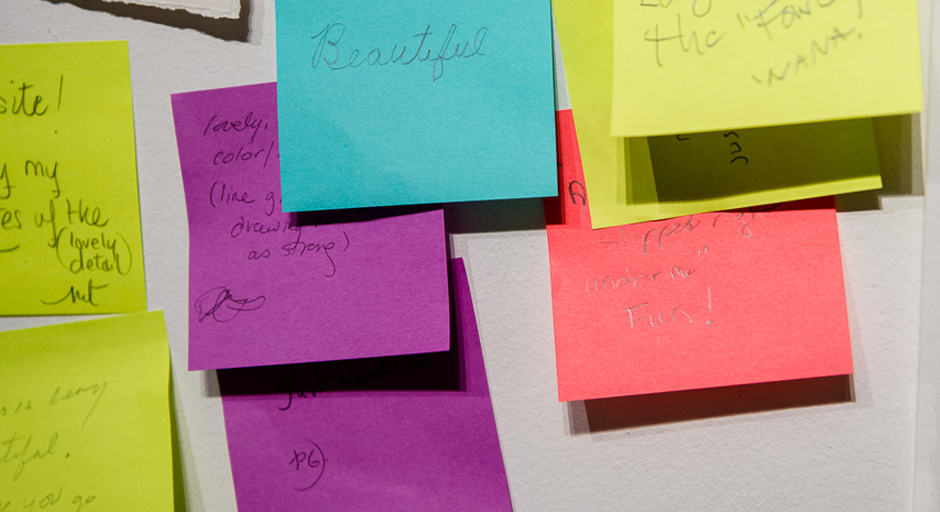 Art Fallout 2013, artists, photos, and record visitors
October 5, 2013 marked the Art fallout's forth year highlighting the hotbed of creative production in downtown Fort Lauderdale and brought record numbers of artists, families and community members to the area's contemporary art venues.
Art fallout 2013, by the numbers
For 1 day in October, Art Fallout saw 700+ visitors at 15 contemporary art spaces in 1.5-mile radius area.
The event included artwork by more than 450 artists, a large majority of which came from local communities in Broward, Miami and Palm Beach counties. In September and October, over 2600 visitors viewed the Art Fallout website, artfallout.blogspot.com.
Special thanks to all participating venues, projects and art studios including 1310 Gallery and artist studios at Sailboat Bend Artist Lofts, the Museum of Art Fort Lauderdale, Glavovic Studio, FATVillage, Inside Out Fort Lauderdale, Cadence Pop Up Gallery, Bedlam Lorenz Assembly and the Third Avenue Art District studios of Francie Bishop Good, Madeline Denaro, Tin Ly, Rosanna Saccoccio, Wilma Bulkin Siegel, Margi Nothard, Tobey Archer, janet Gold, Mary Lou Siefker, and Michel Pellus.
at Girls' Club
Girls' Club welcomed over 400 visitors to interact with the one day exhibition Art Fallout: Thinking on Paper with work from over 70 artists. Using color coded Post It notes, invited judges, artists and the public channeled their inner critic and connoisseur writing notes of feedback, encouragement, criticism and exclamations of adoration for the works on display. Artists were able to directly connect with their audience, many of which were seeing their work for the first time.
Photos from the exhibition taken by Girls' Club photographer Teodora Dakova are posted below and on Girls' Club's Facebook Page. Head over to facebook to tag yourself, your artwork or just check out the madness of Thinking on Paper!
Art Fallout 2013's Thinking on Paper participating artist include: Adrienne Chadwick, Aida Tejada, Alexandra Snowden, Andrea Cote, Angelina Andress, Anthony Piloto, Aurora Molina, Belem Martinez, Bonney Goldstein, Bruce Bain, Carol Anne McFarlane, Charlotte Maloney, Claire Moore, Clara Varas, Cynthia Simpson, Durga Garcia, Elle Schorr, ERMAN, Gary Gross, Graciela Valdes, Isabel Gouveia, Jean Vissepo, Jee Park, Jill Weisberg, Joanne Urban, John DeFaro, Joshua Hunter Davis, Julie Davidow, Karina Pais, Kristen Soller, Laura Carolina Sala, Loren Santiesteban, Lucia Garcia, Lucy Stephens, Marcos Conde, Margaret Crowley-Kiggins, Maria Tempesta, Mary Larsen, Melissa Aldana, Miguel Borbon, Misoo Filan, Pamela Palma, Paula Calvo, Penny G. Seldin, Philomena Andress, Quenia Nunez, Randy Burman, Regina Jestrow, Richard Gentry, Rick Yasko, Robert Sparrow Jones, Rosalia Curbelo, Sal Sidner, Sandi-Jo Gordon, Sarah Michelle Rupert, Shanna Tomlinson, Sharon Jacobs, Sofia Bastidas, Spring Raulerson, Stephanie Cunningham, Stephanie Mora, students from GC partner PACE Center for Girls West Palm Beach, Svetoslav Paregov, Tania Wasko, Teodora Dakova, Teri Romkey, Tristina Dietz-Elmes, and Vicki Siegel
Art Fallout 2013 Panel of Arts Professionals: Ariel Barron-Robbins, Pip Brant, Susan Caraballo, AAmalia Caputo, Denise Delgado, Jane Hart, Carl Hildebrand, Rachel Talent Ivers, Vanessa Garcia, Paula Gillam, Professor, Deborah Kerr, Kathryn Mikesell, Peggy Levison Nolan, Carol Prusa, Samantha Salzinger, Onajide Shabaka, Jill Slaughter, Jessie Vail Aufiery and Michelle Weinberg.
Photo Gallery