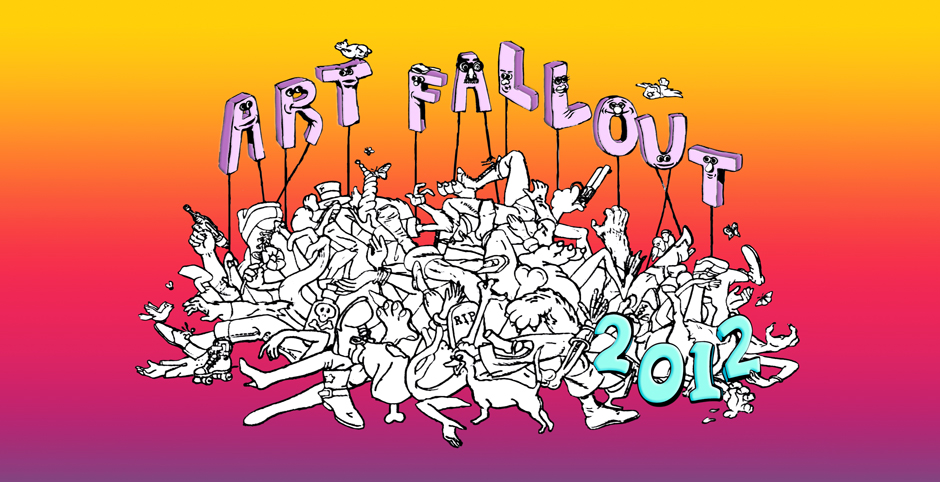 Art Fallout 2012 is on its way!
Saturday October 6, 2012
One-Day Open Call exhibition of South Florida artists at Girls' Club to energize Downtown Fort Lauderdale Contemporary Art Scene.
Tour art venues, studios, exhibitions with free shuttle transportation.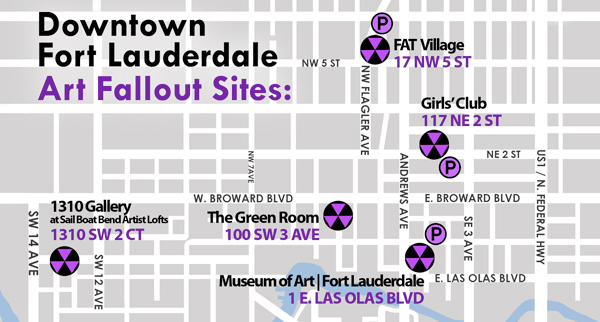 To celebrate National Arts and Humanities Month, a coast-to-coast collective recognition of the importance of culture in the United States, Girls' Club is hosting the third annual Art Fallout, a day for contemporary art in downtown Fort Lauderdale.
Tour the pockets of contemporary art activity with Girls' Club, 1310 Gallery at Sailboat Bend Artist Lofts, Museum of Art/Fort Lauderdale, FAT Village and the Green Room. Art Fallout is a day of events and exhibitions to introduce neighbors to the burgeoning arts scene right here in Downtown Fort Lauderdale.
At Girls' Club, all south Florida artist are invited to submit work on paper as part of a one-day, open call exhibition Art Fallout: Drawn In. A panel of prominent South Florida arts professionals will informally judge the works in the exhibition on their merits, and the public is invited to give personal feedback to the artists via a system of color-coded handwritten messages. This unique system is a fun way to connect artists with art enthusiasts, curators and gallery owners.
Submission form and details at www.girlsclubcollection.org/events.
A tremendous success in 2011, Art Fallout counted more than 300 visitors at Girls' Club alone, each armed with colorful sticky notes to share their personal feedback with more than 85 local artists whose work was on view. The Fort Lauderdale arts community is steadily growing, and Art Fallout is a fun and social way to see what has been developing in local studios, galleries and alternative spaces all year.
A limited edition t-shirt and tote bag for Art Fallout 2012, designed by Fort Lauderdale artists Lisa Rockford and Ben Morey, will be available for sale online and the day of Art Fallout at Girls' Club and 1310 Gallery.
Participating venues:
Girls' Club, will host a one-day, open call exhibition Art Fallout: Drawn In, showcasing work on paper from local artists and students with a inter active color-coded public feedback system.
F.A.T. Village Arts District, a two-block concentration of artist studios, galleries and creative industries will be open and presenting a variety of exhibitions and live events. 
1310 Gallery, located in the Sailboat Bend Artists Lofts at 1310 SW 2nd Court, presents  Appropriated Gender: group exhibition of diverse visual art and performance interpretations of gender perception and self-identity, juried by a panel of South Florida artists and arts professionals.
The Museum of Art | Fort Lauderdale at One E. Las Olas Blvd. will also be open with free admission during to the popular  exhibition Shark.
The Green Room Live, part music venue, art gallery, and alternative dance club, will end the evening with an after-party, door opening at 9pm.
The free shuttle bus will operate from 5pm to 9pm to transport attendees from one event space to the next. Free parking is also available at several locations.
Updates and more information about venues at www.artfallout.blogspot.com.
SUPPORT and ENJOY local art in your community!