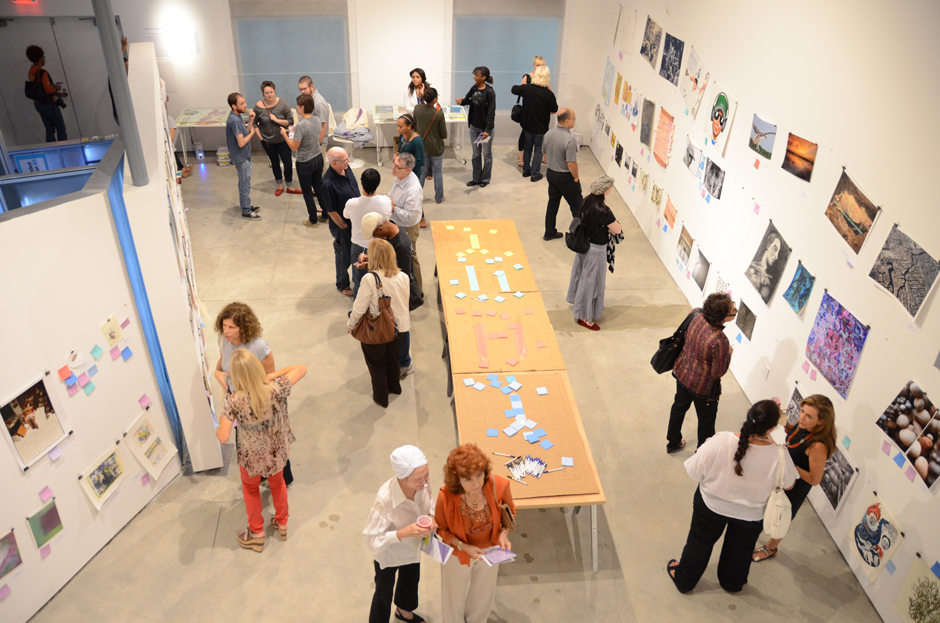 Art Fallout 2011 a big hit – thanks to all our artists, judges and backers
The numbers of artists participating plus the dedicated art fans that turned out to write their comments on post-it notes proves that there is a thriving scene for contemporary art in downtown Fort Lauderdale.
Art Fallout is organized in tandem with National Arts and Humanities Month. We're really pleased that so many people appreciate what the arts and culture contribute to our lives.
Photos from the evening can be found on the Girls' Club Facebook page.
There is no way we could have installed 122 works by more than 85 artists without some series help! Girls' Club extends our deepest appreciation to Alexandra Snowden, Phillip Karp, Nicole Kent and Teodora Dakova for their intelligence and efficiency – we're thrilled to have them aboard!
Thank you to all our Kickstarter Backers!  With your help we were able to raise over $1,000 to support Girls' Club outreach and educational programs!
We'd also like to thank our Art Fallout judge and participating artists for their help in opening up the dialogue about contemporary art!
Art Fallout participating venues:
Girls' Club | Art Fallout: Unframed
1310 Gallery at Sailboat Bend Artists Lofts | Humoratorium: The Art of Whimsy
Museum of Art Fort Lauderdale | Primordial: Paintings and Sculpture by Isabel De Obaldía, 1985 – 2011
FAT Village | Open Studios and Galleries
Full Circle Gallery | The Ladies' Dress Series
Legacy Art Studio | Open Studio and Art School
Art Fallout: Unframed Judges:
Kathleen Carignan, Executive Director, LegalArt Miami
Julie Davidow, artist
Denise Delgado, writer/artist, formerly curator, Miami-Dade Main Library
Paula Gillam, professor, Art Institute of Fort Lauderdale
Kitty Bowe Hearty, Gallery Director, ArtCenter/South Florida
Natalia Hnatiuk, independent curator
Irvin Lippman, Executive Director, Museum of Art Fort Lauderdale
Dan and Kathryn Mikesell, Director, Fountainhead Residency
Michael Mills, Arts Writer, Broward New Times
Katherine Leisek, professor, Broward College
Peggy Levison Nolan, artist
Margi Nothard, architect, designer, public artist
Samantha Salzinger, artist, faculty, Palm Beach State College
Onajide Shabaka, Director, Miami Art Exchange and ArtLab33
Mindy Shrago, Executive Director, Young at Art Museum
Jill Slaughter, Curator of Special Projects, City of Pembroke Pines
Art Fallout: Unframed Artists include:
Adrienne Chadwick
Albert Perez
Alexandra Snowden
Andrea F Huffman
Andres Ramirez
Andrew Horton
Anna Girgis
Barbara Strasen
Barry Treu
Ben Morey
Bianca Triozzi
Carlos Stincer
Carol-Anne McFarlane
Carrie Sieh
Claire Moore
Constance Giger
Cynthia Simpson
Debbie Acevedo Keneipp
Debra Kaszovitz
Denisse Monge
Diane Cohen
Donna Haynes
Edward Eden
Emily Vogel
Felisa Prieto
Flavio Galvan
Freddy Jouwayed
Grace Cox
Hanne Niederhausen
Henning Haupt
Ileana Tolibia
Jami Nix Rahn
Jane Yater
JoAnn Nava
Joann Vander Meiden
John DeFaro
Jonathan Stein
Jovan Karlo Villalba
Juan Maristany
Karen Starosta-Gilinski
Kathy Rudin
Katya Dakova
Kristen Livera
Laura Kiselevach
Laura Marie Peterson
Lee Ann Yater
Luke Jenkins
Maresa Singh
Marta Dunn
Mary Karapontso Dwyer
Maxine Spector
Michael Harris
Michelle Weinberg
Mireya Alfonso
Nancy Martini
Nicole Kent
Niko Yulis
Pamela Palma
Paul Benavides
Paul Gannon
Perry Pandrea
Peter J. Nolan
Phillip Karp
Priyaa Treu
Rachel J. Hall
Raul Magaldi
Rebeka Nicole Burns
Rory Carracino
Rosemarie Chiarlone
Russell Rand
Sabine Kutt
Sal Sidner
Sarah Michelle Rupert
Shady Eshghi
Alfonso Corona
Svetoslav Paregov
T. Eliott Mansa
Tania Wasko
Teodora Dakova
Tina La Porta
Vee
Wendy Doscher-Smith
Yanira Collado