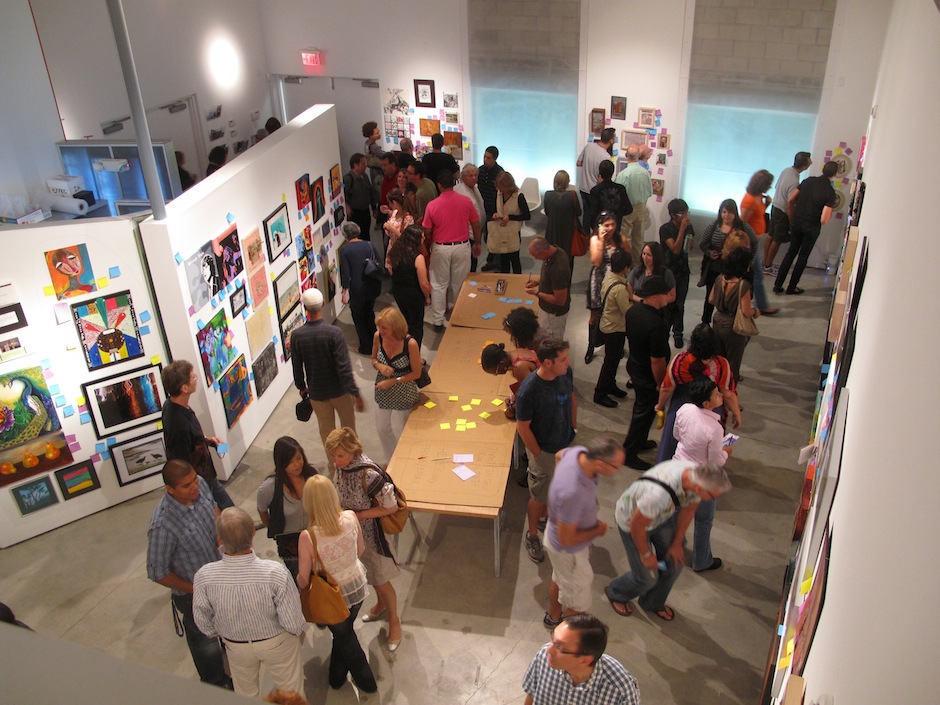 Announcing Art Fallout 2011
Saturday October 15, 2011
5-8 pm
A Day for Contemporary Art in Downtown Fort Lauderdale
Tour art venues, free bus transportation, Scavenger Hunt, T-shirts, Fun for ALL!
One-Day Open Call exhibition of South Florida artists at Girls' Club
The Second Annual Art Fallout energizes Downtown Fort Lauderdale Contemporary Art Scene
To celebrate National Arts and Humanities Month, Girls' Club, 1310 Gallery at Sailboat Bend Artist Lofts, Museum of Art/Fort Lauderdale, FAT Village and Full Circle Gallery host the Second Annual Art Fallout – a day to support the production and presentation of contemporary art in Downtown Fort Lauderdale.
Art Fallout was a tremendous success in 2010. More than 80 local artists exhibited at Girls' Club and more than 400 visitors attended and weighed in on the works displayed.
Since that time, the hotbed of creativity that is developing in Fort Lauderdale has grown, and Art Fallout is a fun and social way to see what has been developing in local studios, galleries and alternative spaces all year.
A print flyer announcing the event will be widely distributed in Broward and Miami-Dade Counties. A map of Art Fallout sites will be available that day – listing all venues and events open to the public. Complete Artist submission forms and guidelines are available to download at www.girlsclubcollection.org/events and at www.artfallout.blogspot.com.
A limited edition t-shirt and tote bag for Art Fallout 2011 will be available for sale that day at Girls' Club. The Art Fallout flyer and accompanying t-shirt features work by Miami artist Julie Davidow, whose work is in the collection of Francie Bishop Good and David Horvitz.
All South Florida artists are invited to submit artworks to a one-day open-call visual art exhibition of unframed works on paper. Art Fallout Unframed will be installed at Girls' Club, located at 117 NE 2nd Street, Saturday, October 15th, 2011, from 5pm to 8pm. Works will be received at Girls' Club Wed-Fri, October 12-14, from 1pm to 5pm. For a nominal $10 per work fee, all UNFRAMED works are accepted and presented to the public for the one day exhibition. All fees collected support Girls' Club's art education and outreach programming for women and girls. A panel of prominent South Florida arts professionals will informally judge the works in the exhibition on their merits and the public is invited to give personal feedback to the artists via a system of color-coded handwritten messages. Last year, this system proved a fun way to connect artists with art enthusiasts. Girls' Club hopes to inspire individuals to start their own art collections!
A free trolley bus will operate from 5pm to 9pm to transport attendees from one event space to the next. Free parking is available at: NW 1st Ave between NE 5th & NE 6th Streets in F.A.T. Village and NE 2nd Avenue across from Girls' Club.
For more information, please contact:
Sarah Rupert: [email protected] Lisa Rockford: [email protected]
SUPPORT and ENJOY local art in your community!