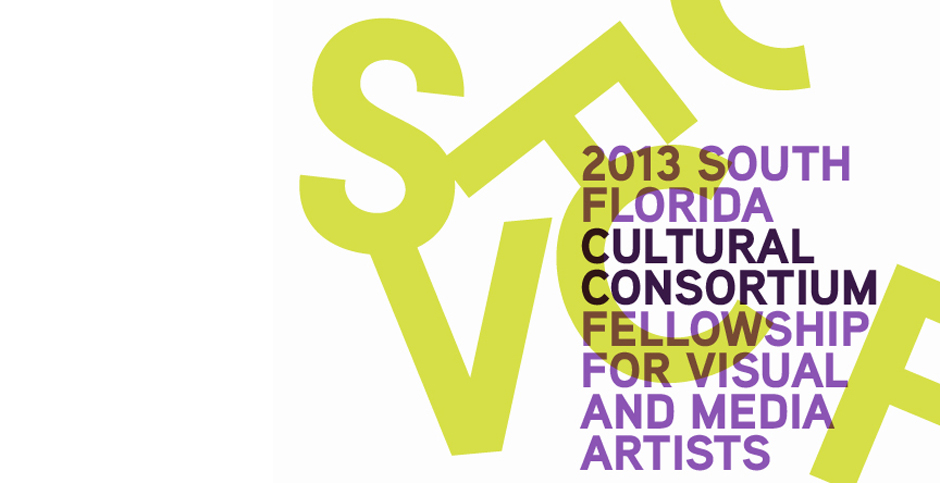 2013 South Florida Cultural Consortium Fellowship Applications now available
About the Program
The South Florida Cultural Consortium Fellowship Program offers the largest regional, government-sponsored artists' grants in the United States, awarding $15,000 and $7,500 fellowships to resident visual and media artists from the counties of Broward, Martin, Miami-Dade, Monroe, and Palm Beach. Since it was established in 1988, the Consortium has awarded close to $2 million in fellowships to over 200 artists.
Applications
Applications for the 2013 South Florida Cultural Consortium Fellowship Program will be made available on Monday, September 10, 2012 at http://www.callforentry.org. The deadline for applications is October 31, 2012. On or before the October 30, 2012 deadline, visual and media artists must submit applications in digital format and online, via CaFÉ™ at http://www.callforentry.org, At this site, you will find step-by-step instructions on how to register, apply and prepare your images for upload. There is no application fee to apply or to use the CaFÉ™ online application system.
Workshops: Demystifying the Process

How are recipients selected and how can an applicant improve his/her chances of being noticed?  Find out at one of four workshops being offered across the South Florida region.  Workshops generally run one (1) hour.
BROWARD  ArtServe
1350 East Sunrise Boulevard, Fort Lauderdale
6 PM on Wednesday, September 12, 2012
Please RSVP to 954.357.7457
MIAMI-DADE LegalArt
1035 N Miami Avenue, Suite 200
6 PM on Monday, October 1, 2012
Please RSVP to 305.375.4634
MONROE Gato Building
1100 Simonton St
1PM Friday, October 5, 2012
Please RSVP [email protected] or 305.295.4369
PALM BEACH The Robert M. Montgomery, Jr. Building
601 Lake Avenue, Lake Worth, FL
12:30 PM Thursday, September 27, 2012
Please RSVP to 561.471.2901
Am I Eligible?
All emerging, mid-career and established South Florida professional artists (those residing in Broward, Martin, Miami-Dade, Monroe or Palm Beach Counties) are eligible to apply.  You must have resided and worked in one of the participating five counties from October 30, 2011 to October 30, 2012 and must apply from the county of your residence.
The Consortium defines a professional artist as a person who has created a recognized body of original works of art within an artistic discipline over a sustained period of time, and who is striving to achieve the highest level of professional recognition.
Applicants must be over 18 years of age.
About the Process
Every year, more than 300 artists who live and work throughout the five counties submit their applications for consideration to the South Florida Cultural Consortium's Fellowship Program for Visual and Media Artists. The Consortium is a partnership of the local arts agencies of these five counties. Through these agencies, applications are made available to artists in the region. Visual artists can submit up to 10 images of recent work, while media artists submit up to 10 minutes of film or video.
A regional panel of visual and media art experts from South Florida is convened to provide an initial review of the submissions. The regional panel forwards its recommendations to the national panel. This national panel – with expertise in visual art, film, and media and chosen from a variety of academic and major visual arts institutions from all around the country – is given the responsibility of recommending the final recipients.
During a day-long deliberation, the submissions are viewed by the national panel in a series of rounds. The panelists then reduce the selection to the final group of awardees. The funding available from each county determines the number of awards presented from each county. The dynamics of the panel shape the selections from year to year. Merit is determined based on individual accomplishments as evidenced by the work submitted for review, with the highest premium placed on coherent bodies of work. In addition to receiving cash awards, the artists take part in an exhibition hosted and organized by a visual arts institution in one of the five counties. This exhibition is the result of that process.