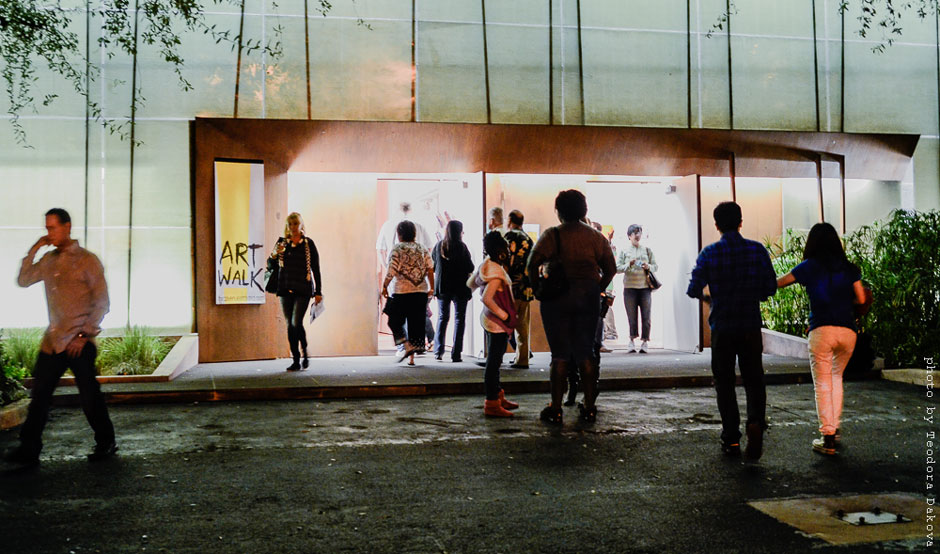 19th Annual Third Avenue Art District ArtWalk
Third Avenue Art District Annual Art Walk
Downtown Fort Lauderdale
Saturday, February 1, 2014, 6-10pm
Free Trolley
Francie Bishop Good | 117 NE 2nd Street
Tin Ly | 436 NE 3rd Avenue
Mary Lou Siefker | 436 NE 3rd Avenue
Madeline Denaro | 505 NE 3rd Avenue
Wilma Bulkin Siegel | 509 NE 3rd Avenue
Tobey Archer | 509 NE 3rd Avenue
Janet Gold | 509 NE 3rd Avenue
Margi Glavovic Nothard | 724 NE 3rd Avenue
Michel Pellus | 801 NE 4th Avenue
Museum of Art | Fort Lauderdale-NSU | 1 E. Las Olas Blvd | 1 – 9 pm 
Girls' Club | 117 NE 2nd Street | 6 – 10 pm
In 1995 four visual artists grouped their studios just north of Broward Blvd on NE Third Avenue. They had the vision of luring other artists to form a visual arts district in Fort Lauderdale. Since then other creative individuals have joined in buying or leasing studio space in the area currently known as the Third Avenue Art District. In the professional world, these artists are national and international award winning talents visible in museum, public and private collections.
Artists in the district include:
Francie Bishop Good showing a new series of works on paper that fuse painting and photography. A new work will be available for sale with all proceeds going to the Beaux Arts. Guest artists this year are Janet and Jerry Kelfer, Miami photographers.  Tin Ly will add to his large, painterly sculptures, his continuing series of drawings on bamboo sheaths.   Madeline Denaro will display her vibrant abstract paintings from her theme, My Father's Daughter.  Mary Lou Siefker will exhibit her new Celebration series of abstract acrylic paintings and Wilma Bulkin Siegel will display recent portraiture in the watercolor medium addressing social issues. Janet Gold will be featuring her newest collection of vintage collaged birdcages while Tobey Archer will exhibit abstract landscape paintings, public art, and light sculptures. Janet Gold and Tobey Archer will be exhibiting their work in the studio of Wilma Bulkin Siegel.  Margi Glavovic Nothard will be showing Groundwater_ Latent Systems, a series of drawings inviting viewers to contemplate repurposing and water systems that register long term environmental impact. Michel Pellus will show his large size realistic oil on canvas paintings coined "Macro Realism."
Participating once again will be the Museum of Art | Fort Lauderdale-Nova Southeastern University, extending their hours until 9pm for this special event. Exhibitions include: Spirit of Cobra and Bob Adelman: Photographs of the Civil Rights Movement  www.moafl.org/museum
This year we welcome BEAUX ARTS www.beauxartsfll.com to the Art Walk. This dynamic young group promotes appreciation for the arts and helps support the Museum of Art.  In appreciation the artists in the district will donate a portion of the event's sales to Beaux Arts.
Third Avenue Artists, Cadence and Glavovic Studio will be hosting a pop up bicycle drive-in theater experience in Flagler Village's Peter Feldman Park at the corner of Third Avenue and 6th Street from 8-9pm showing a series of short films and video art from the Girls' Club Collection.  Bring your Bike and Blanket.
Also featured in this year's Art Walk is an exhibition presented by Girls' Club, a non-profit alternative space exhibiting contemporary art by women. The current exhibit, I Think It's In My Head, curated by the TM Sisters, www.girlsclubcollection.org
Free trolleys will be available to escort visitors from one location to another throughout the night. This is a special chance to meet the artists or even start an art collection. It is an opportunity to engage in the creative experience of the artist's studio setting and to purchase professional artwork.  This experience is only offered to the public once each year.
Bring your Bike & Blanket to the Bicycle Drive-In
For a film screening of video art from the Girls' Club Collection on the lawn at Peter Feldman Park, on NE 3 Ave and 6 Street, from 8-9pm, hosted by Girls' Club, Third Avenue Art District, Cadence and Glavovic Studio.
Come Hungry
Ice pops and popsicle cocktails from Pop Lab,
Hot dogs and veggie dogs from Frankie Dogs Gourmet,
Freshly grilled and sauced up treats from Saucy 'Stache,
Bistro sandwiches and salads from MOAFL's Books and Books Cafe
This year's artwalk is supported in part by the Flagler Village Improvement Association, the City of Fort Lauderdale and the Fort Lauderdale CRA.
For more information visit www.thirdavenueartdistrict.com
---