events

---
Writing Workshop Series for Artists + Writers
with writer-in-residence Laura McDermott Matheric
Join Girls' Club for a series of two-day workshops in partnership with Reading Queer, exploring elements of narrative with writer-in-residence, and founder of Orange Island Arts Foundation, Laura McDermott Matheric.
Each workshop meets for a Thursday evening lecture with discussion, examples and in-class writing; and a Saturday afternoon critique and reading of participants' work.
Registration $30 per session, $80 for all three.
20% discount available to students.
Open to writers and artists of all ages working in any field.
The Moment: Decoding Instances
Thursday, March 19, 6-8pm and Saturday, March 28, 4-6pm
Have you ever replayed moment from memory over and over in your head in order to decode its meaning? This workshop focuses on characters and the relationships they build from the perspective of one episode in life.
The Backdrop: The Language of Landscape
Thursday, April 16, 6-8pm and Saturday, April 25, 4-6pm
How does a character's surrounding environment influence a piece of writing? Similarly, how does your environment influence you as a writer writing that piece? This workshop examines how the description of scene and place can reveal so much about characters and the relationships they build.
The Persona: The Fitting Room
Thursday, May 21, 6-8pm and Saturday, May 30, 4-6pm
Have you ever tried to walk a mile in someone else's shoes? This workshop explores the persona poem from the point of view of a speaker- the voice that sings or cries or whispers in the reader's ear – as a means to find closure in a situation or to understand human nature.
www.girlsclubcollection.org/writing-workshop
---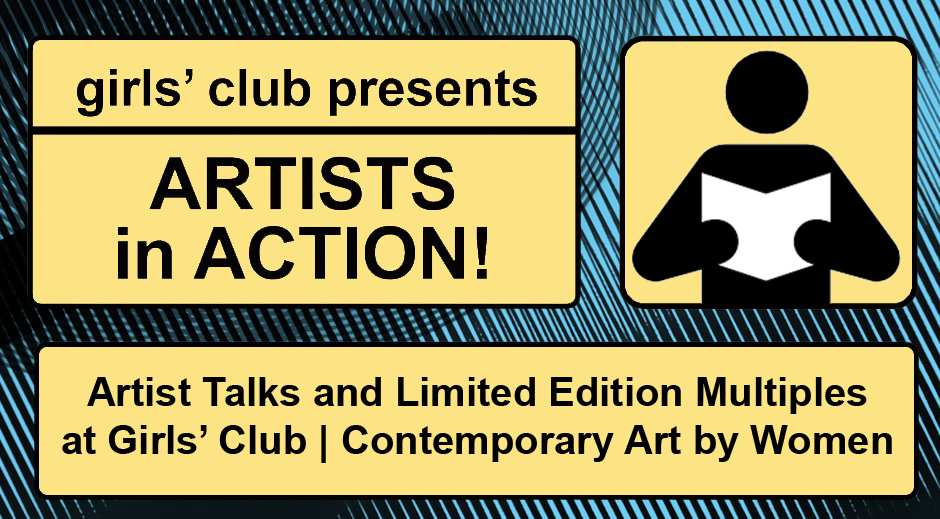 Artists in Action! 2015
artist talks and limited editions
Four presentations at Girls' Club by prominent local artists will offer a glimpse into their unique methods of artmaking. In conjunction with the exhibition The Moment. The Backdrop. The Persona., the four presenting artists' work revolves around narrative and story-based elements. Each will share their inspirations, career paths and ah hah! moments with the public. A lively atmosphere and stimulating discussion is guaranteed.
At each event, Girls' Club will release an affordably priced limited edition multiple produced by the artists for sale to the public. These multiples are all priced under $100 and range in form and function. Each object is created in collaboration with Girls' Club and is informed by the artists' interests. This is an opportunity for budding art collectors to own one copy of a signed, limited edition work, published by Girls' Club.
David Rohn
Talk | Saturday, March 28, 7pm
Natalya Laskis
Talk | Saturday, April 25, 7pm
Christina Pettersson
Talk | Friday, May 15, 7pm
Leah Brown
Talk | Saturday, June 27, 7pm
---
For sign language interpreters or materials in accessible format or other ADA Accommodations please call 954-828-9151 at least five days in advance.