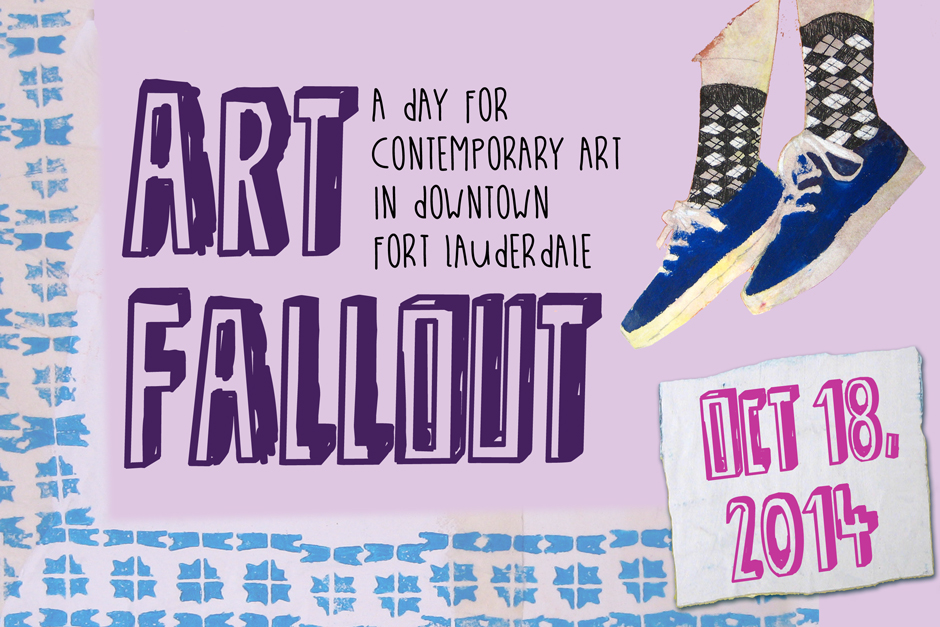 Saturday, October 18, 5-9pm
To celebrate National Arts and Humanities Month, a coast-to-coast collective recognition of the importance of culture in the United States, Girls' Club is hosting the fifth annual Art Fallout, a day for contemporary art in downtown Fort Lauderdale.
Connecting the area's contemporary art venues, Art Fallout invites the community to engage and interact with our many art galleries, artist studios, alternative exhibition spaces, and contemporary art venues.
Free shuttle buses will circulate the Art Fallout radius.
Free and metered parking available at multiple locations.
Cafes, food trucks, gallery snacks will be posted at each venue.
Updates and more info about participating venues and food trucks at www.artfallout.blogspot.com.
Art Fallout 2014 Participating Venues
Girls' Club
Museum of Art | Fort Lauderdale
Bedlam Lorenz Assembly at 1310 Gallery at Sailboat Bend Artist Lofts
FAT Village
Cadence Pop Up Gallery
Glavovic Studio
MAC Fine Art
Made in Broward @ The Cottage
Participating Artist Studios
Francie Bishop Good
Tin Ly
Mary Lou Siefker
Margi Glavovic Nothard
Henning Haupt
Michel Pellus
and more
Click here for interactive Google Map of Art Fallout.
Art Fallout: Unframed at Girls' Club
Over 100 works on paper from artists across South Florida will be exhibited as part of the interactive exhibit Art Fallout: Unframed.
A panel of prominent South Florida arts professionals – including collectors, arts writers, gallery owners, independent curators, museum professionals – will informally judge the works and make comments on Purple stick notes. The public is also invited to give personal feedback to the artists via a system of color-coded handwritten messages. Artists go home with a stack of colorful sticky notes with comments, feedback, constructive criticism and sometimes contact info from interested curators/collectors.
Join us! Unleash your inner art critic, get on your favorite new artists email list or have fun reading other's notes!
Radio Active Records Pop Up Gallery
Upstairs in the mezzanine, Radio-Active Records presents a pop-up gallery and sound system with DJ Mike Ramirez. Founded in 2001, Radio-Active Records has been specializing in new and used independent vinyl, cds, turntables, accessories as well as operating as an special event venue in downtown Fort Lauderdale for over a decade.
Natalie Smallish of Radio-Active Records has organized Chicks with Discs, an audio and visual exhibition of vintage, rare and beloved vinyl records from local female record collectors. No longer are the labyrinth-ed halls and stacked racks of record stores the domain solely of the 'high fidelity' stereotype of the obsessive male. The aisles at Radio-Active, and the block-long lines for special events, have been increasingly gender balanced, with female collectors not only holding their own, but amassing an evermore eclectic mix of vinyl. The diverse showcase includes LPs by Black Sabbath, Joy Division, the Killers, Grover Washington Jr., Dolly Parton and Bob Dylan.
Gramps Bar
Hydrate and fuel up with some some social lubricants courtesy of Gramps Bar, and help convince them to open up a Fort Lauderdale outpost. Seize the night with drinks courtesy of Desperados.
Super Duper Grub
Chow down with Super Duper Grub food truck and find some kid-friendly, healthy options just outside Girls' Club, serving a menu which includes healthy and tasty snacks for all ages.
More updates, information and an interactive map at artfallout.blogspot.com.
---
SUBMISSIONS to Art Fallout: Unframed ARE NOW CLOSED
1. Fill out the submission form below, note artwork guidelines. (*if you are having problems viewing form, you can fill this out at drop off)
2. Send payment by paypal, check or with cash in-person.
3. Drop off your works at Girls' Club , Wednesday – Friday, 1-5pm from Oct 15 to Oct 17.
4. Come to Art Fallout!! See people commenting on your work. Comment on other's work.
5. Pick up your work after the show ends the night of the event, or the following week during regular hours, Wednesday – Friday, 1-5pm.
---