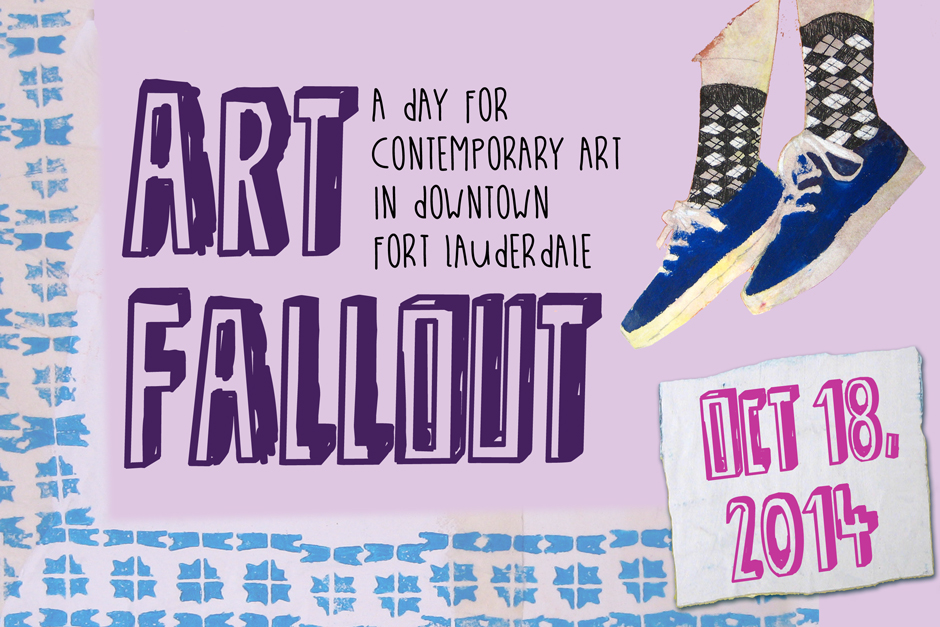 Saturday, October 18, 5-9pm
To celebrate National Arts and Humanities Month, a coast-to-coast collective recognition of the importance of culture in the United States, Girls' Club is hosting the fifth annual Art Fallout, a day for contemporary art in downtown Fort Lauderdale.
Connecting the area's contemporary art venues, Art Fallout invites the community to engage and interact with our many art galleries, artist studios, alternative exhibition spaces, and contemporary art venues.
Free shuttle buses will circulate the Art Fallout radius.
Free and metered parking available at multiple locations.
Cafes, food trucks, gallery snacks will be posted at each venue.
Updates and more info about participating venues and food trucks at www.artfallout.blogspot.com.
Art Fallout Unframed
All south Florida artists are invited to submit work on paper as part of a one-day, open call exhibition Art Fallout: Unframed at Girls' Club. A panel of prominent South Florida arts professionals will informally judge the works in the exhibition on their merits. The public is also invited to give personal feedback to the artists via a system of color-coded handwritten messages. Artists go home with a stack of colorful Post-Its with comments, feedback, constructive criticism and sometimes contact info from interested curators/collectors. This unique system is a fun way to connect artists with art enthusiasts, curators and gallery owners.
Submission form and details below.
Radio Active Records Pop Up Gallery
Founded in 2001, Radio-Active Records has been specializing in new and used independent vinyl, cds, turntables, accessories as well as operating as an special event venue in downtown Fort Lauderdale for over a decade. They will be presenting a pop-up exhibition and soundsystem at Girls' Club featuring an emerging group of vinyl collectors' prized pieces.
Gramps Bar
Hydrate and fuel up with some some social lubricants and fanciful cocktails courtesy of Gramps Bar, and help convince them to open up a Fort Lauderdale outpost.
Super Duper Grub
Chow down with Super Duper Grub food truck and find some kid-friendly, healthy options just outside Girls' Club, serving a menu which includes healthy and tasty snacks for all ages.
Art Fallout 2014 Participating Venues
Girls' Club
Museum of Art | Fort Lauderdale
Bedlam Lorenz Assembly at 1310 Gallery at Sailboat Bend Artist Lofts
FAT Village
Cadence Pop Up Gallery
Glavovic Studio
MAC Fine Art
Made in Broward @ The Cottage
Participating Artist Studios
Francie Bishop Good
Tin Ly
Mary Lou Siefker
Margi Glavovic Nothard
Henning Haupt
Michel Pellus
and more
More info and updates at www.artfallout.blogspot.com.
---
How to Submit to Art Fallout: Unframed
1. Fill out the submission form below, note artwork guidelines. (*if you are having problems viewing form, you can fill this out at drop off)
2. Send payment by paypal, check or with cash in-person.
3. Drop off your works at Girls' Club , Wednesday – Friday, 1-5pm from Oct 15 to Oct 17.
4. Come to Art Fallout!! See people commenting on your work. Comment on other's work.
5. Pick up your work after the show ends the night of the event, or the following week during regular hours, Wednesday – Friday, 1-5pm.
---