---

On view thru September 29, 2017
Women Painting, at MDC Museum of Art and Design
Summer hours: Wednesday & Saturday, 11am-5pm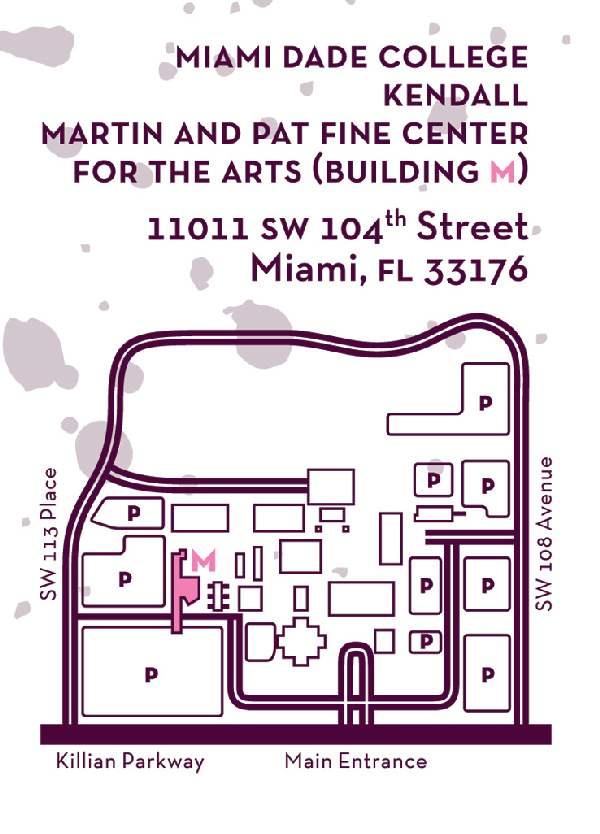 At Miami Dade College Kendall Gallery, Girls' Club presents Women Painting, an exhibition of the contributions of women to the field of contemporary painting. The exhibition takes inspiration from the historic documentary film Painters Painting (1973) which chronicled the New York School Painters from 1940-1970. Lauded as the definitive documentary of the New York Art Scene, the film includes one lone female painter among the many, following suit with a historic gender bias in the industry that habitually excluded women from recognition and historic documentation. Girls' Club will, in essence, do the opposite. An exhibition, film series and public program to be presented on campus and other sites.
Curated by Michelle Weinberg and Sarah Michelle Rupert, Women Painting features 52 works from the collection of Francie Bishop Good and David Horvitz.
Artists include Harumi Abe, Dhruvi Acharya, Firelei Baez, Ingrid Calame, Squeak Carnwath, Elisabeth Condon, Amy Cutler, Melanie Daniel, Julie Davidow, Madeline Denaro, Nicole Doran, Nicole Eisenman, Louise Fishman, Pia Fries, Jackie Gendel, Neysa Grassi, Joanne Greenbaum, Hilary Harnischfeger, Sharon Horvath, Jacqueline Humphries, Vera Iliatova, Chantal Joffe, Emily Noelle Lambert, Natalya Laskis, Amy Mahnick, Melissa Meyer, Beatriz Monteavaro, Elizabeth Murray, Kathy Osborn, Julia Oschatz, Vickie Pierre, Vanessa Prager, Cristina Quarles, Julie Rofman, Lisa Sanditz, Amy Sillman, Elena Sisto, Shinique Smith, Joan Snyder, Nicola Tyson, Josette Urso, Odalis Valdivieso, Lara Viana, Shoshanna Weinberger, Sue Williams, Paula Wilson, Katharina Wulff and Lisa Yuskavage.
This event is free and open to the public.
at MDC Kendall Gallery, Building M, 11011 SW 104th Street, Miami, FL
www.girlsclubcollection.org/women-painting
Funding for this exhibition, catalog and related programming was made possible in part by Miami-Dade College, the State of Florida, Department of State, Division of Cultural Affairs and the Florida Council on Arts and Culture and private donors.
---

Saturday, November 11, Noon-6pm
SPF'17: Small Press Fair Fort Lauderdale
Girls' Club and IS Projects present SPF'17, the second edition of the Small Press Fair Fort Lauderdale. SPF Fort Lauderdale is an opportunity for local and regional artists, printers, booksellers, publishers, authors, poets, bookmakers, designers, zinesters and cultural workers to share ideas and showcase new work related to print making, book making and zine creation.
SPF Fort Lauderdale includes a
MARKET for exhibitors to share and exchange delectable print, book and zine goods,
a STEAMROLLER event for artists to go giant on their print size,
DEMO stations for master printers to demonstrate techniques and technologies,
CREATION STATIONS for visitors to make and trade their own zines,
and a STAGE for a forum of discussion and debate revolving around our sunny subculture of independent print-, book- and zine-makers.
For sponsor inquires, contact info@spf-ftl.com.