Offsite: Jen Clay Performance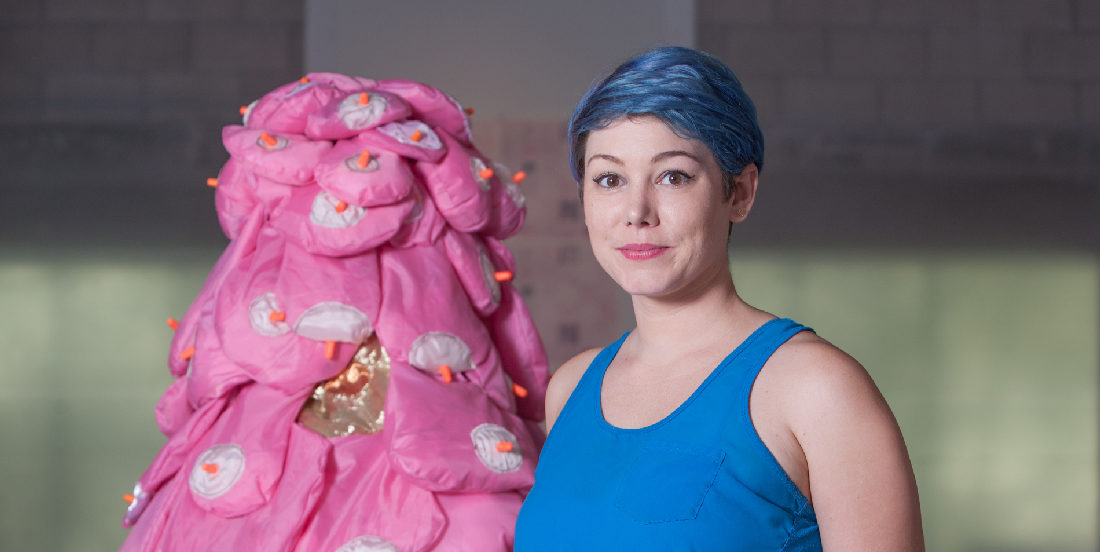 Saturday, June 2, 2017, 6-9pm
Girls' Club presents Offsite Performance by Jen Clay: Nearing, an elaborate, immersive performance featuring large scale puppets, performative sculpture, ambiguous creature-like costumes, stop motion animation and a soundscape by Clay's collaborator Elise Anderson.
Taking place outdoors and indoors at ArtServe in Fort Lauderdale, the performance will include an early seating and a late seating, and is appropriate for all ages.
The event is free and open to the public, however tickets are required.
Link to reserve tickets available soon.
About Jen Clay
Using a variety of media including video, installation,and performance, Jen Clay constructs narratives that investigate fear and anxiety through recreations of common horror entertainment tropes. Her work is inspired by the playful aesthetic of educational children's TV shows which can be seen in my use of stop motion animation, overly embellished costumes and puppets that speak directly to the audience. Her videos and performative work references supernatural and fantastic phenomena juxtaposed with mundane urban and natural surroundings to represent dysfunction such as trauma and abuse in familiar places, people and things.
Absurdity. Surrealism. Playfulness. These qualities pop out in almost all of the work by Clay, who admits in her artist's bio that her practice "is influenced by hallucinatory experiences that manifest doubt in one's surroundings and the self." The artist, who holds an MFA from the University of Florida, invites viewers on a subversive ride through her experimental, multimedia body of work. The charming and quirky North Carolina native is inclined to juxtapose realism (sometimes using leftover food or making a nod to grotesque bodily fluids) with cutesy pop-culture elements. This both entices and throws off viewers. A jack-of-all-mediums, she sews her own costumes, paints, sculpts, and even makes stop-motion animation.
- Broward Palm Beach New Times
Jen Clay lives and works on Fort Lauderdale. She has her MFA from the UF in Gainesville, FL and BFA from UNCC in Charlotte, NC.
She was awarded Best Emerging Artist 2016 by Broward Palm Beach New Times,
About ArtServe
ArtServe empowers local artists and cultural entities to achieve their vision, improve the cultural fabric of our community and discover innovations in the arts by providing ongoing programs, facilities and services.
ArtServe venues are available for local and emerging artists to show and sell their works and their services. ArtServe's array of marketing tools enable local artists and cultural groups to reach their target audiences affordably, utilize latest methods for building customer bases, employ best practices in the promotion of their work and do vital marketing. ArtServe provides quality training, comprehensive learning resources, professional services and mentorship opportunities which increase independence and synergies among artists and cultural groups. ArtServe's affordable facilities let local artists function as a business and share their skills and knowledge by teaching their craft to the community. ArtServe's artist membership network and ongoing development of creative collaborations stimulate partnerships that encourage shared resources and networking opportunities. ArtServe's infrastructure offers an affordable menu of business solutions for artists and nonprofit organizations including low cost office rentals, office technology and equipment, workshop, conference and event space.
ArtServe Mission is to provide programs, events, business opportunities, and facilities that help local and emerging artists turn their art into business. Its purpose is to create valuable cultural experiences for artists as a means to creating vibrant communities and creative place making.
Acknowledgments
Funding for this project was made possible in part by Funding Arts Broward, by the Broward County Board of County Commissioners as recommended by the Broward Cultural Council and private donors.